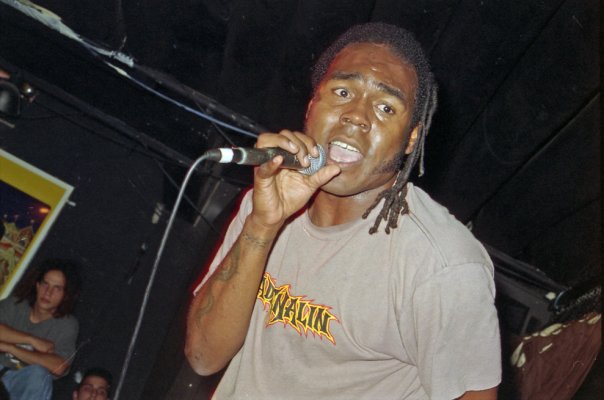 When Revelation Records reached out to me a couple of weeks back to set something up on the site around their forthcoming reissue of Orange 9mm's 1994 eponymous debut EP, I was on board right away. With its boundless energy and contagious hooks, the EP got a lot of love on my stereo upon its original release.
As big a fan of Orange 9mm as I went on to become, I wasn't completely clear on the group's origin story, so I reached out to vocalist Chaka Malik, who is currently fronting a reformed Burn, and also releasing solo work as Ghost Decibels, for the 411. "I met [guitarist] Chris [Traynor] at a show I was playing with Burn in Connecticut, at The Anthrax," Chaka told me via phone last night. "Burn was playing a few shows that weekend and I had bought a hatchet that I brought out on stage with me [laughs]. I think he was impressed and thought I was a little crazy at the same time."
Previous to Orange 9mm, Chris Traynor played guitar in the criminally overlooked Long Island post-hardcore band, Fountainhead:
"I think the writing was on the wall that Burn was pretty much over, so I think him and I had a discussion that very day about doing something together. [Drummer] Larry [Gorman] came into the band through Chris since they both played in Fountainhead, but he left pretty quickly after the record came out.
"The first bassist in Orange 9mm was Eric Rice. After he quit, my friend, Davide Gentile—who I knew because he used to hang out with Burn a lot back in the day—joined the band," remembered the singer. "Davide is a really smart math and computer guy, and we had a very similar outlook on the world. I'll call him a beautiful pessimist [laughs]. Even though he doesn't play on that record, Davide added a lot to the band, so I'm grateful for him."
I next asked Chaka about Orange 9mm's sonic palette. I wondered if he and Chris ever discussed what they wanted their new band to sound like, and/or what they didn't want it to sound like. "Yes, we definitely did. When me and Chris used to get together after work, we would talk about what we wanted to do.
"We picked three bands we wanted to model Orange 9mm after, and they were: A Tribe Called Quest, Smashing Pumpkins, and Screaming Trees.
"The Trees had 'Nearly Lost You' out and that was such a wonderful song. We obviously didn't sound like that, but did we? We had the good vibes of Tribe. We had some of that whimsy and heaviness of the Pumpkins. And we had some of that emotion that the Screaming Trees also had. It's not an apples to apples kind of thing, but I think it's a fair to some degree."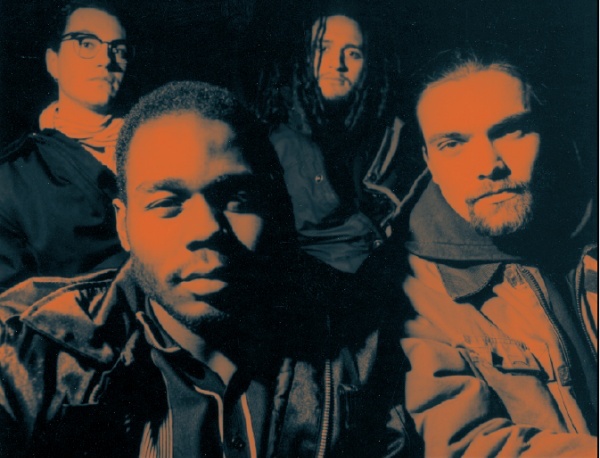 Things happened quickly once Orange 9mm settled in with its inital lineup. "We recorded a demo with Don Fury and then I spoke with [Revelation Records owner] Jordan [Cooper], and he said to record as many songs as we could. So, we did the four songs and it all came together really fast. I was playing guitar at that time, so I was messing around with different chords and I'd show them to Chris. Two songs that came from that are 'Cutting and Draining' and 'Can't Decide.' I remember coming home straight from work and writing lyrics during that time."
Staying on the topic of lyrics, Chaka explained the different approach he took on between his work in Burn and Orange 9mm:
"I used to labor over the lyrics in Burn. With Orange 9mm, I said, 'Fuck this. I'm just gonna write.' I would write quickly and not worry what everything meant until later. I wouldn't say it was done stream of consciousness, but it was from that same tap."
The striking cover art for Orange 9mm features a photo of a rhino taken by Chaka's father, Jack Harris. "I grew up in the projects, and I was the third kid. My parents did a great job raising us, but for whatever reason, my parents were in a real pinch financially, and they weren't even sure how they were going to pay for the hospital bills when I was born.
"Anyway, my father had taken a photo that had appeared on the cover of Black Enterprise magazine that very month, and the doctor at the hospital—who was black—recognized my father's name and asked him if he was the same photographer who had taken that picture. Once my father told him that it was him who had taken the photo, the doctor waived the bill. [Laughs] Can you believe that?"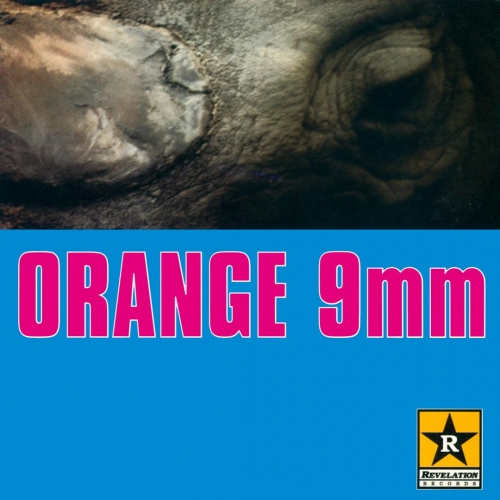 The Orange 9mm reissue will be out April 20 via Revelation Records and can be pre-ordered today.
***
Donate a few bucks to help with No Echo's operating costs:
Tagged: burn, ghost decibels, orange 9mm