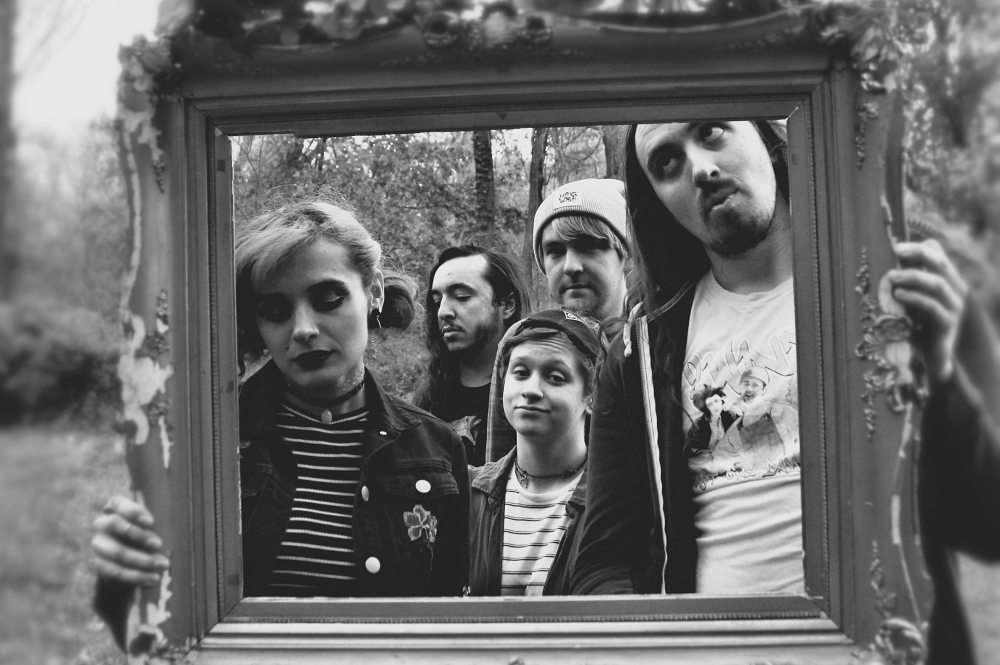 Arms Like Roses is an emo band from New Haven, Connecticut that formed back in 2019. "No one in the band really knew each other prior to forming, except for the fact that everyone individually knew me," drummer Tom tells No Echo. "Estelle (vocals) and my old bands played a show together in 2017, and Nina's (bass) old band played with all kinds of my projects in Connecticut over time. They both hadn't been in bands for a little bit and contacted me the exact same week asking to start something new, so it worked out perfectly.
"We needed a guitarist and the first person to come to mind was Xela, my roommate from college, who was immediately excited to join up with us. Adam (guitars) joined the band around a year later when we decided it was time for two guitarists. He had previously played in Nina's band, Stampeter, briefly and was a pretty obvious choice to have on board."
In terms of Arms Like Roses' sound, bassist Nina says: "Estelle and I are both highly influenced by Hop Along, and the thread where we all find common ground is the '90s emo staples like Rainer Maria and Mineral. Guitarist Adam adds: "I can't exactly put our band's sound in a box because of how diverse it is but I personally think that makes it more interesting."
Tom offers: "I listen to a lot of hardcore as well as early '00s bands like Hawthorne Heights and Senses Fail, so that's where I personally draw a lot of influence from even if our band doesn't exactly sound like those things. There are hints of that type of music for sure, but I think we largely fit in more with bands inspired by '90s Midwest emo and alternative rock."
The results can be heard on Arms Like Roses' debut album, Blooming, which just hit streaming outlets earlier this month:
Arms Like Rose vocalist Estelle tells No Echo a bit about the story behind the making of Bloom: "This album started out as a quarantine project to help me get out of my negative headspace, mostly noted in '…And We'll Always Be Friends' as well as in 'Separation.' It ended up turning into much more than that as we went along, and after my dad passed in February 2021.
"Writing gave me a lot of catharsis especially in Portrait and Flowers (being the last song we wrote for the album). The album mainly talks about battling personal demons, reflecting on the past, moving on, and having a glimmer of hope for the future after experiencing so much trauma and pain."
Before our chat ends, bassist Nina wants to show some love to one of her guitarist bandmates. "I think having Adam in the band now adds a new sonic level to the album that we didn't have on our previous EP (2021's Past Midnight) when he had not joined yet.
"I feel like this album is a really big step forward for us and just a small taste of what we're going to accomplish in the future. All together this is the most talented group of musicians I've played with and I've been making music since I was 10 years old. I think our songwriting team is very strong."
Arms Like Roses on social media: Facebook | Twitter | Instagram
***
Help Support What No Echo Does via Patreon:
***
Tagged: arms like roses