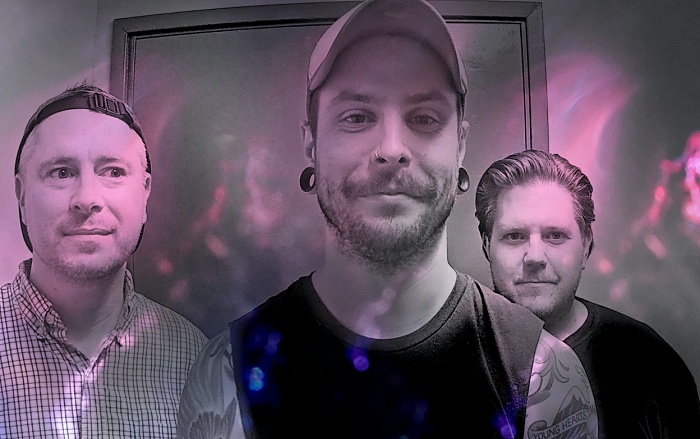 No Echo first wrote about Moonkisser around the time of the release of their debut eponymous EP back in 2018. If you aren't familiar with the trio, the members have played in such bands as Over My Dead Body, Desperate Measures, and Young Turks.
The stylistic realm Moonkisser exists in brings the listener back to the '90s when records by the likes of Quicksand and Shift were first merging the punch and groove of hardcore with the atmospherics favored by the British modern rock bands of the day.
But more important than any influence that permeates their sound, what makes Moonkisser great is their songwriting chops, which will be on display courtesy of Summer's Fleeting Majesty, a new EP from the Portland-based outfit.
Listen to a track from the forthcoming EP called "Crashing" below to hear what I mean:
"'Crashing' came about while I was sitting with the guitar, on hold with someone on the phone," Moonkisser guitarist Augustus Bowman tells No Echo. "I had a capo on the guitar, and was fiddling around with the Smiths' song, 'How Soon Is Now.' My guitar wall of fame would be Eddie Van Halen, Brian Baker, and Johnny Marr.
"Marr is a master of weaving a bunch of texture just by making minor adjustments to a chord and giving it a lot of tonal movement, but staying in the same place on the guitar neck; so I was just sort of strumming around with that song, when the intro progression to 'Crashing' kinda came out. I hung up the phone and immediately worked out that and the verse section, and took it to practice where we tweaked it as a group and wrote the bridge.
"The lyrics are all Mason, as I think he was feeling a bit locked in work-wise at the time, but they fit the music very well. What's funny is I think like most bands, the songs take on working titles, and the original vibe of that intro to the song made Tommy start calling it 'Halen,' and he came up with a big rock drum part. And then when it finessed into what it is on the record, he kept the sensibility of the original drum part, but made it fit in a really comprehensive way."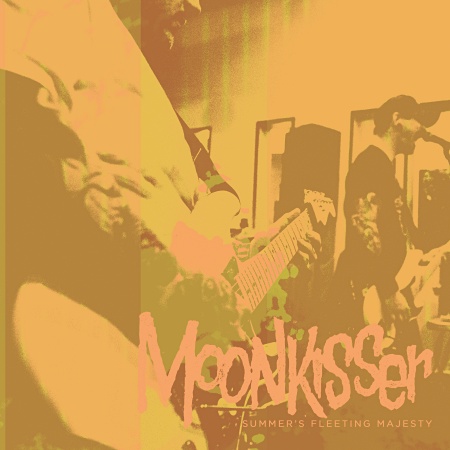 Summer's Fleeting Majesty will be out on September 4 via Head2Wall Records as a one-sided 12".
The pre-order version of the vinyl just went live and is limited to 50 copies, which includes an alternate cover, and exclusive 8" picture disc lathe cut record featuring Moonkisser covering Quicksand's "Head to Wall" and "Mountain Song" by Jane's Addiction and art by Joey's World. You can also pre-order the EP on Bandcamp.
***
Donate a few bucks to help with No Echo's operating costs:
***
Tagged: moonkisser