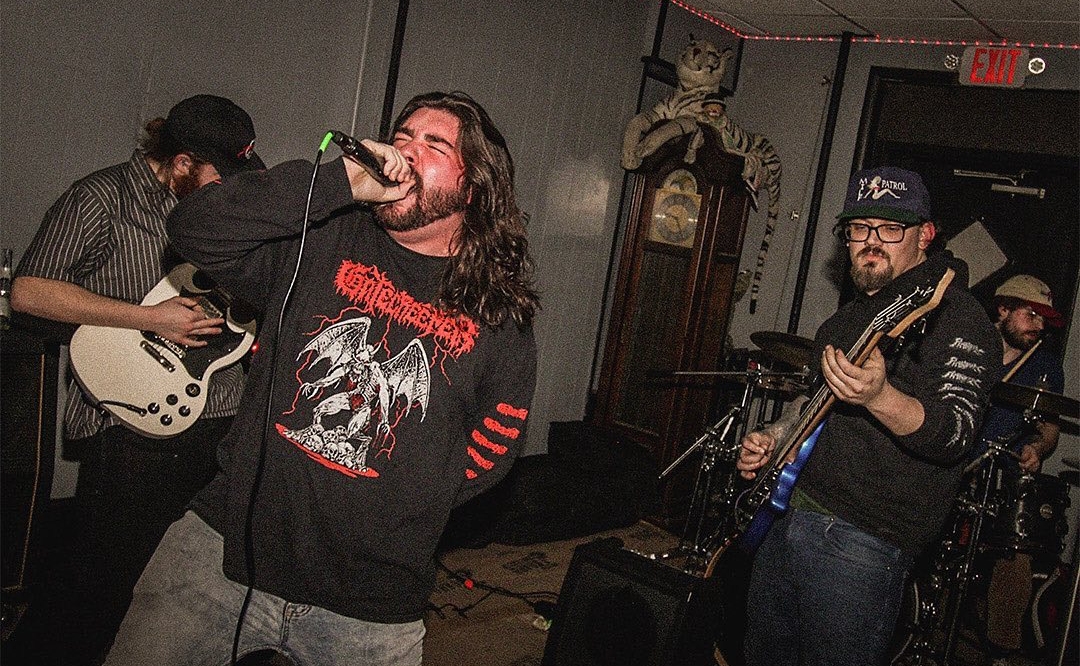 Soul Sacrifice is a New Jersey metallic hardcore band who's genesis story goes back to the vocalist Andrew Dobson and guitarist Dylan Wood's high school years. "Ever since that band fizzled out about 4 years ago, we've always talked about starting a new project of some sort, but never committed to anything," Andrew told No Echo during a chat last week.
The singer picks up the story. "After years of abandoned ideas, we decided to record some music and actually get something started in 2022. We put some songs together and decided to start working on a lineup to play shows. First, we reached out to our drummer, Stephen, who was an old work friend of mine, and thankfully he was willing to be a part of the project.
"Last, but not least, we got one of my oldest friends, David, to play bass. We really didn't know a lot of people who could play bass for us, but David stepped up and decided to learn how to play so he could be a part of the band. He's really picked it up fast and has been great to play with."
Soul Sacrifice's debut EP, A Life for a Life, dropped late last year. "I would describe our sound as somewhere in between hardcore and metalcore. Officially we call ourselves a hardcore band, but I don't think any of us are too concerned with putting ourselves in any kind of box. We all come from very different, but very similar musical backgrounds and we're just looking to make music that feels uniquely us, but also familiar for people who love the same music that we do.
"There's definitely a lot of big influences for all of us coming from all over the spectrum. Lately I've been listening to a lot of Undeath, mewithoutYou, and Chamber, but we also pull a lot of influence from bands like Jesus Piece, Knocked Loose, Snapcase, Counterparts, Meshuggah, The Devil Wears Prada, and Kublai Khan. The list could go on forever. We just really love music."
With the EP out for a few months now, Andrew and his Soul Sacrifice bandmates are slowly but surely filling up their schedule. "Our immediate plans are pretty simple. We want to play more shows, and write more songs. We've already got a couple new songs written, some of which are already in rotation in our live set. We plan on writing a few more and getting another EP out hopefully this summer.
"As for shows, we're three deep in our career and are always looking for more. The whole goal when writing this music was to play it live, so if anyone has any spots they need filled in their lineups, hit us up. Our next show is April 30th at Kaycee Ray's in Vineland, New Jersey. Come on out."
When it comes to NJHC, Soul Sacrifice are clearly proud of their scene. "There are so many great bands in the area, it would be impossible to shout everyone out, but some bands that come to mind are Harm Assist, Silithyst, Morbid Cross, Ground, and Bankrupt. Also shout out Anti Flower Show Movement. Nancy forever."
***
Soul Sacrifice on social media: Twitter | Instagram | Bandcamp
***

Tagged: soul sacrifice