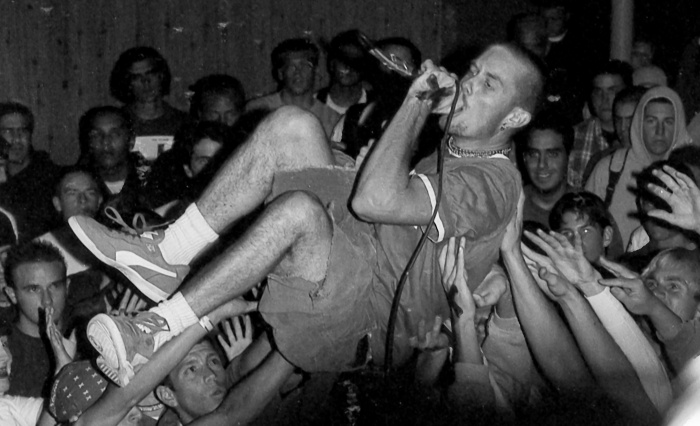 In 1998, I was lost in the wilderness of a stalled future. Collegiate pressure found me friendless, unmotivated, and landlocked. The majority of my high school friends had willingly fled the Baltimore suburbs, their promise of escape one I'd somehow felt disqualified from. My sole lighthouse became the local record store and that particular year was one of seemingly endless treasures… '98 saw the release of debuts from Kid Dynamite and Dillinger Four as well as game-changers from Avail, Saves the Day, Alkaline Trio, and Refused.

In addition to these seminal releases were the bridge albums… oftentimes grabbed blindly from the bins, that solidly ended my engagement with mainstream music. This dalliance with radio rock and a nüwer aesthetic was casually destroyed upon discovering a CD that looked harrowing, it's blanched and photocopied presentation was immediately captivating. It was a stroke of pure luck and circumstance that landed it in my hands that day and I'm still forever grateful.
Among other things, Eyelid's If It Kills, released April 4th, 1998, introduced me to the inimitable Indecision Records. Thus began the wormhole that vaulted me from Ensign to Adamantium to Indecision to Threadbare ad infinitum… never to return from the endlessly rewarding world of hardcore punk.
The label's "unlucky" release, Indecision Records #13 is an album that's a fitting testament to unbridled fury. The musicianship, while fully indebted to hXc, showcases the marriage of ambition and desperation, resulting in singular, visceral art that's ultimately created in a vacuum of staunch independence. Truth be told, there may actually be something to the cursed number assigned to the baker's dozen. Though it could be said for a number of records from the era, If It Kills deserved better then just as it does now. Now is your chance to discover an under appreciated gem that I place squarely in league with the era's heaviest of hitters.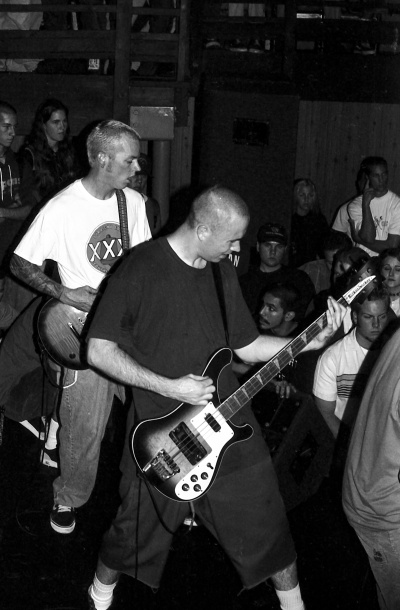 When No Echo founder Carlos Ramirez initially pointed me in the direction of Eyelid's guitarist Brian Melville, I assumed that like most interviews I'd be begrudgingly given brief and nostalgic misrememberances (that's a word now). Upon reaching out, I was astounded by not only his cooperation and enthusiasm but his custodial and careful handling of their legacy. He's held on to absolutely everything. His treasure trove of Eyelid ephemera is proof positive that hardcore is important both in the moment and years after. Endless thanks to both Eyelid members Dan Palmer and Rus Martin who thoughtfully tolerated my fanboy punishment to wax nostalgic on all things Eyelid. Brian was absolutely killer and I'm proud to call him a new friend. So, on to Eyelid's If It Kills. And yes, it sure as shit kills.
For the uninitiated, give a brief roll call for Eyelid and, if possible, a brief rundown of other bands or projects you've been involved in, both prior to and after Eyelid. People likely know bands that members came from and went on to join.
Brian Melville: I was actually not in the first iteration of the band, but Dan Palmer and I were good friends and living together at the time. We originally had a band called Consequence with Dan on bass, myself on vocals, and a few other local dudes like Ricky Reyes (a former member of the first version of the LA band Downset, Ricky is also currently in a few rad bands in Kansas City: Big Iron and Slowdeath). Consequence was a lot of fun, we covered all the typical lyrical concepts of the day, and it was actually my own first real hardcore band. Dan was previously in a band called Bottom Line with then Social Justice and future Downset drummer, Chris Lee, that was pretty fun for the time.
Dan had parents that moved up North for work or something, as he was a senior in high school and somehow let Dan live in this house by himself for a while (details are fuzzy on that), and it ended up being dubbed Club Dan. He had put on some shows right there in the living room and those were some killer memories, and was truly the thing that really sparked my interest in singing in a band at the time.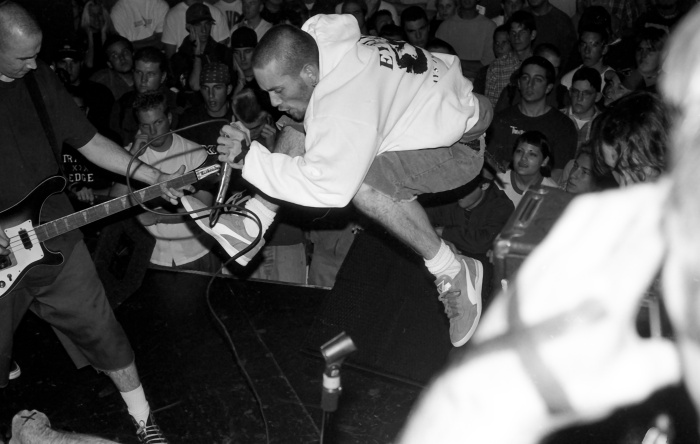 On a side note, Dan was always a talented musician, and a terrific bass player in Bottom Line. His bass licks were pretty out of the box for the genre and were a clear indicator of what was to come from Dan. As Consequence, we put out a self-released demo and a 7"on Altered Records out of Italy. We actually played quite a few local SoCal shows during our short existence at some really legendary spots like Macondo in LA (which would be a vital show spot and hub for us later on into the future of Eyelid as well), and Spanky's in Riverside, which was host to some amazing shows by Judge, Insted, Chorus of Disapproval, Sick of It All, Pushed Aside, Against the Wall, and of course, Chain of Strength.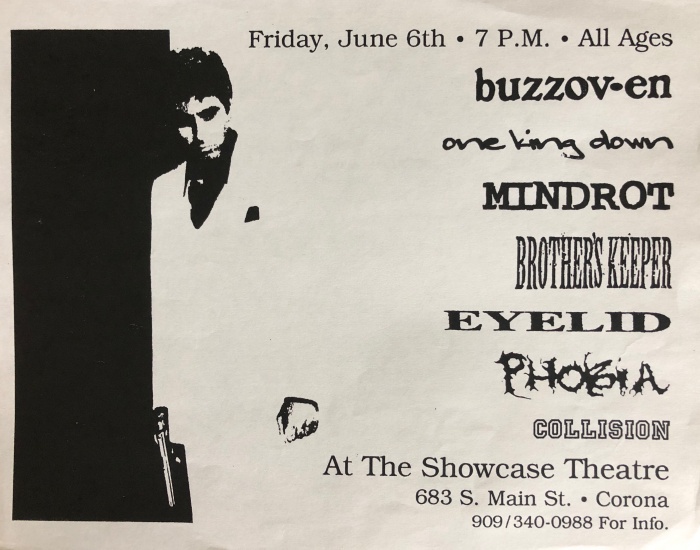 It cannot be overstated how much of an impression those times, early shows, and experiences made on me and, at 47-years-old, I still look back at these times as life changing. Okay, back to the Eyelid story…so I'm not even sure how Dan met the dudes in Eyelid which at the time were Andrew Hogge on drums, bass player Mike Machin (formerly in Strife), and original vocalist Jeremy Corby (Clockwork, Newspeak). They had recorded a demo which I thought was killer, and yet somehow Jeremy ended up no longer singing in the band. Dan must have mentioned me as a second guitar player, and Rus Martin and I auditioned at the same time to be permanent members of the new lineup. I just remember being overwhelmed as this was 1995, and I hardly knew how to play guitar.
True story, Dan Palmer literally showed me how to play the guitar by placing my fingers on the fretboard and saying go! The first riff I ever learned was Gorilla Biscuits' "High Hopes." The rest is all a haze and we were ready to get out there and play.
I remember being so stoked to be in a band that sounded so much more refined, at least framed by my experience in Consequence. Andrew was, and still is in my opinion, one of the best drummers I have ever played with and Machin developed into a killer bass player. Rus Martin was energetic, lyrically complex, charismatic, and one of the best to do it to this day. I feel really fortunate to be able to have shared the experience with these dudes.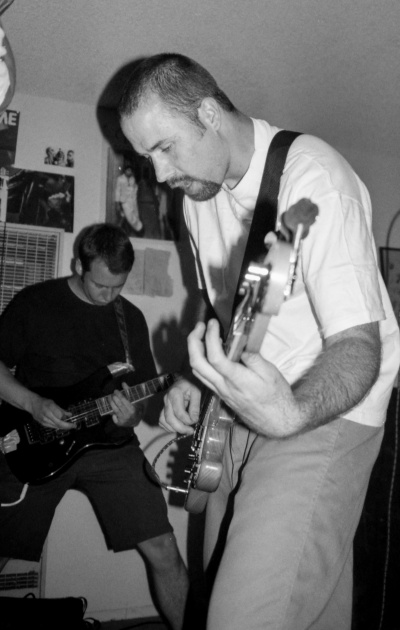 Dan Palmer went on to Death By Stereo, Zebrahead, BillyBio, Dirty Black Summer (Misfits tribute band), Die By the Sword (Slayer tribute) and countless other projects. He is pretty prolific to say the least, and is very active to this day. Music is his full-time gig at this point.
Rus Martin has stayed very active and went on to form Hotwire (with members of Countervail), Skyscraper Frontier, Beware the Idols, and Fake Figures with members of Scars of Tomorrow and Atreyu.
Mike Machin owns Machine Studio in San Pedro, CA, is a digital and multimedia artist, and also owns Machine Motion Studio, which does 3D animation and motion design.
Andrew Hogge is a DJ (goes by LoveFingers) and owns a record label (ESP Institute).
(Brian Melville) After Eyelid, I went on to join the band Countervail and did a couple of tours, joined Eyelid for a reunion in 2015 for NateFest West (to benefit Nate Gluck from Ensign), and in 2018, reconnected with Rus Martin in Fake Figures for a brief run, and I've built a Real Estate career in Los Angeles CA.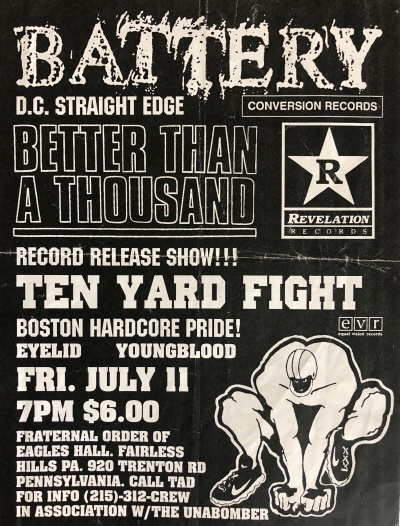 When did you all first get exposed to punk/hardcore as music and as a subculture?
Well, in 1985 I started skateboarding. My first real exposure to punk in general was through skating. I was always a rock and metal guy, (born in '71) so guitar driven music was always a favorite of mine. Interestingly enough, before realizing what straight edge or even hardcore was, I was exposed to bands like 7 Seconds, the Vandals, Descendents, The Exploited, Minor Threat, and stuff like that because of skate culture. I always found the lyrics of 7 Seconds and Minor Threat to be much more positive which was my initial draw, but I mostly enjoyed the raw aggression and energy of it all as a complement to the attitude and aesthetic of skateboarding. Fast forward to '89, my first real hardcore show was at the country club in Reseda with RKL, Final Conflict, and Bulimia Banquet.
I remember being so excited to go to the show because a friend from high school was really into the band RKL and we used to listen to this stuff while we were working in print and woodshop. I was hooked, and from there I was hungry for more. One day, my buddy Sean at school introduced me to the first band I knew as straight edge...that was No For an Answer, and he let me listen to the A Thought Crusade LP, an album I still love to this day. The lyrics spoke to me and I felt like I found something I could identify with and latch onto.
From there it was Chain of Strength, Pushed Aside, Release, Youth of Today, Walk Proud, Bold, Gorilla Biscuits, Insted, Social Justice, and so many more. I was in love with this movement and its message. I scoured the inserts, liner notes, and covers of every record I could find to learn about new bands to explore. A real game-changer for me was finally seeing Insted, Social Justice, and Uniform Choice at the legendary Country Club in Reseda. From there it was all about stage dives, and sing-alongs for me.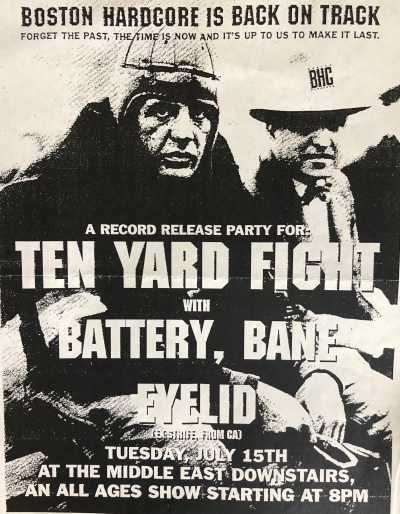 Rus Martin: I was first exposed to punk rock during my junior high school years (90-91). Some of my early bands I listened to (after I got through my metal/thrash metal stage) were Dead Kennedys, Misfits, Subhumans, Angry Samoans, Ill Repute, The Exploited, and Youth of Today. Youth of Today was my first exposure to straight edge hardcore. I remember buying the Can't Close My Eyes EP on cassette tape at a local record shop in Thousand Oaks and seeing the cover of this bald, angry, looking singer yelling into a microphone at a show with an X on his hand. I was kinda really interested why he had an X on his hand more than the title of group or song titles, so I bought the record. I put on my headphones and pressed play and BAM! There it was, something more solid sounding than any other punk band I had previously heard. His voice was so piercing and loud and pissed. Then, in 2 minutes, the song was over. I was hooked. I needed to find more bands like this.
So, the way I went about finding them was looking on the credits in the artwork for bands they thanked, that's how I found Gorilla Biscuits, Bold, Uniform Choice, etc. I couldn't believe the friends I was hanging out with never heard of any of these bands, it was like I had found my own club. Eventually, I did start finding kids who knew about this thing called the straight edge scene, I never did drugs or drank to begin with back then, so I started hanging out with them and going to Strife shows, because they were all friends with them. That's how the whole thing took off for me.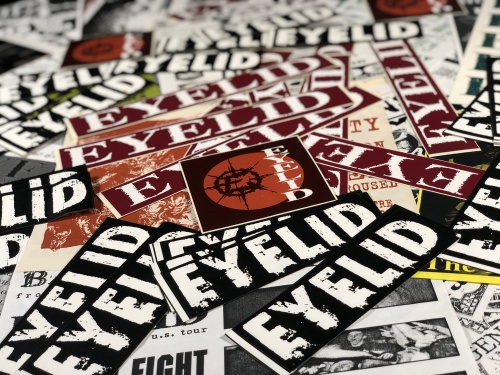 Dan Palmer: My stepdad listened to The Clash and Sex Pistols while I was growing up, so that got me started listening to punk music. Living in Southern California makes it easy to go and see punk and hardcore bands since everyone plays here. Eyelid was influenced by punk, hardcore, and metal and we liked to incorporate many styles while writing. Mike, our bass player, always wanted to just cover Dead Kennedys' "Fresh Fruit for Rotting Vegetables" all the way through live. I thought it was a rad idea and i wish we would've done it. It probably would've been weird for people to see us do that but I wish we did it anyways.
Were you all Southern California kids? Historically, those must have been some fertile stompin' grounds! How did the punk history of the area inform your band?
Brian Melville: Yes, we all were SoCal kids. Dan was originally from the UK but I believe he was just a young kid at the time he arrived here. I was born in Northern California but arrived in the San Fernando Valley by the age of 5, so I am basically a southern California kid — tried and true. Funny story, so within our respective towns there were tons of great bands forming, but our Santa Clarita, CA claim to fame, at least in my opinion, was the band Infest They were the most brutal thing I had ever heard and they were a huge influence on me coming up. [Infest vocalist] Joe Denunzio lived only 2 blocks from my house, and on a skate home one day, I saw the Infest vehicle (they had a huge black Chevy Suburban), and left a note on the windshield saying that I loved the band and to call me.
So one night, after 10pm or so I answer the phone and a gruff voice says "what's up you little straight edge ____?" (Use your imagination here, folks). I'm like "holy shit, it's Joe Denunzio!" We chatted it up for a few and I went over to meet him days later and he gave me a fucking purple copy of their first 7", (something I still have to this day) along with their demo, and a unique toothpaste colored copy of the OG Slave LP... still one of my favorite moments of all time. Other bands from my city included early versions of Downcast and Freewill, while the rest of the guys were from Newbury Park/Thousand Oaks, which was the birthplace of Strife.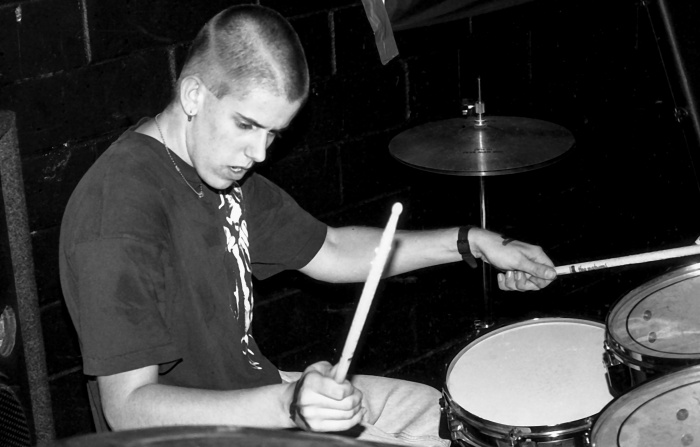 Rus Martin: After we had released ...Days Infected, the guys in the band came up with, what I remember, song after new song. I think "Iron" was the first song we wrote after the EP releasing? Which, talking about the EP, I remember being sick while recording those vocals and I hear it now and think, can I re-record that possibly? So, going into the LP, I was keeping myself super healthy, running everyday, swimming...I wanted to be in the best shape I could. I thought I was Rocky at point I think? Sans the boxing. As for the lyrics, I wanted to take a different route from the previous stuff, so I got really into my nerd roots as a kid and started reading and watching a lot of science-fiction, I dug back into the poetry of Edgar Allen Poe (who was a high school favorite), and listened to a ton of post-punk records because I was looking for different approaches to singing.
I don't think I did a swell job of using some of those techniques per say, but I do believe that not really listening to what was sorta "trending" at the moment in the hardcore scene was the right idea because; I didn't want to emulate what anyone else might be doing at the time. But I'm sure I probably ripped someone off, subconsciously, by still going to shows. That was something I could never stop doing. Getting back to the lyrics ( I sidebar a lot), it was important for me to tell stories, I had always loved writing stories, so I took that tone with each of these songs. They're part-true stories wrapped in a colorful script. So they all pertain to the same narrative, just different chapters. What is that narrative? That's for you to know and me to find out!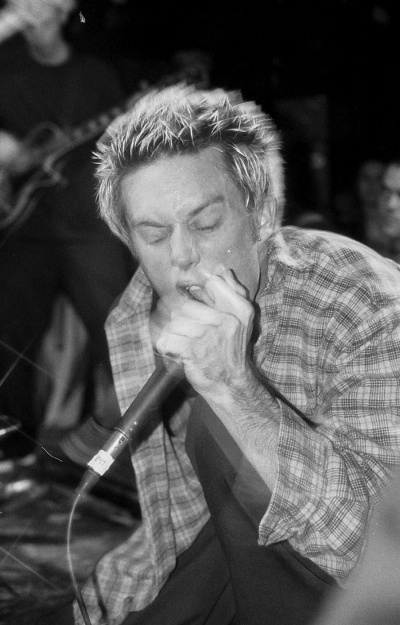 Recording with Paul Miner was awesome. In fact, he record the Hotwire (band I later started) demo for us at his Buzzbomb Studio in Orange. He was (and still is) a class act of a guy who knows how to capture the essence of hardcore/punk music. It was actually my first super real professional recording experience I'd say. Never been in a studio that big. Now I don't think this was his Buzzbomb Studio he has now. It was where he was working at during that time.
Dan Palmer: I remember writing all the music for the song "Iron" in my bedroom when I lived in Whittier. The gardeners were loud and woke me up early, so I started jamming that song out. The riffs came pretty quickly and I'm stoked how it came out. I always try to write a ton of riffs for whatever song i write. Just to give as many options as possible and with Eyelid we usually ended up using most of them. Nowadays the songs I write are far more condensed. I remember recording with Paul Miner and I had a hard time nailing the acoustic track "Nowhere" and had to keep redoing it. I didn't know how to play to a click at the time and in general my guitar playing wasn't very disciplined. I didn't really know much about using down strokes to make rhythms heavier and I hadn't really studied guitar theory much at the time. I wish I could go back and redo the guitars and make em tighter. I wouldn't change the note choices, I would just play what I played tighter. I'm proud of those riffs and I think it's a unique record.
It was one of Paul Miner's first full-length recordings and so we were all kind of learning and figuring out what to do at the same time. We were all really into Threadbare and wanted the drums to sound as good theirs.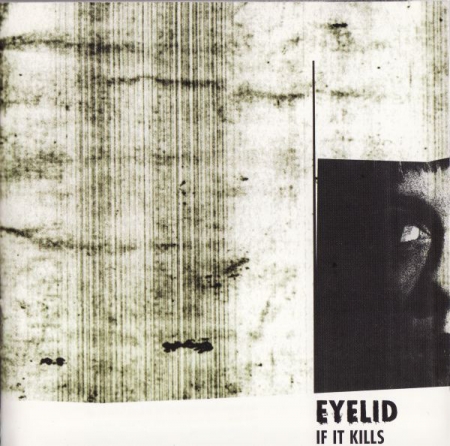 What do you remember about the writing and recording of If It Kills?
Brian Melville: Gosh, it all seems like such a blur. You know we had done some demo recordings and a 7" at a smaller studio but nothing really professional or great sounding, although I still love the demo recording which became the Bleeding Through 7" on Phyte Records. For If It Kills, we had the good fortune of working with a young ambitious engineer named Paul Miner, a great guy just getting started on his engineering career. Paul has now recorded just about everyone noteworthy in the scene and is the best at what he does. I just remember feeling so stoked to actually be in a professional studio with a dude that understood where we came from that would help us execute our musical vision. Not to mention, it felt really cool that it was done over the course of a few days so it almost felt like we were on some rockstar level shit instead of having to get in and record it in one day.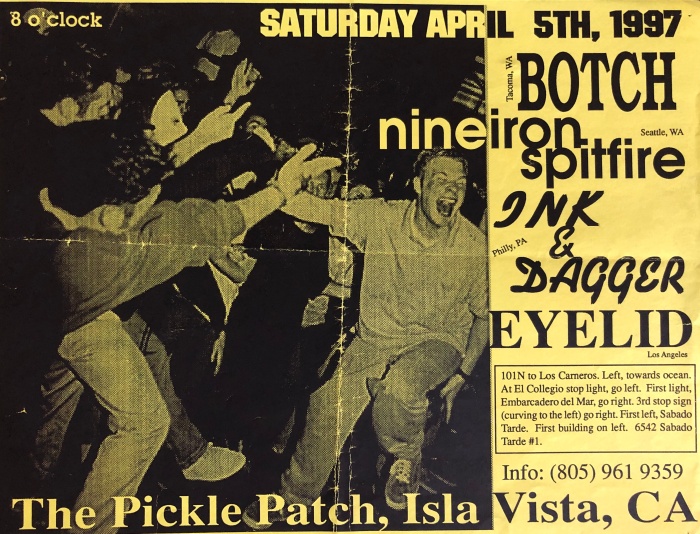 Dan Palmer: We would see Dave Mandel at shows and just became friends with him. He seemed to like us enough to put out or record and we're lucky that he believed in us. I really liked the Faded Grey record and I loved the first Death By Stereo, too. We would play with Death By Stereo and I always thought that the record was awesome but they were shitty sounding live. Two weeks after Eyelid's last show, I ended up joining Death By Stereo. I had to learn the first record, If Looks Could Kill I'd Watch You Die, by playing the vinyl. I had to keep picking up the needle and putting it back down to learn it. Learning records from digital is so much easier now! It's been 20 years and I'm still playing in Death By Stereo. I'm currently in Australia with them now.
Rus Martin: We had all been friends with Dave long before the band was created, so we had a really good relationship with him throughout the years of us playing and all hanging out. We all had a call with him while on tour with Battery and Ten Yard Fight (I think it was that tour?) while in Utah somewhere at a gas station...felt like it was the middle of nowhere, midday with a warm sun. He mentioned he wanted to release the LP and I'm pretty dang sure that's when us as a band all agreed to go withe Dave. I think it was great choice for us...Dave was really super excited about the band and had only a few other artists at the time to tend for, so we got really good treatment from him. All his bands did. I remember us trying to get Victory Records' ear during that time too, but the closest we got to them was playing the California Takeover at the Whiskey...they recorded the whole night!
Unfortunately, they didn't record us and passed on us. But as I previously mentioned, it was all for the better. A band like Eyelid was built to exist on a platform how Dave was operating: it was all him and he only released bands he felt absolutely passionate about, and really, that's the exact kind of person you want when thinking about releasing a record. A person (or team) who is invested not just with money but with soul.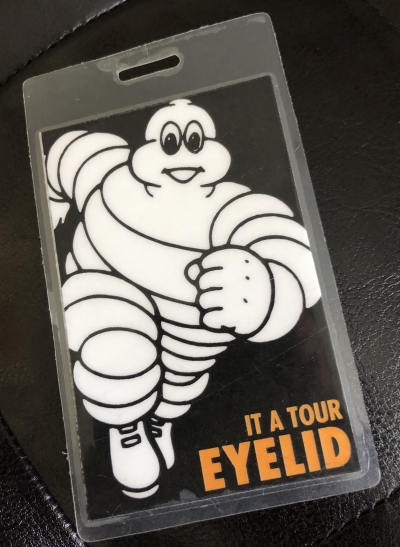 How'd the relationship with Indecision Records come to be? What're some other records/bands from your general era of the label that're woefully ignored or underappreciated?
Brian Melville: Like Rus said we were on tour and there was some discussion with [Indecision Records founder] Dave Mandel and it just seemed like a natural fit, so we did it basically like everybody did back then. It was a quick verbal agreement, and away we went. Dave was putting out lots of good stuff and it seemed at the time, like the most logical place for us to be. It felt like we were gaining momentum. I remember feeling a kinship with other bands of the era and of the label like Adamantium, and The Dynamic Seven, and Faded Grey. These were bands with a more developed and sometimes metallic sound and that was something I feel was slightly under appreciated at the time.
Other notable moments for me personally were shows with Botch, Ink and Dagger at the Pickle Patch, or Strife, Snapcase, and Earth Crisis at the Whisky A Go Go in Hollywood for the California Takeover. We weren't a Victory band but got on that show as the opener. It was an amazing time and those bands were shaping the way we looked at music, our approach, and our image. Sometimes as I reflect on these memories, I can't help but feel we were just about to break loose, and with a little more effort, or touring, we may have really broken out of the Southern California scene on a larger scale.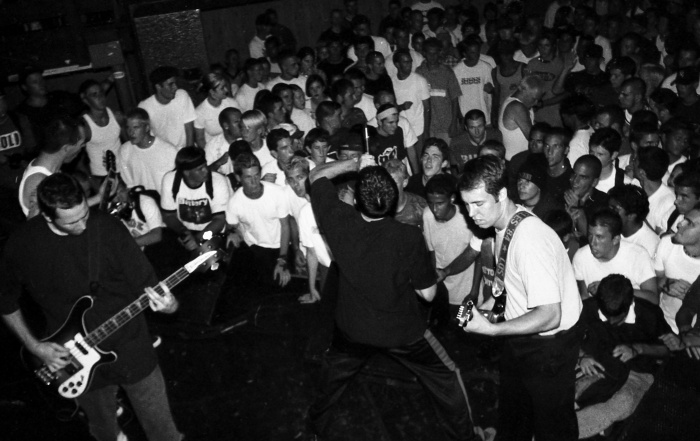 The back half of the '90s is an endlessly interesting time. There was a convergence of traditional hardcore, metallic hardcore, and more emotional/adventurous bands that seemed to be a particularly exciting melting pot. Additionally, it seemed to predict the future sound of the late '90s/early '00s. Your style, in particular, has nods to both the American Nightmare and Poison the Well worlds of just a few short years later. In my opinion, a great deal of these bands tend to be forgotten or relegated to the dustbin of hardcore history. Thoughts?
Brian Melville: I think most of us in the band at the time leaned more towards the metallic side of things. Certainly a band like Threadbare was something we all cited as an influence. I seem to remember an unspoken feeling or a decision that as a band that we were not trying to be punk, or an average Youth Crew type hardcore band It wasn't that we had an objection to that, it's just that our musical voice and the expression of what we wanted to convey was more of a message of feelings and emotions rather than words and slogans if that makes any sense. We wanted the music to be hard, complex, driving, and intentional. We wanted the music to be first, and the interpretation of the lyrics left to the listener. I suppose we just didn't want to beat anyone over the head with a particular message. I would say this as well, that most of us were at some point straight edge, and in the early days of the band we shared some of the straight edge aesthetic, but as we grew, we just naturally drifted away from that as a band, although most of us adhered to a straight edge lifestyle at the time.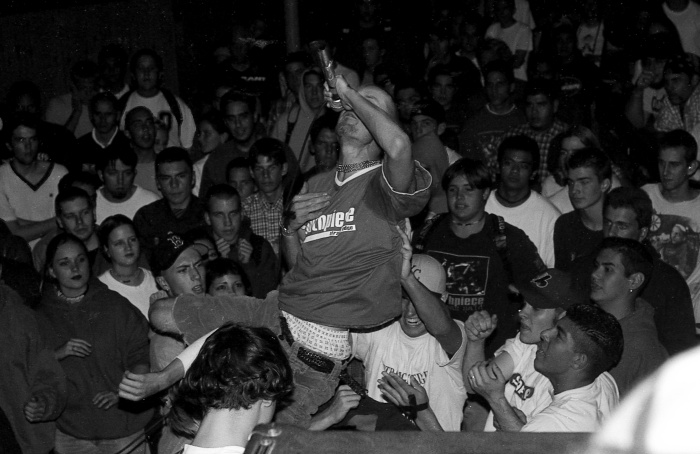 Dan Palmer: Bands like Poison the Well and Threadbare were fucking awesome and it's strange how they don't seem to be mentioned much. I thought Eyelid was unique and brought a different twist to hardcore. Of course I'm biased a bit but I really thought we made great unique music. It's kinda strange that no one really gave a shit about it. Oh well, I still think it's good even if not many agree with me.
Rus Martin: You know bands are meant to be forgotten and rediscovered all across time, especially in a small ecosystem like the hardcore scene. Those who have more dedication, of course, will have better memories and take brunch with nostalgia now and again then the rest. I always find myself re-engaging with bands I used to love back in the good ol' and being able to grasp moments you had forgotten, just like the music. It's like a picture book you haven't skimmed through in over 5 or even 10 years. Feel good crap. For example, I'm rekindling my love for early '90s death metal again. I just downloaded the first Suffocation record and was again blown away by the utter madness of that band, juggernauts for sure. Not sure how I ended up in that rabbit hole, but I love it. Music does that. It's one of the few special qualities I still find in music these days.
So, if we lent any sort of inspiration for other bands to do what they do/have done, it's win-win situation for music lovers and the scene(s) they're apart of. Seeds planting seeds. End note here, just to be a part of that hardcore history, for me, regardless of what shelf we've ended up on...well, I'm glad I was there.
Eyelid seemed to play a ton of shows, which were inherently more diverse during that era. You toured extensively, including runs with Ensign and and the great "tour that never was" with Strife. Those both must have been amazing runs but none of you really sounded alike. How'd those tours materialize? I'd love to hear everything you remember about shows/tour life from then!
Brian Melville: So, by now it's been well documented that we never did go on the Strife tour. It's probably not important as to why we didn't go on that tour, and definitely wouldn't serve any greater good here. It was complicated, it was partially financial, and we weren't to business savvy as a band. We were all just young kids doing stupid shit. I would say though personally, that a couple of us let our principles get in the way of what could've been a pretty great opportunity for the band to maybe grow and expand. The hatchet has been buried with respect to that long ago, and I personally have a better relationship with the amazing dudes in Strife now than I ever did back then. With that said, we had some great runs with Ten Yard Fight, Battery, Better Than a Thousand, and Ensign. Those were some times that we will never forget.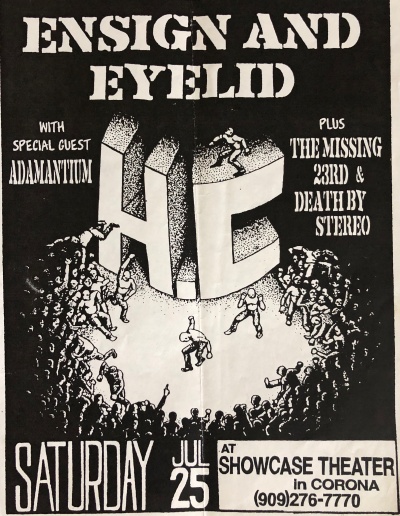 The Ten Yard Fight guys were the fucking best and I still keep in contact with some of those dudes to this day. Those tours were such an eye opener. It was really challenging to be a Southern California band playing metallic hardcore on tour with bands that had a much more posi-message, if you know what I mean. We had to go out there and really try to win people over. We made some amazing connections during that time, and one of my personal highlights was playing with Burn in Hagerstown, MD. It was after our set that [guitarist] Gavin [Van Vlack] came up to Dan and I and said "you guys just played over everyone's heads". Now, this may not sound like a big deal to most, but Gavin is a great player that has written some really great music that we as a band respected greatly, and to have him give that validation while out on a hard tour in the rebirth of the Youth Crew era was something that gave us a boost. For me, it still means something and I shared that with Gavin at a Burn show in LA not long ago. We ended up also staying with Gavin in a squat in NYC at a later date too. Wild!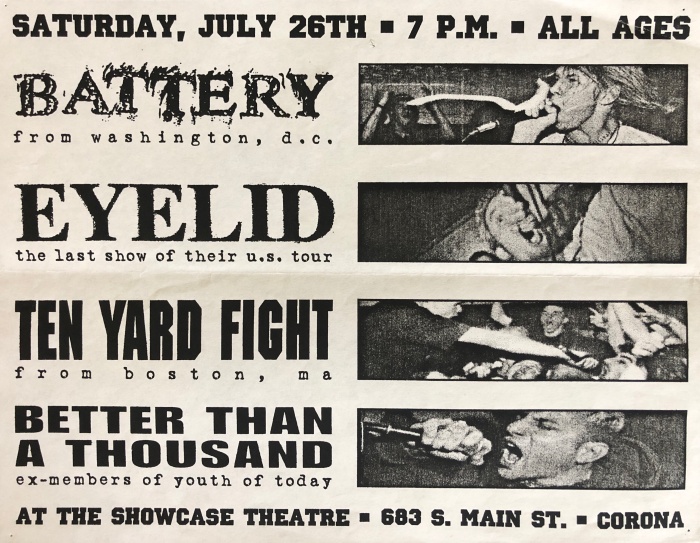 Dan Palmer: We were supposed to do a full US tour with Strife in '96 and that came about because we were friends with them. The tour was kinda disorganized and their van wasn't working last minute for some reason. Sid, their drummer, didn't want to go on the tour so Andrew (Eyelid drummer) was going to play for them and Eyelid and we were all going to share the Eyelid van for the tour. We weren't very business savvy so we didn't even know what we were going to get paid. Strife finally told us that we were going to get 10% of their guarantee. Some of their guarantees at the time were $250-$750 a night. So we would've made $25-$75 a night, which would've been damn hard to make happen. So, the night before the tour, Brian (other Eyelid guitar player) and I decided that we didn't wanna go on it. We left everyone messages saying we weren't going to go on it and then proceeded to drive three days straight across the country to go and see Sick of It All at the Handy House, which is a house in New Jersey where they would have shows in the basement.
We made it and then hung out on the East Coast for 10 days eating burritos and seeing shows. It was a rad time. We should've just done the Strife/Eyelid tour now looking back on it but oh well. We were young and not the most business savvy dudes [laughs]. We got to play with a lot of great bands like Warzone, Integrity, Neurosis, Burn, etc. Speaking of Burn, Brian and I ended up befriending Gavin and went to hang out with him in the Lower East Side of NYC. We got to his place late and he lived in a squat at the time. He was rushing us into his place so not to bother the sketchy neighbors. Gavin took us to a bar close by and it was the bar from Crocodile Dundee where Mick Dundee goes up to the transvestite and grabs the crotch. I thought it was rad that we were there, in NYC, and hanging out with the guitar player of Burn. Burn was a huge influence so it was all pretty surreal. I was straight edge at the time and I decided this would be a good time to start drinking. I had four Long Island Iced Teas and I've been drinking ever since! [Laughs] Straight edge til 24!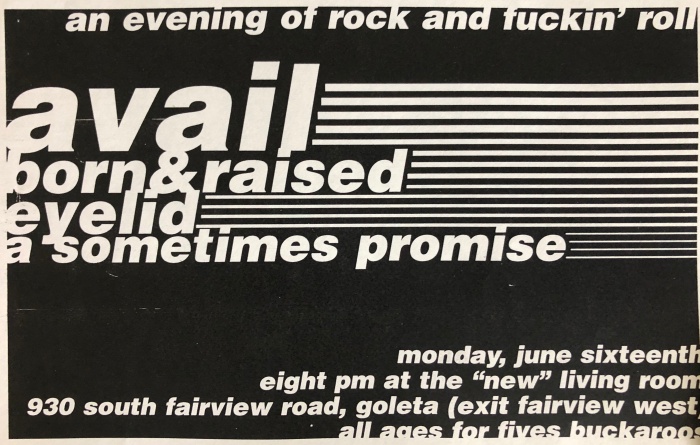 The Eyelid Instagram account is a treasure trove of band related ephemera. It's astonishing how much you held on to. Did you always intend to be a hardcore custodian of sorts? I can imagine you knew you had something special. Some of the lineups on the show flyers are the stuff of dreams. I've got to ask you about The Pickle Patch!
Brian Melville: Thanks man, I actually do run that account for the band. I'm a fairly sentimental guy, and perhaps I sensed at the time that I should just grab the flyers from every show I could, or capture some video at a few shows here and there. I saved every little thing, primarily because it was important to me personally. In the end, it's all just a blur, and the history has been pieced back together through the help of some great friends and photographers of the day that were there for us along the way. Greg Flack has really come through huge with many of the photos you see here in this interview and he is still shooting today. Also friends like Fred Hammer played a huge part in documenting the scene at the time and for that we are extremely grateful.
The lineups were legendary and I have given you quite a few of those to include with this interview. We were pretty active for a while there, and for a moment, it seemed we played almost every show that came through town. Our unofficial home base actually became the Showcase Theater in Corona and we got to play with bands like Integrity, Strife, Earth Crisis, One King Down, Ten Yard Fight, Warzone, Entombed, Mean Season, Adamantium, Throwdown, Lifetime, Good Riddance, H2O, and so many more.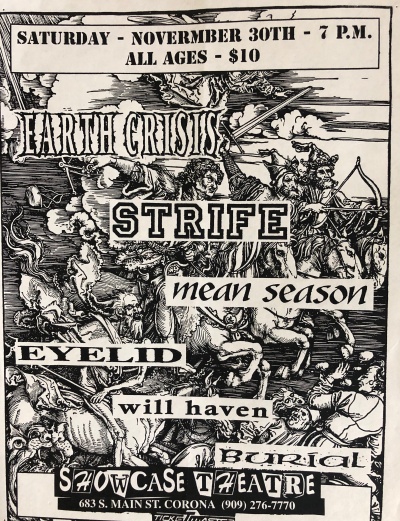 As far as the Pickle Patch, that was the college apartment of DJ Steve Aoki and music manager Mike Mowery (featured in the Netflix film I'll Sleep when I'm Dead). This place was a literal hub and stop for great bands passing through Santa Barbara. To not only see but to play with these bands in the living room of a small apartment was insane. To this day, it's unbelievable the bands that came through those doors. It was always one of my favorites and the intimacy and energy of those shows was unmatched. I mean Botch, and Ink and Dagger in an apartment? Ten Yard Fight crowd surfing with your feet on the ceiling was a memory I'll never forget. The Pickle Patch ruled. You should do a whole piece on that place. I hear Steve is still a cool dude and I used to love skating with him down to the store to grab an iced tea and he was always finger pointing and saying "Positivity Breyelid" (everyone called me Breyelid back then).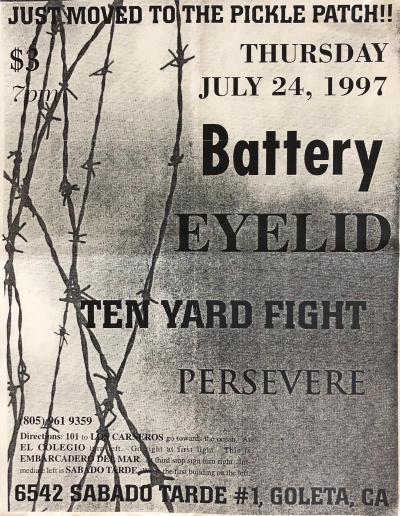 Who're some bands of the era with whom you felt a kinship or camaraderie?
Brian Melville: For me, personally back then, it was Adamantium, The Dynamic Seven, Rule of Nines, and Strife. These were our friends, and it was never competitive, it was all about fun. I do feel it's worth mentioning that I feel Strife had much to do with the early success we experienced and the amazing shows were asked to play. I feel that isn't said enough and it's clear to see the role they played in hindsight. I still talk with Andrew [Kline] from Strife to this day, and I have tremendous respect for his dedication and commitment to music and the creative in general. He's the real deal and I feel we see eye to eye on many things these days. The joy of getting older and wiser is that you grow the fuck up and see people and situations in a different light and those connections so many years later, are really more meaningful now.
Rus Martin: I would say definitely Strife. They were our closet allies for sure. After that it would have to be The Missing 23rd, Countervail, Far, Good Riddance, Turnedown, Ensign, Battery, and Ten Yard Fight. We met so many cool people throughout the years. That was what made music really special for me back then, looking on it now. The shows were rad of course and seeing the world, but the friendships you created throughout the world just by liking the same kinda of music. Kind of a powerful thing, yeah?
If It Kills is as fully realized a statement as there was at the time. Musically, there are some wild moments that draw from unexpected places. Aside from the more angular and metallic post-hardcore, there are some really adventurous musical choices. "Death One 59," in my opinion, is absolutely unbelievable. It's thrashy, chaotic, brutal and even has a passage that sounds like Tool trying their hand at hardcore. It's a fucking masterwork of a song. Could you tell me more about the band as a strictly musical entity? There were seemingly no rules.
Brian Melville: Thanks for saying that. I feel the music really was an amalgamation of 5 individuals with sometimes completely different views on life, music, and the world. I was always the oldest guy in the band, so that always was a source of frustration for me at times. Dan was kind of on his own at a fairly early age and coming from the UK had a different perspective on life, music, and being independent. Mike was always pretty funny guy and was more of a metal guy. Andrew was always the creative and he had a genius about him in his creativity that I found inspiring. Rus was like a poet. He was brilliant and would also drive you crazy, and that is also something I have learned to respect and appreciate about him even today. Rus rules. As I mentioned previously, the music was at the forefront for us, and we would get together in a room and just hash out ideas.
I don't recall a time where we had full songs coming into rehearsal, in fact, we would just share an idea and build on not from there. Dan came up with more of the main structures, and Andrew would always have some really interesting takes on the drum parts and arrangements, I was more focused on little riffs and accents and Mike always laid down some cool bass stuff especially when we got to there If It Kills era. I don't feel the band would have been the same without any of us, and it was special and amazing during the time it lasted. In fact, it was after Rus' last show at the Showcase Theater after one of our tours, that the band took a different direction and was never the same for me, and I left shortly thereafter.
Rus Martin: We knew for sure that we didn't want to ever rely on "junt-junt" stuff or really all out spazz-stuff. That wasn't how the guys wrote, ever. Not saying we didn't take liberties on some of those things, but we never wanted our sound to be solely based in that realm. So Dan and Brian began messing around with really interesting octave bar chords and really high shrieking noises that kinna collided with the riffs he wrote in a very harmonious way. Mike began to listen to nothing but classical music and got really into bass scales and using those to draw upon rhythms and movements between the riffs. And Andrew, well...he's always been a spot on drummer. He would often come up with breaks and patterns to enhance what was already there. You know like...a drummer hears the riff differently. A drummer hears things that make sense in the beat and on different time signatures. He was also really good at tempo changes in songs, but still keeping them in time.
The ending of "Death One 59" is a perfect example. He had the idea of doing that long drawn out jam and having it build through slight speed up changes and then to a crescendo into a massive sized outro. I think I remember us rehearsing this one saying..."this is definitely the album closer" Rules? Lemme just omit a Doc Emmet Brown quote (with a slight change) "Rules? Where we're going there are no....rules." Tool, man....saw them play at the Universal Amphitheater right when Aenima came out. They opened with their closer! Third eye. They didn't miss a beat the whole show. Not one! Maynard hit every dang note each song. I hated/respected him so much after that show. I usually run out of gas halfway down through the set.
Was NateFest the impetus for Eyelid to get back together? How long had it been and what was that like? The flyers were, as you posited, eerily similar to a lineup from the late '90s. How did it go, and could you tell everyone a bit more about Nate Gluck?
Brian Melville: I'd been out of the loop and out of touch with the band for sometime, but yes, that was the impetus for the reunion. I think it was Dan that reached out to say that there was a huge show being coordinated to benefit Nate Gluck of Ensign after his cancer diagnosis. As touting mates, I always felt a connection to Nate and always loved our talks on tour. When I heard he was sick, I was crushed and when the opportunity arose to do something for him I jumped in right away and said yes. We tried getting the original lineup together, but when that couldn't happen we had our good friends Dave Itow step in on bass and Justin McMahon on drums. Both Justin and Dave were amazing and the band meshed well and we had a rad time. I must add that playing those songs with those guys again meant the world to me, and I am so glad we were able to come together for a worthy cause. Nate is healthy at present time and that's one of the wonderful aspects of the hardcore scene: we come together for our own.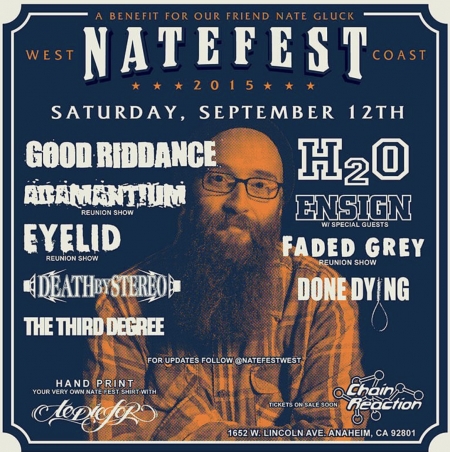 Though the piece is primarily about If It Kills, tell us a bit about your other recordings. I'm particularly interested in the Dead Kennedys tribute comp. There's no other place you'd be found sharing disc time with Anal Cunt, Blanks 77, or Gob. What's the backstory on that?
Brian Melville: I'm not sure how this came together actually but a Dead Kennedys tribute? Sign me up. We were all fans of DK. I remember that we originally were going to do the song "Riot" first and after a few attempts at that one we shifted gears and decided on "Forward to Death." We took some liberties on the metal stylings, but I love this cover, and it's still one of my favorite songs we have recorded to this very day. Dead Kennedys have always been a favorite of mine and one of my first real deep dives into more political based punk rock that had a uniquely California slant. DK for life!
Rus Martin: Oh right that comp! I believe we got on it because our friends in The Missing 23rd (who were already planned to be on that comp) connected us with the people releasing it and they gave us a green light to be on it as well. So yeah, they gave us a list of all the bands that were on it and which song they choose. We definitely wanted to do something from that first record and "Forward to Death" just seemed to work perfectly for us when we first started rehearsing it. Even the title seemed like a title I would come up with [laughs]. So, it all just worked out that way. I really loved the Phyte 7" too and last but def not least...the Status Zine comp that had the last recording I was on "Pyros Opinion."
I remember playing this one over and over on this ghetto blaster I had that had an open air mic on it, so I brought that to our rehearsals to record our new stuff and write lyrics too. I wanted to take bits and pieces from some bands from the '60s and re-write ideas over them about the ignition response one might feel about what lens they view the mundane things in life through and how it might create utter chaos for them. Also, I know that there was either one or two songs from Conflicts Invitation I had ideas too as well. It was so awesome to hear what Roa did for the band, I thought it was a great choice on the guys part to bring in a heavy hitter like himself. (((hat tip)))
***
Follow Eyelid on Instagram for more photos and flyers.
Tagged: eyelid