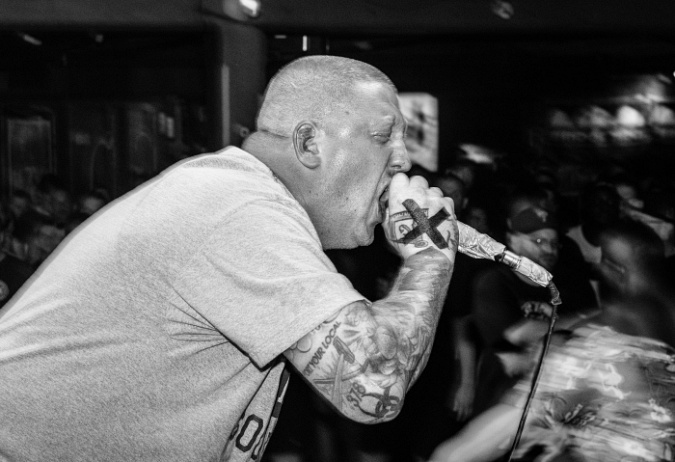 Though the annual This Is Hardcore didn't go down in Philadelphia this year due to the pandemic lockdown, that hasn't stopped from the festival's founder, Joe McKay, from staying busy.
In addition to his work as a Journeyman at Cement Masons Local 592, Joe has just launched the This Is Hardcore Podcast. He obviously has a deep Rolodex when it comes to the hardcore community, so I expect his guest lineup will be an interesting one, and the first few episodes (Bridge Nine's Chris Wrenn, Hate5Six's Sunny Singh) prove that.
I spoke with Joe about his new endeavor, and his plans for This Is Hardcore during these insane times we're in.
How long did it take from idea to execution for this project to start recording? Also, were there specific podcasts that influenced your approach?
A few years back someone had come to me to brand a TIHC podcast and make a biweekly or so podcast regarding the fest and I just didn't think there was an audience that cared that much to talk about it all year. In the last few years, I've made trips to specific podcasts to help promote upcoming TIHC and had more friends getting their own up and running.
In the last 3 years, Jockopodcast, Post America Podcast, Broad Street Breakdown, History of Rome, Hardcore History, and later, Ninjarob, all had me constantly tuning in.
Over last winter, I was thinking about what I enjoy the most about them and how to apply it to our world. By the time summer of 2020 hit and no TIHC, I was looking for something to work on aside from my daily work routine, etc.
So to be fair, say winter of 2019 the seed of what I could do with a podcast was planted and I took the leap and bought a few things in late July of this year.
Who else is helping make the This Is Hardcore Podcast happen behind the scenes?
Sunny [Singh], who helped me shop for my first bit of gear, Chris Mav of Wisdom in Chains and Post America Podcast for the tech information and the place to look up videos for how tos, and OG Gavin for the inspiration and of course Juicy Joel who is the TIHC art/website manager for getting me a landed page set up on our site.
Recording, editing, posting has all been handled by me. Its a refreshing thing to have to spend hours learning, fucking up and fixing it just to make a few minutes worth of audio sound better. I also feel like with some projects, I delegate and focus on the big picture, but with the podcast, I wanted to be responsible and engaged with every aspect so that way I can understand what it takes to do what I'm trying to do and not just assume everyone can work miracles.
The trial and error of it all is really exciting and frustrating at the same time.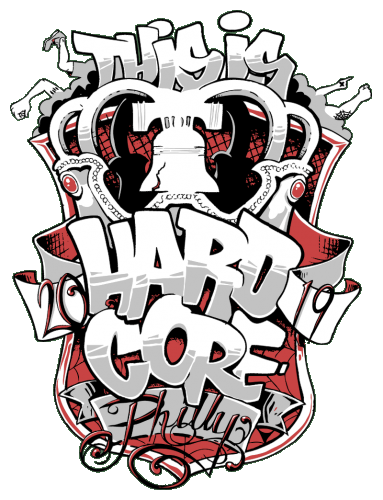 Your first two episodes featured Chris Wrenn and Sunny Singh. That's definitely a cool way to kick things off. How has the interview booking been going? You certainly have a leg up compared to other start-up podcasts since you're already part of the community via the years of booking shows and playing in bands.
Honestly, the booking had more to do with my lack of confidence that I had a decent enough Idea of whats going on once I had one recorded. But so far, there are 3 released including a short addendum and 4 recorded and in various stages of being ready to be queued or are already in the queue with a scheduled release.
I feel like the bigger advantage that I have is that I've been on several podcasts throughout the years and have honed down what I liked and didn't like about being on the shows, and what I would do differently.
Although I branded the podcast under TIHC, I still feel like with how I am interviewing and what sort of direction the conversations go, there are options that may seem obvious that may not make for a good listen under the lense that I'm using.
I'm energized and motivated by the time I've put in on booking and playing shows to disseminate and inform the bands of today on some of the things that may have been covered by the sands of time, that have been very successful, so its a bonus but also a driving force behind many of the episodes thus far.
Do you see the podcast keeping strictly within the hardcore scene, or are you open to branching out to other worlds and topics?
With a handful of conversations/interviews so far under my belt, I am interested in seeing if either what small amount of listeners I have would find things beyond our world as interesting, and also if there would be interest in coming on a podcast grounded within our community.
There are parallels and threads between our world and some of our future guests, be it their past before they took on their professional life, but that is about as far beyond the realm of hardcore that I've gotten. Like all things, as it expands and time hones it to a finer finish, I'm sure I'll take some chances and see if its prudent to continue down that road or not.
We all have our dream interviews. Who are a few people you would love to get onto the podcast in the future?
Without being cheesy, Episode 3 with Chris Spear is a story of someone who did alot for me and is a huge influence of mine and being able to tell his story is something I'm so thankful for.
Having said that, I feel that I could have a good conversation with Jamey Jasta on stuff he wouldn't feel worth rehashing, I'd love to talk to my old friend Jeff Gunnels of Cold as Life and really get the vibe of what it was to be CAL and also their detroit world at specific times.
I wish I started before Jack Flanagan from the Mob passed last year, he would have been an excellent person to discuss early days of putting out 7 inches in the '80s.
For me, I want someone whose story isn't going to be a rehash on my show, so alot of the obvious ones have been covered time and time again. My Top 5 would be Anthony from Etown, Colin from Cocksparrer, Jules Jordan, Elgin James, and Bill Wilson of Blackout! Records. All of which have had successes and great stories that would captivate someone's attention for 2 hours plus.
Since I have you here, what's the status on This Is Hardcore, the festival? Is it a wait and see kind of thing right now, or are you plotting something already?
Plots are coming together and a release date is to be set, something digital on one day via Sound Talent Media's streaming service. Still hammering out some of the bands recordings, etc. This will be all prerecordings and something fun and cool.
All plans for a live event were dismissed second week of July when Philadelphia went back to more protective measures. I'd planned a 2-day outside event and it just wasn't worth the risk to fans and bands alike whilst our city was still trying to slow the rate of COVID-19 transmission.
Plans for 2021 are in the works now.
***
Check out the This Is Hardcore Podcast website for more info, but you can also find every episode wherever you usually listen to podcasts (Spotify, Apple, Stitcher, etc.).
***
Donate a few bucks to help with No Echo's operating costs:
***
Tagged: this is hardcore