Though they've appeared on the site before in a photo piece, today marks the first time we've chatted with Pacific Northwest hardcore band Dry Socket. ​"I moved out to Portland and transplanted my old band Screaming Skull here," vocalist Danielle Allen tells No Echo when we ask her about the group's early stages. "We played a rad show with Squalor and I believe that's about when I met Drew who was singing for them. We bonded over a shared love (obsession) of Kill Your Idols. Fast forward to a few years later, Drew shot me a message out of the blue asking if I wanted to do a band.
"We started out with this idea that we wanted to mix Tear it Up, Kill Your Idols and Paint It Black. Fast, angry, political and personal with some heavier parts mixed in. We've progressed to a point where I don't think we would really compare ourselves solely to those bands beyond the mindset we share with them. We are moving towards having more parts with a mid-tempo feel, drawing on Hope Conspiracy and Suicide File.
"All of us have full lives. Drew had a kid recently, I'm in school, and both Curtis and Geoff work demanding jobs. Everything we do in this band is for pure enjoyment and release."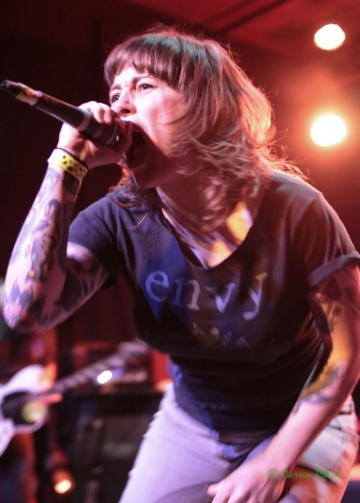 That brings us to Shiver, a 6-track EP from Dry Socket that should raise their profile across the global hardcore community. You don't believe me? Take a listen to the abrasive yet focused sound of "Muzzle" below and find out why I'm not bullshitting you:
"'Muzzle' started as a song about Trump and ended as a song about a local trans teen, Nikki Kuhnhausen, who was strangled to death by a man she met on the internet when he found out she was trans," says Danielle. "The song is about how fucked up it is to not feel safe existing as the person you are and the reality that is for so many people.
"Lyrically, this EP is both personal and political. My world has changed a lot in the past couple years. I addressed a lot of trauma head on. I've learned so much about my place in the world and the privilege I hold. In turn, how I choose my words and what I address has changed since previous bands. Intertwined in every song is a high level of anxiety that I live with, each song containing nods to the world in my head."
Has the Portland punk scene embraced what Dry Socket has been doing? "We are so amazed to have the support that we do. In a short amount of time we've played some amazing shows with bands we admire put on by people we love. We feel we haven't had one bad show. Portland has great bands coming out of it right now: Dying Wish, Deadwitch, WithXWar, XCauterizeX, Gilded Age, Dying For It (Portland now claims them, sorry California), People Person, Hound, Drench, and more.
"There are many bands being unapologetically political and trying to lift voices that historically have not had a microphone. I feel lucky to have transplanted to a scene where I've never had my band billed as 'female fronted.'
"Portland has some hardworking promoters and venues that have given us a lot of support. We joke that we are a Blackwater band and to be fair we have played most of our shows at that venue. That venue is a total labor of love from the punks who run it and I really can't imagine a better place to get to play on the regular."
Shiver will be released as a limited edition cassette via Get Stoked! Records this summer and can be pre-ordered here.
***
Donate a few bucks to help with No Echo's operating costs:
***
Tagged: dry socket