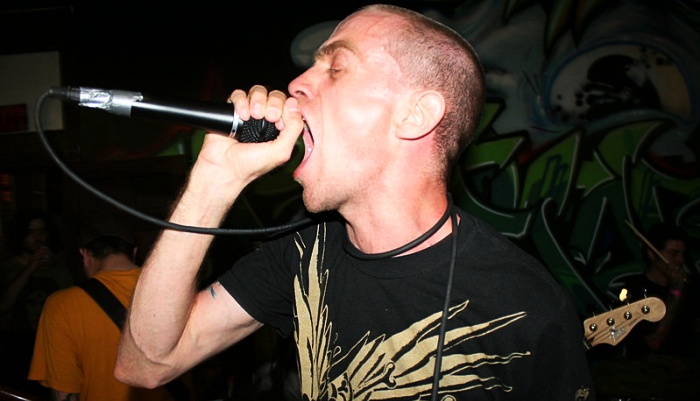 One of the best things about punk is that we could likely all wax nostalgic about moments, shows, records, and venues at length. The zip codes may differ wildly, but the connective tissue is likely similar. I could tell you that the first "show" I attended was Looks Like Rain, though if you're looking for a year the haze starts to roll in. Let's call it 1997.
Forever the socially awkward wallflower type, I was also armed with a friend group of normies (I mean that lovingly), reducing my show-going to solo acts of inherent isolation. Over the years in Baltimore, I caught The Spark countless times and logged unknowable hours at Charm City Art Space, a collectively run DIY venue, zine library, and community space. The through line running through all of it was Mike Riley, without whom the Baltimore landscape would look vastly different.
In the fall of 2006, I picked up an album at a record store. On paper, that otherwise mundane occurrence might be relegated to a footnote if not my memory's dustbin altogether. This happened to be a watershed moment for me, though, as the newly minted record store in question was Celebrated Summer.
The now long-running brick and mortar cornerstone of Mid-Atlantic punk was, in its nascent days, already a treasure trove for everyone from the casuals and skimmers to the collectors. Flipping casually through a seemingly endless array of new arrivals, the inimitable Tony Pence pointed me in the direction of a new local band's debut long-player. That now well-worn record was Vicious Skin by Pulling Teeth.
I'm a homer. There's no getting around the fact that, as a Baltimorean, certain bands and figures will perhaps loom larger in my memory than they would just mere miles down the road. I don't expect everyone to know that The Thumbs were one of Earth's greatest bands (for real, check 'em out), but Pulling Teeth meant a lot of things to a lot of folks. If, for some reason they've escaped you, I envy you the opportunity to hear these records anew. I'll gladly recommend them all, but chronology seems to be the best way to consume, lest they consume you first.
Pulling Teeth forged a sound so apocalyptic and haunting that it felt like the world was being swallowed whole. As devastatingly heavy as Pulling Teeth was, though, they operated without pretense and Riley helped infuse their live sets with a punk ethos rarely heard in otherwise bilious and furious hardcore. They were fiercely DIY, brazenly progressive, and set an example on how to use their privilege and platform for good.
To this day, I've never felt more welcomed and accepted by a live band. Before I devolve into a rambling grocery list of superlatives, I'll leave in the steady hands of Hate5Six's Sunny Singh and his impeccable video of Pulling Teeth's set at 2017's This is Hardcore:
Mike was kind enough to indulge me some burning questions. He covers everything from the fringe benefits of Descendents karaoke in the Centennial State, running a DIY venue, Dom Romeo, unearthing long-lost demos, to big-upping the best Rancid album.
No Echo readers will likely know you best from your time with Pulling Teeth, but your musical legacy goes back a bit further. One of my first punk shows was seeing your band Looks Like Rain. Care to give us the long (or short) of your resume?
Oh boy. I hope the other bands on that show were good. I just listened to the Looks Like Rain demo today for the first time in close to 20 years. It was rough, but kind of endearing. Let's see, my first punk band was called Pastime (1997-1998). That was my second or third year of college. It was me, two guys that were kind of already "over" hardcore/punk, and one guy who wasn't into it at all, but drummers are hard to come by.
Looks Like Rain (1999 - 2003) was after that, once I had been involved in the Baltimore scene for a bit and actually met people into contemporary hardcore/punk bands. (Somewhere in this time of the early 2000s I also played in Fearless Vampire Killers (DC) and Jon Falk!) That lasted a couple years, and then near the end of LLR's run I met Darick Sater and Mike Stearns who lived up about 45 minutes north of Baltimore. They had a band at the time called Jean Mills Society Torch. They were the fastest, tightest thing happening in the area at the time and they blew me away.
I knew the first time I saw them that I had to do a band with them, so after LLR ended we started The Spark (2003 - 2005). After that, Pulling Teeth started in 2005. There may have been a little overlap between The Spark and Pulling Teeth. Paper Dragons started in 2006. I was super busy in the mid-2000s, but Pulling Teeth became my main thing through early 2012, when we finally called it a day.
Paper Dragons was kind of off-again, on-again through 2013. Then I joined Advlts and played with them until I moved out to Colorado in 2016. That's the (probably too) long of it. I'd love to get a band going out here, but I'm 45 minutes outside of Denver so it's been harder than I'd hoped.
How'd Pulling Teeth come together? Having someone like Dom Romeo (founder of A389 Recordings, currently in Integrity,) on board must have had a large influence on the sound, yeah?
Yeah, Dom hit me up around the time that he knew Slumlords were coming to an end. He knew we shared love for a lot of the same bands and asked me if I was interested in doing a band that was a cross between Integrity and Left for Dead. How could I say no? Dom was the architect behind Pulling Teeth, from getting all the members together to writing the music to pulling in Jeff Beckman for the artwork. Integrity has always been Dom's favorite band so it's been great to see him become a member and get to write records with them.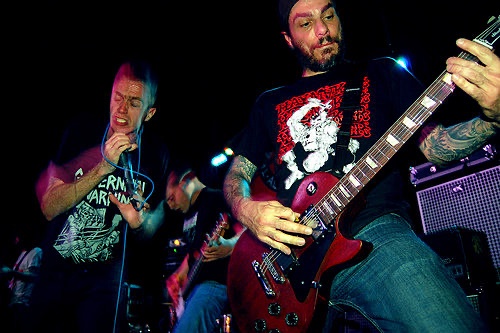 The band's discography is long-lauded, but I'm particularly fascinated by Paranoid Delusions/Paradise Illusions. There was an extremely adventurous and experimental side to the band that is less discussed but really took shape as the band progressed. Am I completely off base or is there something to that?
Oh yeah, for sure. We knew who our primary influences were going to be going in, but that was always meant to be just a jumping off point. As much as we were influenced by Integrity and Left for Dead, we were also incorporating musical influences from Black Sabbath, old Metallica, Napalm Death, Entombed, etc. My lyrical influences have always been rooted in bands like Avail, Propagandhi, Good Riddance, and Ignite. I think that came through in the vocals which helped give the band a bit of a "punk" tint to what was otherwise a very metal influenced band.
Then there's the fact that Pulling Teeth was full of iconoclasts that wanted to come up with something somewhat unique, especially during a time when "Holy Terror" hardcore bands were all the rage.
"Funerary," to me at least, is a masterstroke that employed every aspect of Pulling Teeth. It seems most emblematic of the group and felt every bit the swan song, album title included. Even the guest vocals on "From Birth" felt like a celebration of friendship and closure. Was it written intentionally as a final record?
Thanks a lot. At the time of writing and recording for it it definitely wasn't planned as a final record, but I think that became clear shortly after it was finished. We all talked about how proud we were of it and that we didn't know if we could top it with a follow-up record. Like you said, it did "feel" like a swan song, even if it wasn't planned that way.
Getting as many friends to join in on it as possible was just something we thought would be fun. We had gotten to know a lot of talented musicians over our years as a band and having the chance to include some of them on the record was really special. Getting to include a bunch of them at our set at This is Hardcore that year was icing on the cake.
Speaking of the aforementioned Mr. Romeo, his label A389 will forever live in infamy as an important local label. There's a litany of both long-running and newer labels handling recent punk and hardcore, but shout out some formative folks from the past. We'd be remiss not to mention Reptilian Records and, subsequently, Celebrated Summer.
Absolutely. Reptilian Records was crucial to Baltimore having the scene that it had throughout the '90s and early 2000s. Owner, Chris X, and employees like Tony Pence, Chadd Heath, Artie Phillie, and Jesse Morgan really knew their customers and always had recommendations based on what you were bringing to the counter. Chris gave me all the contacts and information I needed to start my own DIY record label when I was interested in releasing my own bands' records.
When I moved to Baltimore in the mid-'90s, the other local labels keeping the scene going were American Punk (Webster, The Fuses, The Goons, etc.) and Morphius (The Oranges Band, The Uniform, etc.). There really weren't many local labels promoting the local hardcore scene until I started doing Firestarter and Dom started doing A389. After that you had Nick Heitman doing Photobooth Records and Justice Tripp doing Pop Wig.
It was a sad day when Reptilian Records closed its doors, but thankfully Tony had Celebrated Summer going full-steam by that point, and then they moved from the suburbs into the city and have definitely picked up the torch that Reptilian passed on.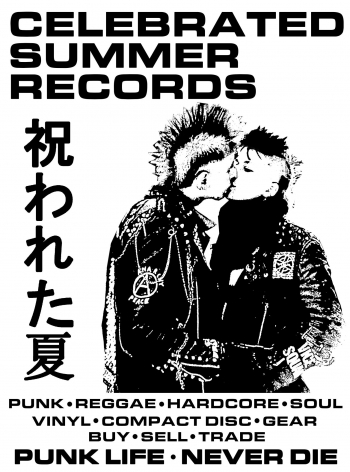 Care to dish a little bit on the significance of Tony Pence? He's responsible for an unheard of amount of people, myself included, being put on to an otherwise intimidating subculture. I hope it's not putting you on the spot, but you always came across as the anti-gatekeeper, of sorts. Was your welcoming nature intentional or just a natural extension?
I would not have been exposed to half the bands I came to love in the late '90s if it was not for Tony. He was a fellow straight edge hardcore kid working at Reptilian when I moved to Baltimore and had a lot of similar interests, but his love of everything from aggressive music to more pop-influenced stuff was so wide and vast, he always had a solid recommendation for me and countless other record shoppers.
I definitely always wanted to do what I could to grow the scene in the area and wanted to be a friendly face to help make that happen. I guess the Minor Threat line, "What the fuck have you done?" always stood out to me. Who was I to complain that the bands I wanted to see and play with weren't coming through town if I wasn't doing anything to make it happen?
Whether or not they knew it was partly your doing or not, countless readers of No Echo either played or attended shows at Baltimore's Charm City Art Space. My math is typically wrong, but the important figures are 13 years and 1,738 shows. Living in Baltimore, I can't overstate its importance as not just a venue that fostered scene continuity and (hopefully) unity, but as an integral community space, ally, and zine library.
I'd love to hear as much as you'd like here! What was the impetus for co-founding/starting Charm City Art Space? Run us through some of your favorite memories!
Yeah, that was something special. When we started it, we honestly didn't think it would make it through the summer. The origin story behind the founding of CCAS was during a time when Baltimore really had no DIY spaces going. The Ottobar and the Sidebar were going strong, but booking shows there often cost more than you'd know you'd make at the door if you were just trying to help out a smaller touring band. My friend Mike Wolf (Pressgang, The Allied War Effort) and I were both at a show at a warehouse space (The Bloodshed) that had just opened up, but people also lived there so they weren't planning on doing more than one show a month.
We had both been involved in various DIY spaces in the past (The Supreme Imperial, The Chop Shop, Black Aggie's, etc.), but it had been a while since there was a good DIY space we could use.
We chatted at that show about trying to get something going together. A couple of months later we were renting a storefront near the train station (long before it was an up-and-coming arts district — cliche story of gentrification — known as Station North) thanks to the donations from a bunch of people from the scene to cover security deposit and first month's rent. From that point on, shows covered all the bills, and the blood, sweat, and tears (and piss) of a lot of dedicated folks kept it going.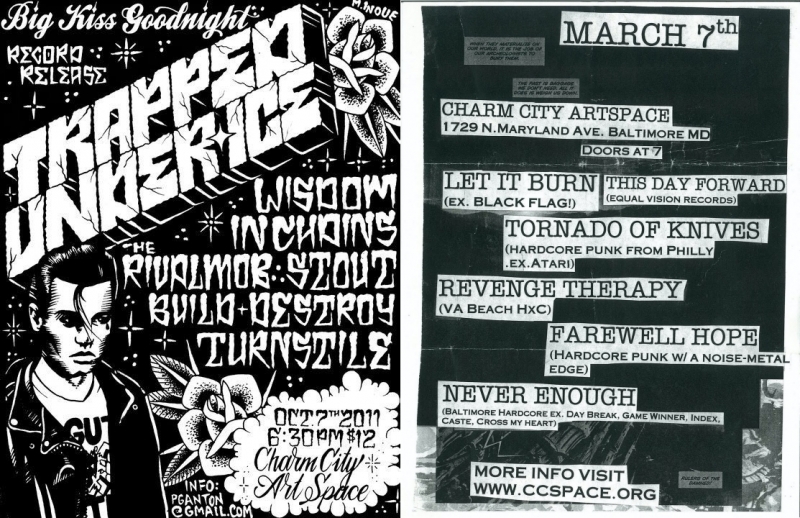 After 8 years we were able to move into the garage next door and were able to go from barely squeezing 50 people into a tiny basement, to having shows with ~300 people. I stepped back after the 10-year anniversary celebration to focus on my growing family, but the people involved at the time kept it going strong until the landlord locked the doors and ended the lease to make room for a tattoo shop.
There's a plethora of memories from my time involved with CCAS, but the ones I go back to most often are the times when we crammed way too many people in that little space (Polar Bear Club, Majority Rule, Insubordination Fest, etc.) and the shows that would flood out during a summer squall when water would come pouring down the steps from the sidewalk into the basement. The time spent fixing up the garage and building out the stage and bathroom and entrance platform were a blast as well. It wasn't without its faults, but overall I'm really proud of what CCAS brought to the Baltimore DIY hardcore/punk/indie scene. I got to watch so many people meet and become friends and start bands together.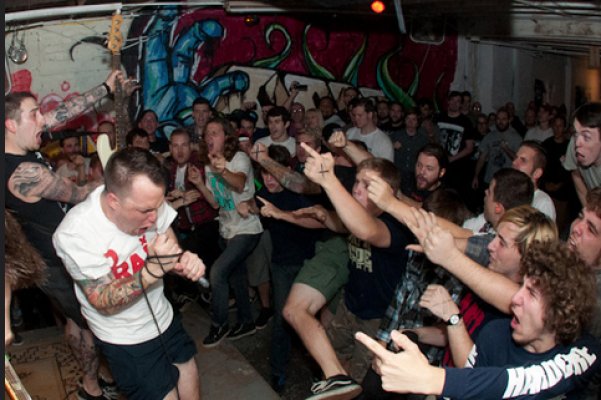 I hesitate to call it a "project" as it feels more like a labor of love, but you've recently compiled a number hard to find demos from a number of MD/DC/VA bands. Has this been an ongoing project or a result of our current surplus of at-home time?
A little bit of both. I've always been a bit of an archivist (my wife would say packrat), so I've held on to most of the demos I've collected over the years. When most of my music listening migrated to iTunes and streaming services and I no longer even had a working tape deck or CD player, I started thinking about what I was going to do to be able to listen to all those demos again.
I started loosely looking into devices that could transfer from analog to digital and then finally pulled the trigger near the end of my last job where I found myself with a lot of free time as things were coming to a close there.
Then the COVID-19 stuff hit and I found myself with more free time then usual. I figured if I was going to be digitizing them I might as well put them up on a service where everyone could have access to them, so I created a Bandcamp page.
I've posted just about everything I have at this point (though I have to re-do the tapes as I realized on the last one that I had been transferring only one channel on all of them), and I've received a bunch of submissions from people, which has been great.
I'm hoping to get a lot more from people, especially from the time before I moved to Baltimore and started collecting stuff from the area. If anyone has demos for Damnation, Battery, Worlds Collide, For the Living, Torn Apart, Next Step Up, Stout, Just Cause, Gut Instinct, The Fuses, The Thumbs, or even Reptile House and anything else prior to the late '90s, please get in touch.
Your Instagram is an absolute treasure trove of punk and hardcore ephemera, both Baltimore-centric and otherwise. There seems to be a Dischord-like custodial sensibility that must mean a lot to both you and those that were there. Was that always an intentional thing?
I honestly can't say why I began holding on to flyers when I first started going to shows, but there was always something in the back of my mind telling me I'd be doing something with them someday. For a while it was a blog and then Instagram came along and I started posting them there. I lost a ton when I accidentally forgot a box that had everything pre-April 1997 in a move. I had a bunch of great City Gardens and other central NJ show flyers in that box from when I first started going to shows.
I love the comments the flyers get that fill in gaps in my memory. It's been really fun. Hopefully Instagram sticks around for a while because I've got years worth of flyers to post.
It seems like you might have a tough time with this one, but I have to punish everyone the same way. At this very moment, what're your 10 favorite punk/hardcore records of all time?
Oh boy. I'll leave off the obvious ones like Ramones, Minor Threat, and Descendents. Ask me tomorrow and this list might be different, but right now I'd say:
Gorilla Biscuits, Start Today
Avail, Over the James
Propagandhi, Less Talk, More Rock
Poison Idea, Feel the Darkness
Lifetime, Jersey's Best Dancers
Kid Dynamite, Kid Dynamite
Cock Sparrer, Shock Troops
Count Me Out, Permanent
Quicksand, Slip
Rancid, Life Won't Wait
If I did my homework, you're in Colorado now, right? What's life like out your way these days? Any bands we should keep our eyes on?
Yeah, I moved out here in the middle of 2016 for a job at a well-renowned advertising agency. I live in the suburbs just north of Boulder, right in between Denver and Ft. Collins. Other than the stay-at-home stuff we're dealing with right now, it's really hard to complain out here. Life is pretty easy. In the warm months, if I'm not coaching my daughter's soccer team I'm probably in the mountains hiking or biking. In the cold months I'm in the mountains as well, on my snowboard with my daughter tagging along on her skis.
There are definitely not as many shows to go to as there were in Baltimore, but I get out to as many as I can. There are some really great bands around Denver, from raw hardcore/punk like Tuck Knee, Goon, Direct Threat, Action Class, and Cadaver Dog, to more punk and indie influenced like State Drugs, Spells, and Paul Maul.
I gotta say that the coolest thing I've had the absolute pleasure of being a part of since moving out here is singing live Descendents karaoke with Bill, Karl, and their practice guitar player, Grover, at an event he puts together at Surfside Seven in Ft. Collins every year called Groverage. I can't tell you how cool it is to get to share a stage with those guys and sing along to some of my all-time favorite songs with them just a couple feet away.
***
MD/DC/VA HC/Punk Demos, Etc. Bandcamp page | Mike Riley's personal Instagram page
***
Donate a few bucks to help with No Echo's operating costs:
***
Tagged: pulling teeth