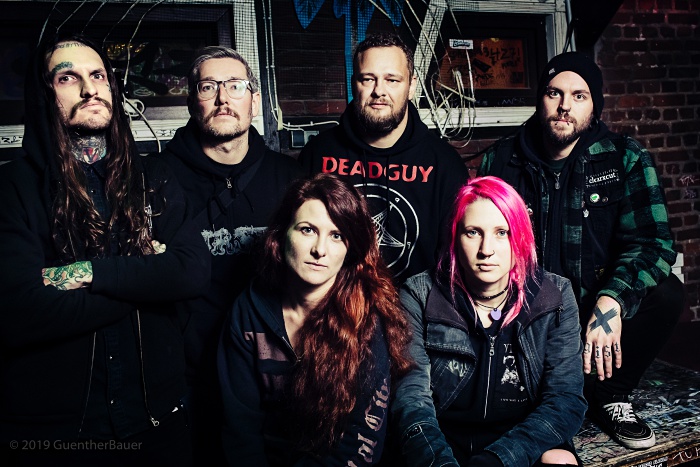 "This band is trying to spread a message of total liberation," says ClearxCut guitarist Matt in an impassioned and direct manner. "That means, that all the diverse struggles for liberation should work together for the benefit of all living beings on this planet. We need to liberate the Earth and end ecocide and the destruction of our biosphere, we also need to liberate the animals from enslavement and the insane system of consumption and exploitation (for they have the same right to life here as we do) and of course we need to liberate humanity from hierarchy, capitalism, sexism and all the other forms of oppression that drive us apart instead of uniting us!"
Based in Germany, ClearxCut features members of Heaven Shall Burn, Implore, and King Apathy, and the group's metallic hardcore sound is every bit as intense as their lyrical point of view. Next month, the sextet will be issuing their debut album, For the Wild at Heart Kept in Cages, and they've chosen a white-hot track called "Collapse" to introduce themselves to No Echo's readership:
'This song is about the continuing exploitation of the natural world," says Matt of "Collapse" and its inspiration. "Mankind (and its mechanisms of civilization) is destroying the last untouched and wild places on this planet with increasing speed. For thousands of years people took everything they wanted from the earth, regardless of the consequences. Since the industrial revolution this form of degradation and exploitation became even worse and managed to destroy wide areas of the most biodiverse places on this planet.
"It seems as if we learned nothing from past mistakes: Deforestation, climate change and the loss of species are problems which affect us all and will be the end of life on earth as we know it, if we cant realize that humanity is supposed to be a part of and not the ruler of the natural world."
Earth Crisis and Raid are clearly a couple of the bands that helped ignite the animal liberation movement within hardcore. I ask the guitarist who he would say are some of ClearxCut's current musical and political contemporaries. "I think for almost every vegan straight edge band, Earth Crisis has had some kind of influence. Their lyrics concerning veganism, environmentalism, and a drug free life are really influential in one way or the other. I would say some of our contemporaries would be SECT, Wake of humanity, Tempest, Sendero, Safe and Sound, and others. We are happy to share the label Catalyst Records with a lot of talented and like-minded bands."
I know the state America is in at the moment, but how are things in Germany? Is the country in better shape today than it was, say 20 years ago? "I think that we can see a rise of totalitarian governments everywhere. Germany is no exception to this. The right wing is getting stronger every day. Not that the politics in the past 20 years were great in Germany, but the political situation today is really alarming. It seems to be okay to spread racist, sexist, and homophobic bullshit without facing any consequences. A lot of people are fed up with the politics of the ruling parties and they are attracted by the right wing in alarming numbers. In times like these it is absolutely necessary to make clear where you stand politically and to raise your voice against racism, sexism, and injustice, discrimination and exploitation in general!'
For the Wild at Heart Kept in Cages will be out on April 12 via Catalyst Records and can be pre-ordered now. ClearxCut can be found on Bandcamp, Facebook, and Instagram.
***
If you're shopping for vinyl, CD, and cassette hardcore titles, head to No Echo's partner store, Reverb LP, to see what they have available. Every purchase you make helps No Echo with site costs.
Tagged: clearxcut