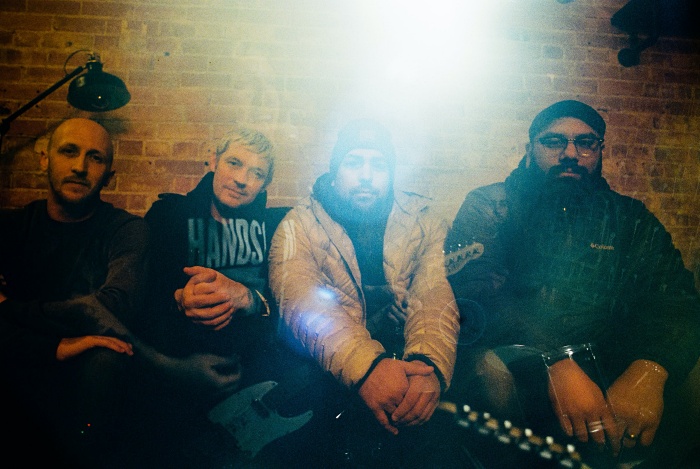 "The origin of Milk Money goes all the way back to the early 2000s when Trevor and I played in the Salt Lake City vegan-straight edge hardcore band, Cherem," Milk Money vocalist/guitarist Dan Fletcher tells No Echo. "On tour, Trevor would always drive and I would always would navigate. Because we were playing and listening to metallic hardcore all day, we'd always listen to something different while we drove.
"One night, we were spinning bands we grew up on like Failure, Far, Hum, and Sunny Day Real Estate and we decided to start an alt-rock band. It took us 15 years to do it, but we finally did and this is our first release. Byron and Drew also played in hardcore bands with us and had the same early influences so we recruited them. The thing that draws us together is our love for emotional rock music that possesses the same passion and intensity of the hardcore bands we grew up in, post-hardcore without losing too much of the hardcore I guess, sincerity."
Now that their formation is out of the way, let's dig a bit deeper into Milk Money's sound, which can be heard on their recently released debut album, Reckon.
"The best description we've heard so far is: 'Reckon sounds like Sunny Day Real Estate, Nirvana, and Jawbreaker stealing a DeLorean to make furious music with their teenage selves,'" says a proud Dan.
Yeah, I would be psyched on that summation myself. Oh, I'm also getting some Rival Schools vibes coming through on the album:
In his email to me about Milk Money, Dan also mentioned that he and Trevor from the band were also behind a Salt Lake City-centered hardcore blog from 2008-2010 called Grudge City Activities, which you can check out yourself at this link.
Speaking of SLC, how has the music scene there responded to Milk Money so far? "Salt Lake has an amazing and diverse music scene right now. Our close friends/bands we play with range from heavy acts like Cult Leader and Tamerlane to indie-emo acts like Sunsleeper and City Ghost to dark shoegaze-y acts like NVM and No Sun to punk bands like Problem Daughter and Wicked Bears to roots/folksy acts like Vincent Draper & The Culls and Lorin Walker Madsen & The Hustlers.
"We all track back to the same early hardcore scene somehow, so it's awesome to see how everyone has evolved into new styles without losing that heart."
As our chat came to its closing, I asked Dan if he had anything else he wanted to add: "Not really. Just that we really love and respect what you do. Having run that hxc blog, we know how hard and thankless it can be to do what you do. We're really thankful for No Echo."
Well, thank you!
You can download Reckon on Bandcamp today. Say hello to Milk Money on their Instagram page.
***
Donate a few bucks to help with No Echo's operating costs:
Tagged: milk money