"I started working on this project in June of 2018, and it's definitely it's own thing," Fred Avila tells me about Unurnment, his new solo project. You might know the guitarist from his work in Primal Rite, a band I've championed on the site who released a stunner of a debut album last year called Dirge of Escapism. But while Primal Rite certainly falls into a crossover thrash sort of wheelhouse, Unurnment goes way deeper into the more extreme side of the metal spectrum. "I actually started writing this music as a way to challenge myself musically and get some stuff out of my system that I knew my bandmates in Primal Rite wouldn't be down for."
For Unurnment, Fred takes his songwriting and playing style into a full-on death metal direction, a sound he's been into since his teens. "Old school death metal is really popular these days.
I see a lot of newer bands that are influenced by Bolt Thrower, Autopsy, and Incantation, but I don't see a lot of love for gravity blasts, sick gutturals, bass drops, and black cargo pants. I love OSDM as much as the next guy, but Unurnment takes influence mostly from classic brutal death metal of the late '90s and early '00s.
"Stuff like Defeated Sanity, Pyrexia, and the million other bands following in the footsteps of Suffocation. I was a nerdy metal kid before I was a punk/hardcore guy and I played in a few death/grind bands as a teenager so this project is sort of a way for me to go back and do some shit I haven't done in a while. It was a simpler time... going to see countless drum-trigger death metal bands at The Pound SF (RIP) and driving 12 hours to play one show opening for Dying Fetus, Disgorge, Deeds of Flesh, and Severed Savior in Phoenix, AZ."
Fred hooked me up with a stream of Spiritual Penury, the debut Unurnment demo EP, a 3-track assault that keeps true to Fred's death metal influences in all the best ways:
I ask the guitarist/vocalist how the writing and recording came to be since last year was also when Primal Rite dropped its debut full-length. "Actually, Primal Rite wasn't doing a whole lot in the second half of 2018 and I had just moved to Sacramento. I was only driving to San Francisco for band practice every once in a while and I wasn't playing music with anyone near me so I inevitably spent a lot of time at home playing guitar. I'm constantly working on new music when I'm at home but I usually end up hitting a wall or running out of steam before any project ever gets finished. This one just happened to keep me interested enough that I kept coming back to chip away at it for 8 months until it was completed. The demo is only three songs because they each took so long to compose and record that I knew taking on any more might hurt my chances of finishing it."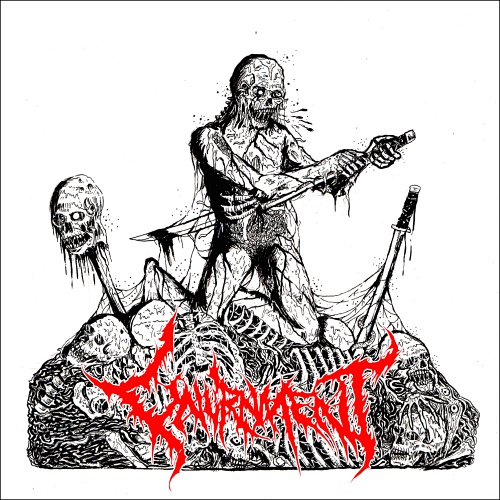 The cover art for Spiritual Penury was done by Indonesian artist Rizki Akber, so I ask Fred who they came to work together and how much input he had in its direction. "We just found each other on Instagram. He mostly does art for punk bands but I really liked his style and told him my ideas for the art. I wanted something that represented the lyrics of the leadoff track, 'Autogenous Punishment.' It's a song that takes a look at personal demons and reimagines them as actual demons, lurking in the dark recesses of the mind, tormenting and killing those suffering from mental illness, jumping from person to person, and repeating the process over and over again. Rizki drew up a rough sketch of a decomposing man committing seppuku on top of a pile of corpses that have all previously committed seppuku and it was perfect. He nailed it. Check him out on Instagram."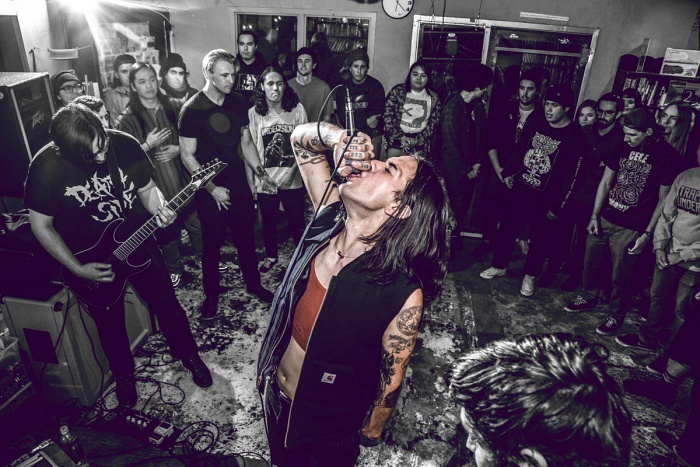 Lastly, I have to ask Fred what the status of Primal Rite and what they have planned for 2019. "Primal Rite wrapped up 2018 on a slow note but we've actually just starting getting the ball rolling again. Between me and Jake, I think 7 songs have been written for the new record. We plan on putting out a promo tape this spring/summer and doing some weekend trips up north and down south. I'm hoping we can get a new record out by the end of the year and do some real touring. Also, I've already started work on the next Unurnment release, a single called 'Self-Immolation Suite.' It's a 3-part song about lighting yourself on fire," he laughs.
Download Spiritual Penury on Bandcamp and follow Unurnment on Instagram.
***
If you're shopping for vinyl, CD, and cassette hardcore titles, head to No Echo's partner store, Reverb LP, to see what they have available. Every purchase you make helps No Echo with site costs.
Tagged: primal rite, unurnment