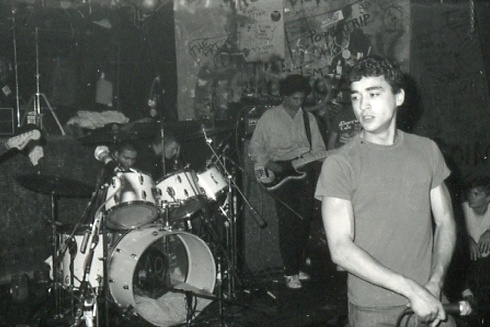 Geeby "ME 62" Dajani was a musician, graffiti artist, record producer/engineer, deejay, youth counselor, sports coach, screenwriter, and downtown NYC fixture. His untimely passing, on December 21 of 2019, has left a multitude of persons from disparate yet overlapping NYC street subcultures in mourning and wishing to pay tribute to this incredibly gifted individual who touched so many lives.
From fronting pioneer NYHC graffiti band Frontline, to being 1/3rd of the Stimulated Dummies (SD50) production team, responsible for classic 1990s hip-hop records from such artists as Brand Nubian and 3rd Bass, his imprint was far reaching. I met him a couple of years ago while researching a book and it was clear from the beginning that I had to shift my whole outline due to the hereby untold perspective he was sharing with me, shining a light to a below the radar narrative that ultimately became the underlying foundation of said book.
That's just the kind of person he was; casually dropping sage advice, be it of the musical or personal kind, always remaining humble in all of his interactions. I asked several people that knew and collaborated with him for recollections, as well including an interview I conducted with him in 2016.
Thank you to Noah Evans, Dante Ross, ZEPHYR, Capital Pete, Pete Bassett, and Geeby's wife, Jasmine, for their input.
Initial Encounter

Noah Evans (Frontline, The Icemen, Gil Evans Orchestra): I grew up in Westbeth (West Village Artists Residence) in the same building Geeby grew up in. Our family moved into Westbeth in January of 1970, not sure when the Dajani family moved in but judging on their location in the B section, it was probably similar time? The further west you were, the earlier you moved in. West Street was the original entrance back then and Bethune Street got finished later. Westbeth kids were very clumped together based on age, when you are kids a few years meant a lot. Gee was born, I believe in 1961 or 1960? So he was three or four years older and three years was a lot especially in the early years from 1970-1980.
I hung out mostly with Mathew Barry, Miles Kelly, Marco Abularach and later, Gabby. Geeby hung out with John Gamble and John Rave and others. Some of my first memories of Geeby are back in the early '70s in the Go Club and 11 Street Gang days. They used to come by and harass us, take our bats, gloves and skateboards. Geeby and John Gamble were older, so they would catch beatings sometimes and had to do stuff for them. John Gamble, Geeby and his brother Tarik all used to play drums! John Gamble had a drum set in his room. John was our next door neighbor then (I'm sure all that drumming helped them with drum programming later with the Stimulated Dummies).
ZEPHYR (graffiti legend, author): I saw a lot of ME 62 street tags long before I met Geeby, so I already knew who he was before I put a face to the tag. That's such a common thing in graffiti since day one I suppose. I believe I first met Geeby through a guy named Raoul Ollman aka JOKER. I ended up at Elizabeth Seeger School on West 12th Street via two friends of mine: "Fat Peter" aka SI-3, aka Peter Benedict and a guy named Chris Karlson. At Seeger I met Joker. I think I met Geeby through Joker. I already had hung around Westbeth a bit from skateboarding in the late '70s but I don't know if I met Geeby back then.
Dante Ross (Stimulated Dummies, A&R, producer): We first met playing hockey when I was 12, but he never remembered that. He hip checked me through a wall, he was 15-16 at the time. We reconnected when he came back from a year of college in Arizona. He was the de facto leader of the Westbeth posse, the minister of chaos if you will. I was extended family. We started hanging summer '82. I looked up to him and have no idea why he took a shine to me but I'm blessed that he did.
Capital Pete (Forty Deuce Radio): Gee and I met through my brother's friendship with members of SD50s (1989). We became close friends after a barbecue we had at my house around '92. We played basketball at Greenwich Village school for a few years and I would attend his sessions at Our Lady of Pompeii when he ran the tournament at West 4th st for the younger kids.
Graffiti

Noah Evans: In the later part of the '70s, I remember we would get markers, ink and pot from Geeby, Gamble and some of the older Westbethians. As far as graffiti, Gee is not only memorialized in The Warriors movie, but he was up far more than most Westbeth writers. At one point, ME62 was in the top five or ten on the #1 train! Geeby had pieces also but not to level of a Mackie [Jayson of Frontline, Cro-Mags]. Skateboarding was also huge I remember we used to go all the way up to Riverdale last stop on the #1 for pools to skate. We were always building ramps, people used to come to Westbeth to skate our ramps! Geeby was a part of all of that.
Dante Ross: He used to give me outlines, and we caught tags here and there fucking around but by the time I really started hanging with him he was over writing. He did put me down with The Outlaws, but we never went bombing together. It was more black book stuff and just putzing around if someone had a marker or some paint. He did have a cool Geeby piece with a bulldog character in the PS41 school yard on Greenwich Ave in the West Village for a bit, someone has to have a picture of it. Years later Wolf, Team and me did that same wall.
ZEPHYR: The West Village graffiti scene was really strong in the second half of the '70s, and Geeby was a big part of it. I liked that he forged his own path with his crew, The Outlaws. I don't know the details, but as respected as graffiti writers that the Go Club were, they had a reputation for violence that proceeded them. Joker and Geeby always tagged up "The Outlaws" as their crew. I liked that they had their own thing.
Geeby had a tough exterior but when we got to know each other I immediately realized that he wasn't a scary Go Club dude, although I'm sure he had some wild days in his youth and his share of crazy stuff.
It's so great that Geeby's tag gets that awesome airplay in The Warriors. Apparently, Union Square Station was one of his targets. Sweet.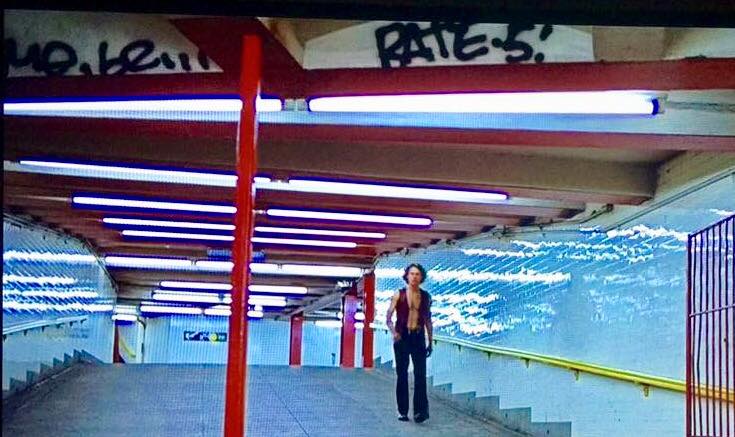 Frontline/Hardcore Days

Dante Ross: He was the singer of Frontline for a minute. Not sure how serious he took it, he spent as much time stage diving and taking out eggheads as he did on the mic "singing." Geeby was never a hardcore kid, Geeby was always Geeby. We all liked hardcore but none of the Westbeth crew were ever what you would call traditional hardcore kids; we didn't do Docs and braces. We liked a lot of music and cultural stuff outside NYHC. You could say we were Bad Brains fanatics, not really NYHC kids, if that makes sense. Geeby was always into funk, soul, early hip-hop, and even disco, not just punk or hardcore.
"Just Begun" (Jimmy Castor), which Frontline covered, was his idea I think. He was an eclectic and super creative soul. He was also tough as nails and very mischievous. He loved to cause chaos but always with a sense of humor if that makes sense. He inspired a lot of the crazy shit we did back then and it lead to a lot of wild times!
Noah Evans: For me, my life changed in 1979 after I saw the Bad Brains at CBs! In the very early '80s, we had a band as you know called Frontline, our first vocalist was John Gamble but Geeby was our second vocalist! Geeby was not the biggest hard rock guy but he used to hang with us at select shows in the early '80s.
ZEPHYR: In the '80s, we would see each other at all kinds of places like Urban Blight concerts or cool '80s clubs like Danceteria. He was a normal cat, not in the slightest way obsessed with graffiti, like so many graffiti writers are. I don't even think he was writing anymore by then.
Stimulated Dummies (SD50's) Era

Noah Evans: I worked at Nola Recording for 6 years. After that, around 1988, we turned our basement rehearsal space into a recording studio SD50! Geeby, John Gamble, and Dante called themselves Stimulated Dummies; they produced rap and hip-hop bands. We became partners with them down in SD50 (The Dungeon). I recorded mostly rock bands but every once in a while I helped Geeby with some of the groups like KMD, Leaders of the New School, and Brand Nubian. Initially, they all worked together but as time went on, Dante and Geeby did not always see eye to eye, so Geeby would use me even though I was a rock guy to do some sessions. Eventually they were not able to work together so I did sessions for him as much as I could.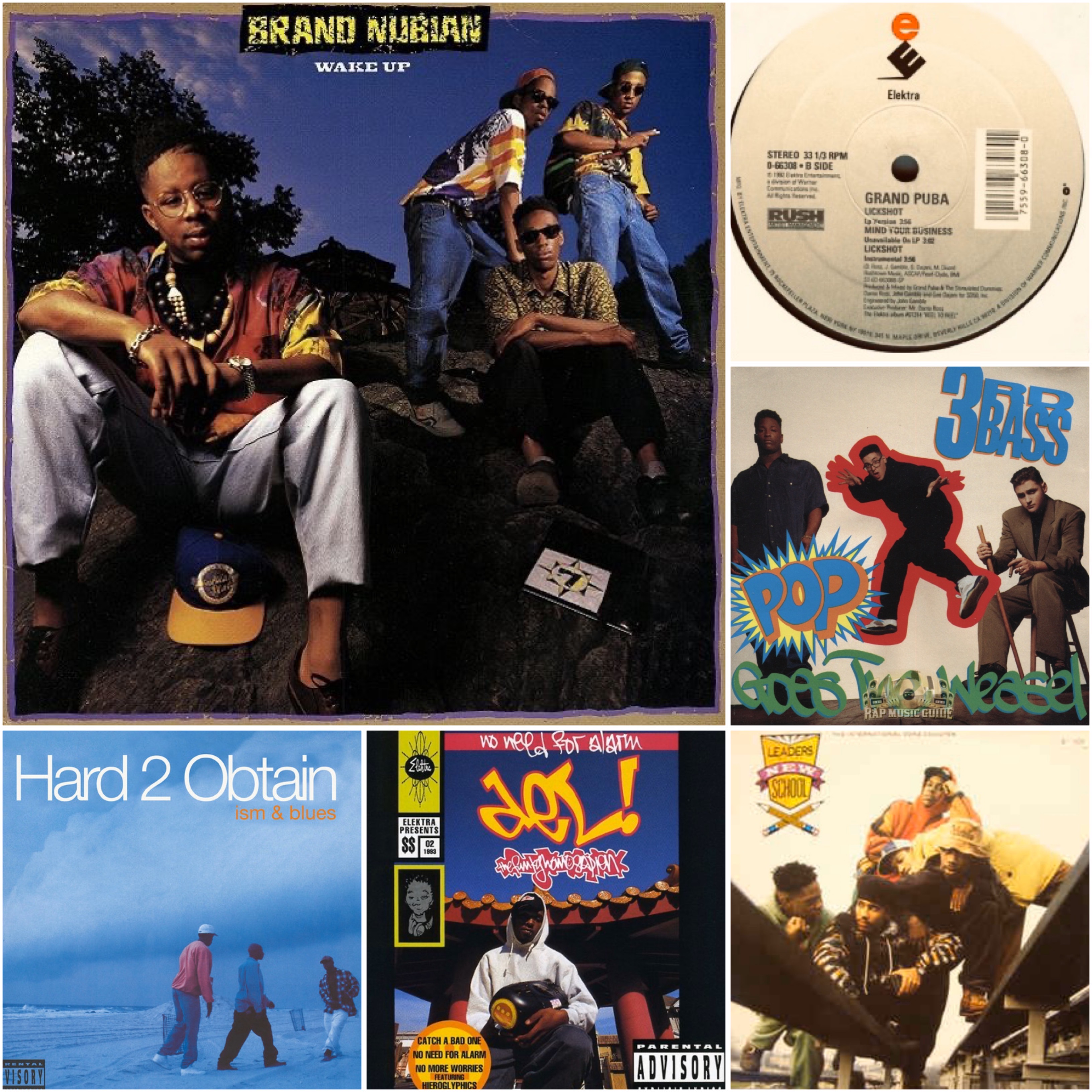 Dante Ross: We started making beats hanging out in Studio 50 mostly at night in 1989, no real aspirations just smoking joints, cracking jokes, and finding loops and breaks and trying to put them together. Geeby and I were big record collectors and (John) Gamble was the engineer/scientist. We were just having fun really, no real aspirations. I had an A&R job and finessed us a few gigs early on, and we just keep going from there.
Funny, Busta Rhymes named us the Stimulated Dummies during a Leaders of the New School session in Studio 50. Geeby flipped it to SD50. 50 which was the studio number. What SD5O stood for exactly depended on what Geeby felt that day. Ironically SD50 or SD—as it was known—was the same studio Frontline had rehearsed and recorded demos in years earlier. It literally was Studio number 50 and it was about the size of two broom closets.
One memory that stands out was when we made 'Step to the Rear' for Brand Nubian. Grand Puba had picked another beat to rap on but when he got to the studio he wasn't feeling it anymore. It was tracked and all, and we didn't know what to do. Puba wanted to hear if we had anything else. Geeby pulled out a S900 disk and loaded it up. Puba instantly wanted to rock to it. It was the loop that became 'Step to the Rear'. It was more or less the whole song. Puba did the vocals in like an hour and him and Geeby found the scratches, if memory serves me right. I think Puba did them but Geeby might have helped do them. He pulled that whole song out of nowhere. It was kind of amazing, he just was like I got this and made it happen and to this day it's my favorite song SD50 got credit for. In reality, it was Geeby who did that song more or less.


Mentorship/Forty Deuce Radio

Pete Bassett (Westbeth resident): I grew up in a building called Westbeth in the West Village. To call it an interesting place would be an understatement. Geeby lived there too and in the late '80s/early '90s, there were a lot of kids my age in the building, some without many constructive activities to fill our time. A lot of kids were just starting to get into shit, going a certain "way." Geeby was older, in his mid to late 20s back then, saw all this and did something about it.
I don't know how or where he got the funds but the was able to convince the bureaucracy at Westbeth into transforming a dilapidated, rundown room on the first floor into a recreation center for us. Brand new bumper pool table, ping pong; all types of cool shit. He was there every single Friday to open it up and hang out with us, to just be with us, who does that? I can't think of a single person I know that age that would do something like that. He cared man. Geeby really, really cared, brings tears to my eyes thinking about him being gone.
Capital Pete: Geeby started Forty Deuce radio show in 2006. I would attend the show with him and KEENE and a few others, At East Village Radio we were there for a number of years until EVR closed and then reopened. We had also started a similarly themed show at Bbox radio and after a brief hiatus we ended up at the LotRadio.com and have been there ever since.
Capital Pete: Geeby has always been selfless in dispensing his knowledge and big brother mentorship throughout our time on the radio. He helped me understand production in music in terms of producers, band members, instrumentation etc.… but his real value to me has been the brotherhood that we have shared over the last 30 years. Geeby was instrumental in me getting a job at a crucial point in my life.
Lasting Influence

Noah Evans: Later in the '90s, I remember Geeby used to do these rap and hip-hop shows at CBs and other select places for up and coming artists. I would do sound for them. Geeby was great at giving back; these shows provided opportunity for acts and artists that had nothing otherwise. He explained to me for a lot of them it was their only way to catch a break and maybe become an artist, get a record deal. I'm sure there is a lot I am forgetting? I will truly miss Gee!
Dante Ross: He was a great person, mad funny, charming, larger than life if you will. He did a lot for a lot of people and asked for nothing in return, just a very selfless person. I wish I could have been more like him, the guy was a free spirit and hands down the funniest person I have ever known. He was the epitome of cool to all of us. He will be missed by so many people. Rest easy G!
Capital Pete: I'm forever thankful and grateful of what we shared throughout the course our friendship. Words cannot describe or place value on what we shared, it has been an honor and a pleasure to know him and to do Forty Deuce radio with him.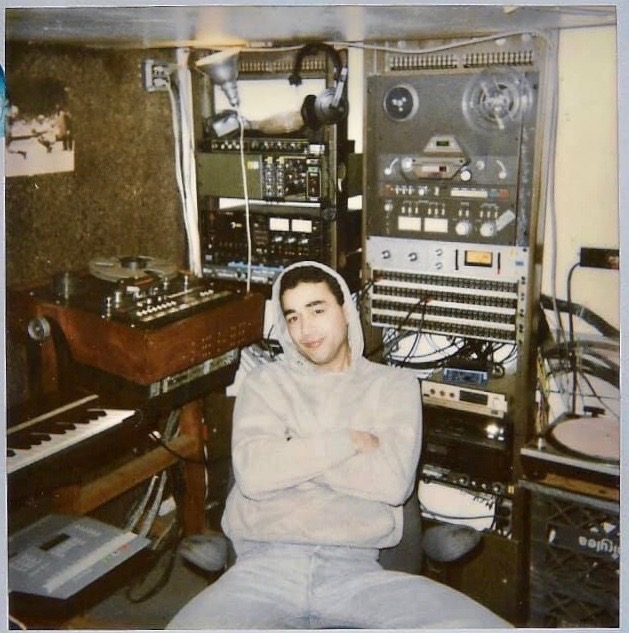 ZEPHYR: I actually regret that I didn't know him better. We seemed to have a true fondness for each other and when he had the radio show on First Avenue; I would stop by just to kick it with him. He was so cool and smart and creative. Geeby was a truly decent, solid, great man. How many people can you say that about these days? I hope he did not suffer horribly, as his illness is apt to do. No one gets out alive. I consider myself truly blessed to have known him. He will be forever missed by me.
Jasmine Dajani: Geeby was a great man to many and had always made a point to make others feel special. He is not only a great husband, a son and a brother, he is the guy everyone wants to be with and made sure you were a part of his family. Geeby will be missed, especially his family, Jasmine, Tarek, Nadia, Mages, and Virginia.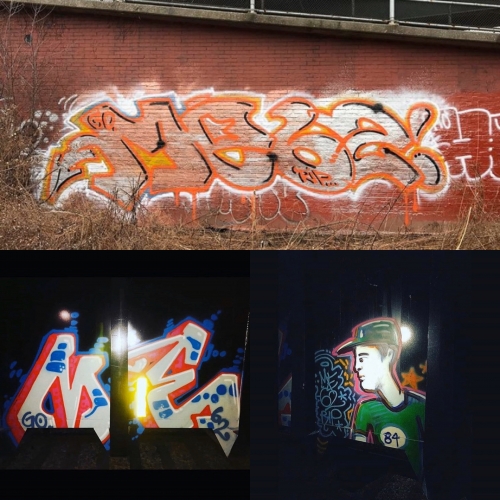 ***
ME 62 interview for Urban Styles: Graffiti in NYHC book from 2016

When did you start writing? Are there any other writers you remember from that time?
I started when I was twelve years old so, like, 1973. Some older dudes that lived in my building were writers and that inspired me. Guys like LEE, SLAVE, CLIFF influenced me and when I moved from Spanish Harlem, to the Westbeth Residence in the West Village, that's where I met NOAH and RAGE.
What were your first graffiti names and any crews you guys got down with at the time?
I did a GEEBY piece once, but that's just my official name. ME 62 was my main tag. I first got down with GO Club and then TR (The Rebels), as well the as TO (The Outlaws). I used to hang out a lot with SHADOW, who passed away. I spent a lot of time writing with him and he took me to some layups in Brooklyn; the Utica Avenue layup. He put me down with a lot of crews like SSB (Stone Soul Brothers) and TFP (The Fantastic Partners). I never put TFP up but the crews I really wrote were TR and SSB.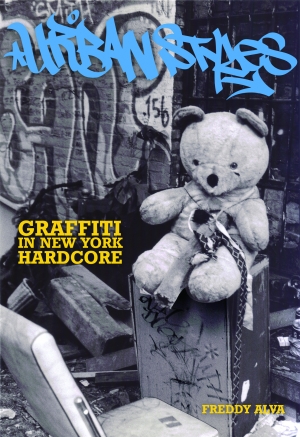 How did you meet the people that would become Frontline? Did you know then previously from the graffiti scene?
I knew RAGE and NOAH since 1970, when I moved to the Westbeth Residence. They are a little younger than me, so I think they really didn't start writing until 1975 or so. RAGE would have been five or six years old in 1970, I think. Same thing with NOAH. I think I met Mackie from skateboarding and hanging out at the Central Park bandshell in, like, 1976.
Did you ever do any Frontline or pieces or put the name up?
I know RAGE used to write it sometimes, but we probably should have done a Frontline piece back then, but no one was really thinking like that. I will say, as far as graffiti, Mackie was on another level. He bombed way more than the rest of us. I bombed only a little bit and RAGE or NOAH probably less than me. I don't think they ever went to the yards, just hit moving trains. Mackie was the man! When I first started writing and we lived in the West Village; there were a lot of truck yards for companies like Avis and Hertz. They used to house their trucks underneath the West Side Highway, a few blocks from our house.
Every day we used to just go out and bomb the trucks. When we got older and started high school, we had to take the train, so we started hitting trains. I had to take the subway to Hell's Kitchen, so all my first tags were motion bombing. I didn't go to the layups or yards for a long time. I was just writing on moving trains and bombing trucks, plus stuff like doorways. Just vandalism. I was never a "piece" kind of guy. I only did, like, one piece in 1981 with Mackie on the #1 tunnel.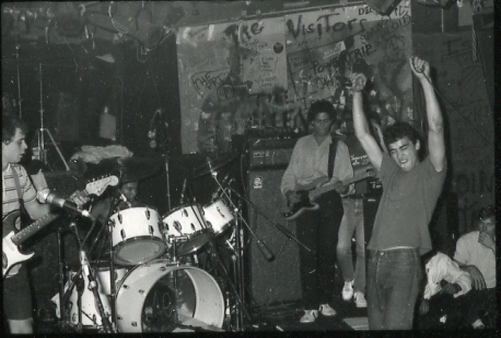 Were you coming more from a hip-hop or rock background when you got into hardcore?
We all started hanging out with the Bad Brains because there was a guy that lived in Westbeth, named Dave Hahn, who passed away. He was a really good friend of ours and brought us to the Lower East Side and he was like; "yo, there's these cats you gotta' know." He was talking about the Bad Brains, and we got connected to them; started hanging out a lot on the Lower East Side. Every night we'd be on St. Mark's; Avenues A to C… we spent years down there.
Any other writers you remember in the NYHC scene at that time?
There were definitely guys like TEAM, who played in Urban Blight. He was drummer/singer in that band. I also remember the guys from the Beastie Boys, like AD Rock, wrote SLOP. Dave from the Young & The Useless, who passed away, wrote SHADI. When we were writing in the early 1980s; graffiti was frowned upon. People were like; 'you write graffiti? Are you some kind of idiot?'. Nobody really wrote, so when you told people that you went to train layups, they'd be like; 'what?' Now it's like this big thing, but back then no one gave a shit.
I don't think that there were other groups like us (back then) that wrote graffiti. I never thought it was unique until I found out about this book project. Graffiti-wise I did the Antidote logo in 1981, the one with the drip. It was for their Thou Shalt Not Kill EP with the green logo.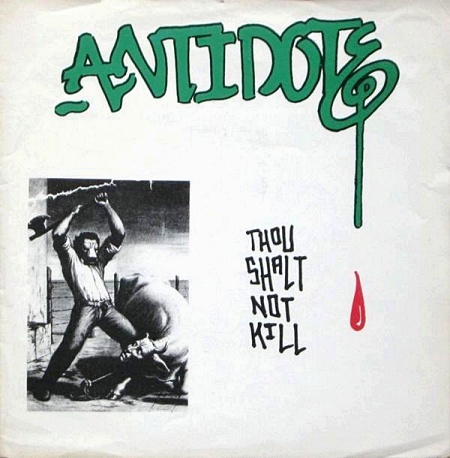 How many shows did Frontline play? Any memorable ones?
I was in all the heyday shows. There was a weekend at CBGB's where we played Friday through Sunday with the Bad Brains. We played A7, Gildersleeves, at CBGB's for the big Patrick Mack (from The Stimulators) memorial concert. The Bad Brains headlined and we went on right before them because they looked out for us, not because we were popular. All together I played ten shows with Frontline and then John Gamble or Kenny sang for a couple of shows each.
How many songs did you guys have altogether?
We had a bunch, musically; written by everyone but me. We had, like, seven or eight songs and we also did covers of Motörhead's "Over the Top" as well as "Just Begun" by the Jimmy Castor Bunch, which was crazy to hear in the hardcore scene. We picked up the tempo of "Just Begun." It's such a New York vibe, that song.
Some of the band members lived at or grew up at the Westbeth Residence in the West Village. Can you tell me a little more about the place?
My mother was a writer, and, like everyone's parents at Westbeth, were in the arts. You had to be a sculptor, writer, painter… anything in the arts to get in there. There was a really big skating scene because we were some of the first kids in NYC to build ramps. We had at least three infamous ramps that kids from all over the city would come down for. This is all in like 1975-1978. We knew all about the Dogtown skaters, but in the mid-1970s nobody cared about that shit.
Why did you leave the band?
I wanted to do more stuff like Jimmy Castor Bunch's "Just Begun." I wasn't as comfortable with the hardcore stuff. I'm more of a funk kind of guy and grew up on soul music. I wanted to head in that direction. It would have been too much for them to follow because NOAH and RAGE were more rock dudes. There wasn't any kind of butting of heads. They had their own thing and I didn't want to mess it up, so I bowed out.
Did you go on to other music-related endeavors?
I started producing hip-hop with John Gamble and Dante Ross. We had a production group called SD50's (Stimulated Dummies) and we produced Brand Nubian, 3rd Bass, Kurious. This was all from 1990 to 1994. We did a lot of what people call the "Golden Era of Hip-Hop." Our production studio was in the same studio that Frontline practiced, the 50 Studio in the basement of Westbeth. It was a hardcore and hip-hop room: live room for bands and production studio for hip-hop.
A lot of groups like Leaders of the New School, KMD, and Kurious George came through; we did all their first records. I then did a radio show on East Village Radio called Forty Deuce. I played mostly funk and soul but would drop the Bad Brains on from time to time. I did that for 10 years and then took a break.
What do you think of graffiti these days?
I'm disillusioned with it because because I guess they don't have much of a canvas to go with it. They bomb on buildings, on bridges. They don't know where to write. There's no trains to write on anymore and that was a big outlet for writers back the 1970s. I think style went out the window because when I was writing I didn't really look at throw-ups. But that's just me. Throw-ups were side things with no style in mind. It was just about speed and bombing your name as much as possible, like IN, which was cool because he was the man. I only looked at burners and full cars, that's what caught my eye. There's none of that now except once a while you'll see a mural.
I live in Chinatown now and that is the most bombed out neighborhood in the city. I've noticed that no one has respect for one another because they just go over each other. There's no respect and it seems like they don't really care about style. It's all just bombing to them. I know a bunch of writers still, but I don't really look for graffiti. I'm tired of looking at wack graffiti.
RIP GEEBY: Read the New York Times obituary