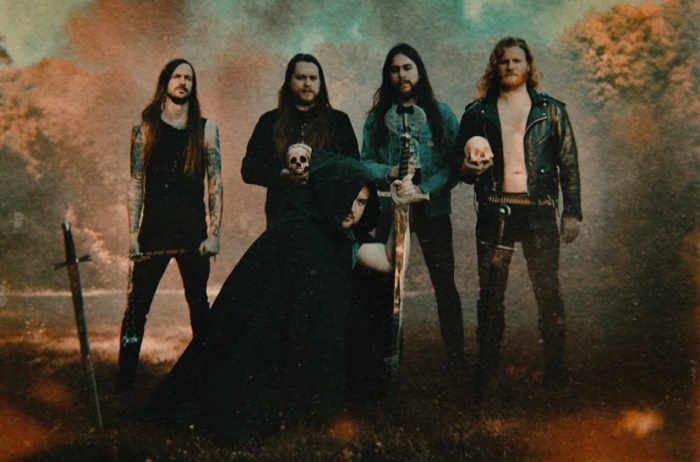 Imagine if a Best Wishes-era Harley Flanagan had been influenced by '80s fantasy flicks like Deathstalker, Fire and Ice, and The Warrior and the Sorceress and then wrote an entire album in that spirit. I know, it's a fucking stretch, but that's the best way to crystalize what High Command is all about.
With crossover thrash riffs and traditional metal coursing through its veins, High Command's musical attack is mean as all hell, but their lyrical and visual point of view is rooted in the fantasy fiction of the movies mentioned above, as well as the work of writers like Michael Moorecock and the paintings of Boris Vallejo. The Massachussetts-based band just released its debut album, Beyond the Wall of Desolation, a beastly work that lives up to the lofty high-concept the group set up for itself:
"Our goal in the creation of this record was to make the perfect fitting soundtrack to a spiked mace coming down on a human skull," High Command guitarist Ryan McArdle says of the album, and No Echo raises its bejeweled chalice in the band's honor. With a US (and a couple of Canada dates) tour kicking off in a few days with the crossover-crazed dudes in Enforced, we decided to put his money where his mouth is and asked Ryan from High Command to give us his list of Top 5 Sword and Sorcery Books. Dig in below!
**
Listen up weaklings! You better hold your precious Harry Potter books tight and beg for mercy because I'm about to turn this shit back to the Hyborian Age and dish out a cold bowl of Chicken Soup for the Barbarian Soul….
5. Swords and Deviltry, by Fritz Leiber
Where better to start than the beginning right? Leiber is one of the forefathers of the Sword and sorcery genre and actually coined the term itself. This collection of short stories is a good introduction to the realm of fantasy and most of them are quick reads. It's an essential work, if only to see where some of the other subsequent authors got their cues from when developing their own characters.
4. Dark Crusade, by Karl Edward Wagner
I've only been aware of Wagner and his Kane series within the last 5 years or so, but after reading Dark Crusade I was instantly sold. Kane, the protagonist (in the loosest sense of the term), is a supreme example of the antihero archetype that dominates many of the great sword and sorcery works. While the lore and subtext might not be up to snuff with some of the other works on this list, Wagner's combination of gratuitous violence and Lovecraftian horror earns the Kane series a spot among the greats.
3. Legend, by David Gemmell
I was turned on to the whole Drenai Series a few years back by my good friend and source for all things sword and sorcery Matty T. Legend, perhaps Gemmell's masterpiece, is a refreshing take on an all too familiar tale of the ultimate battle against time. Druss, the hero, is a warrior in his twilight who has to once again take up arms against insurmountable odds and dispel even his own doubts on his waning ability. From my understanding Gemmell wrote this after he was diagnosed with cancer so there's some interesting real life parallels at play here. Plus, Druss uses a big fucking axe, and that's wicked sick.
2. Stormbringer, by Michael Moorecock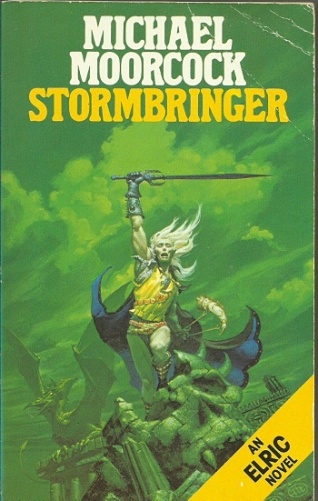 My boy Elric's got it all, violence, sorcery, existential horror, a demon possessed sword that feeds on souls, and he has to take "magic herbs" or else he dies…just like me. You really cant go wrong with any books in the Elric saga, Moorecock is a master craftsman when it comes to lore and mythos. Stormbringer—or its predecessor, Elric of Melniboné—are both great introductions to his works. Also as a side note, Michael Whelan, who illustrated many of the novels covers (specifically the DAW editions), also painted the covers of some of your favorite metal records. From Cirith Ungol to Obituary, you'd be hard pressed not see his name turn up when browsing your record collection.
1. The Coming of Conan the Cimmerian, by Robert E. Howard
I'm sure you all knew this was coming, but what can I say? When it comes to sword and sorcery, Conan the Barbarian is truly the GOAT. He is pretty much the gold standard of how a barbarian should act. Robert E. Howard must have truly been a genius to craft such a masterwork of literary carnage. There's been a lot of speculation regarding the state of Howard's well-being around the time he was developing Conan, legend goes that he would hallucinate the character behind him while he was writing and wouldn't stop until the story was finished out of fear that Conan would kill him.
The human mind can be really fucked sometimes. Anyways, if you only decide to read one thing on this list, this should be it. You can literally feel yourself growing stronger as you turn the pages. I guarantee you by the time you're done with this book you'll be adding a few more plates onto that barbell.
***
Beyond the Wall of Desolation is out now via Southern Lord on vinyl/CD and digital. Follow High Command on Facebook and Instagram.
High Command and Enforced tour dates:
10/18/2019 Wonderland – Richmond, VA
10/19/2019 Maywood – Raleigh, NC
10/20/2019 Raindogs – Jacksonville, FL
10/21/2019 Night Moves – Tallahassee, FL
10/22/2019 Poor Boys – New Orleans, LA
10/23/2019 The Firehouse – Birmingham, AL
10/24/2019 Caledonia Lounge – Athens, GA
10/25/2019 Hi Tone – Memphis, TN
10/26/2019 Subterranean – Chicago, IL
10/27/2019 North End Yacht Club – Cincinnati, OH
10/28/2019 Ottawa Tavern – Toledo, MI
10/29/2019 Rock Room – Pittsburgh, PA
10/30/2019 See Scape – Toronto, ON
10/31/2019 Sugar City – Buffalo, NY
11/01/2019 Piranha Bar – Montreal, QC
11/02/2019 The Raven – Worcester, MA
Tagged: high command