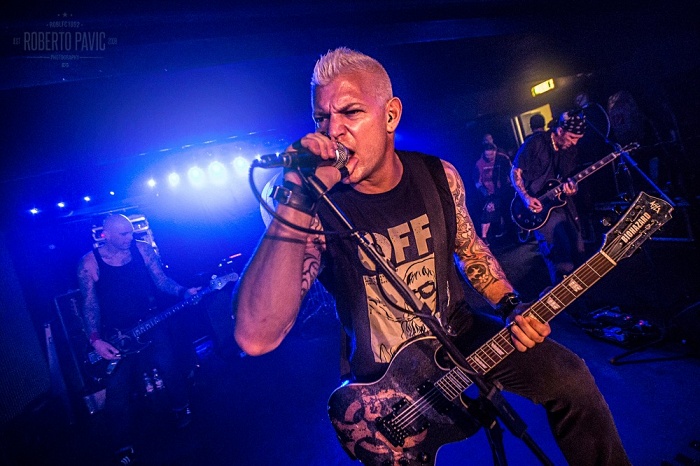 Earlier this month, Billy Graziadei (Biohazard, Powerflo) texted me to let me know about his latest passion: Cru Sox. The veteran musician/producer recently joined forces with the brand's co-founders, the husband-and-wife team of teachers, Edward and Angela Davis, who have a built-in model for donating "give back" socks with each sock purchase from their website.
Cru Sox currently is donating socks to Project 150, an organization that supports homeless, displaced, and disadvantaged high school students in the Las Vegas Valley.
I spoke with Billy about the new mission, what he's been up to since the COVID lockdown, and what we can expect from his various musical projects in the near future.
Tell me how you came to be involved with Cru Sox, and what was it about the concept that drew you in?
So, Cru Sox is a family-based company all about giving back! For each pair of Cru Sox purchased, we donate socks to charitable organizations that support change in their communities and help those in need.
Buy 1 Pair = We Donate 1 Pair
Buy 2 Pairs = We Donate 3 Pairs
Buy 3 Pairs = We Donate 5 Pairs
I met my partners Ed and Angela in Vegas on tour, we bonded on music, our active life styles and spoke about some charities we were passionate about. They told me about an idea they had for a sock company and I loved their vision. They put together the the foundation of Cru Sox and I immediately saw the potential to make a huge mark in the world so I jumped on board and partnered up with them, we haven't stopped running yet!
"The goal is to give away as many socks as possible! It feels good to say that!"
Give us some background on Project 150 and what they're doing for the community in the Las Vegas region.
Project 150 is a nonprofit organization in Las Vegas that provides free support and services to homeless, displaced, and disadvantaged high school students. With my partners Edward and Angela being badass teachers in the public schools of Las Vegas, we realize that a great number of students out there are struggling just to make it through the day without their basic needs being met. Project 150 is amazing because they are truly out there making change happen for those students.
Not only do they assist students with food, clothing, and hygiene items, but they also help them make strides toward improving their futures with free workshops and scholarship programs. So, when we accumulated enough pairs of "give back" socks to make our first donation, we felt they were a great place to start.
They are just the first of many to come, as we are looking for more organizations that are generating positive change in communities all over the world.
Speaking of music, since you've been playing professionally since the early '90s, your network of friends/musicians runs deep. Do you have bigger plans on incorporating them into spreading the word about Cru Sox and the motivation behind the company?
I never felt comfortable reading out to fellow musicians/artists and asking them to support my own music but with Cru Sox, this is a whole different animal. Who doesn't want to help someone in need.
It's not always possible to donate money when times are tough, some of us do what we can but this is one way for us to give back to a community in need and get two, three, four, etc….people some Cru Sox in the process! Who doesn't like a pair of dope socks!
Since we're chatting, let's update the readers on what you've been up to outside of Cru Sox in the last year or so.
We've all been dealing with the obvious so I won't bore you with the isolation stories and since I've been singing about situations like this for years, you won't be hearing any "COVID-19" songs on the new BillyBio album! I think we've all had enough of the same meal for a while now!
So, with years of Biohazard history behind me (and also in the future), I have Powerflo with Sendog from Cypress Hill and Christian from Fear Factory. We are currently working on our second release due out later this year or early 2021 depending on the current situation around the world.
I also released a solo project BillyBio in 2019 and have been touring with that band for a while. I have Ra Diaz (Suicidal Tendencies) on bass, Dan Palmer (Death by Stereo, Zebrahead) on guitar and rounding out the quartet, my awesome Powerflo drummer, Fred Aching Rios!
I've been busy producing new bands at my studio in LA, Firewater Studios. Working on new Cutthroat, Countime along with some other awesome bands soon to be released!
You have a black belt in Brazilian jiu-jitsu, so I know staying fit and healthy is hugely important to you. How has the COVID-19 pandemic affected you in that regard?
This hasn't effected my outlook, to be honest, it enhances it. Bacteria and viruses love an acidic environment. My eating habits keep me mostly in an alkaline state, which is great for fighting off this crap!
I wasn't able to train with anyone else for a while during the lockdown but have been training with one partner only for the past few months and now my wife is able to train again, she's a purple belt under the Gracies.
Do you see yourself changing the way you go about certain things once this gets figured out?
I'm a hand shake/hugger kind of dude so that's a tough getting used to, I can't imagine living in a world where I can't shake someone's hand and look them in the eye!
***
Cru Sox on social media: Facebook | Instagram | Twitter
Billy on social media: Facebook | Instagram | Twitter