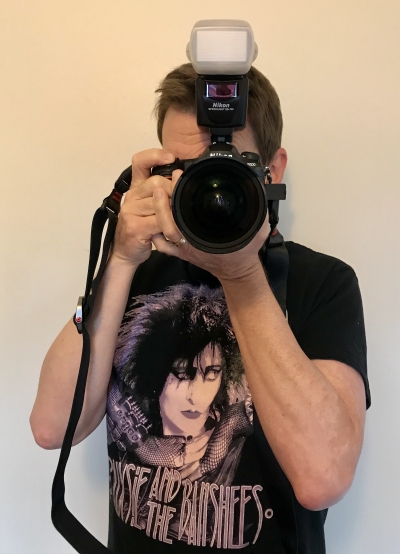 Even though he's only been shooting for a short amount of time, Rob Coons has become one of my favorite punk-related photographers of the moment. No Echo readers might also know him from his DJ work on Maximum Rocknroll, where he spins hardcore and filthy metal on the regular.
In this Photographer Spotlight, get to know Rob and see some of his favorite shots from his work documenting the Bay Area punk scene in California.
Where were you born and raised, and were your parents into the arts?
I was born and raised in Indiana. Most of my formative years were spent in a mid-sized town called Richmond. Both of my parents were into the arts in their own ways. I can remember my mom being crafty and doing things like macramé. She was also into collecting paintings. My dad wasn't necessarily an artist though he did enjoy taking photos. But more importantly he was a music fanatic. He would jam everything from Foghat to Sly and the Family Stone. I would always listen to what he was playing whether we were at home or in the car. His passion about music was incredibly influential into who I have become.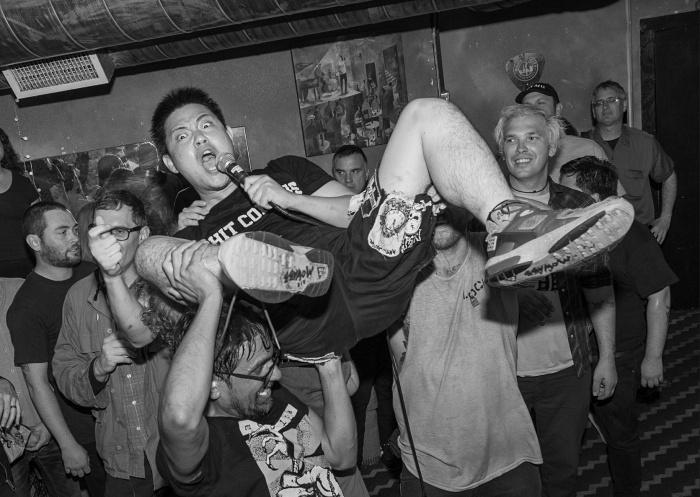 What was your first musical love?
I have distinct memories of being really into bands like KC & The Sunshine Band, Neil Diamond, and Bachman Turner Overdrive when I was super young. Once again, I can give my dad all the credit for constantly having music playing and turning me on to multiple genres of music. The very first record I bought was AC/DC's Back in Black which I still rock on a regular basis.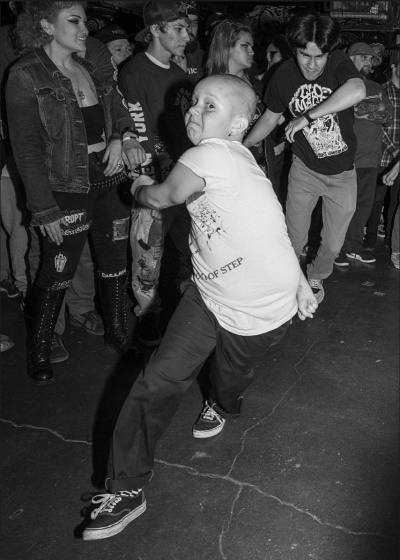 What is your camera and post set up?
I can't really go into this without pointing out that despite going to punk shows for most of my life I only started taking photos at shows about 2 1/2 years ago. My first camera was a Nikon D500 but I recently upgraded to a Nikon D850 a few months ago. I really wanted to upgrade into the capabilities of a full frame camera to get that extra reach in my ability to capture a shot since I almost never look through the view finder when shooting. I use a Nikon 14-24mm f/2.8G ED-IF AF-S NIKKOR Lens and a Nikon SB-700 TTL AF Speedlight Flash to round out the package. For post production I use Lightroom.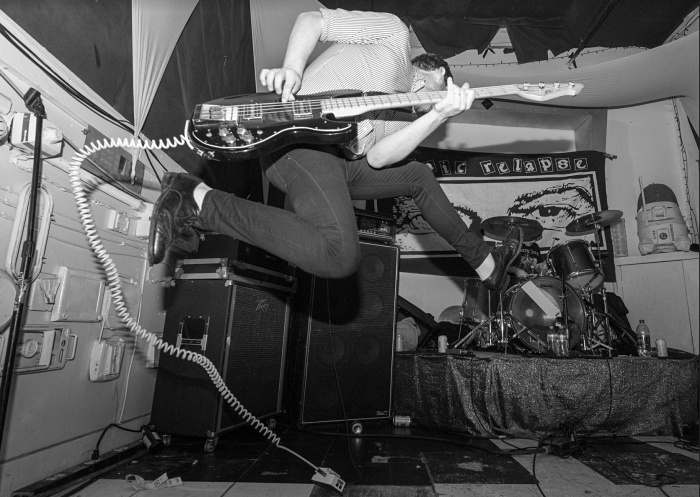 Honestly, I don't really do much editing on my photos at all. I crop, switch to black and white and maybe do a little exposure adjustment and then I am done. Frankly, I am generally not a fan of over-processed and edited photos.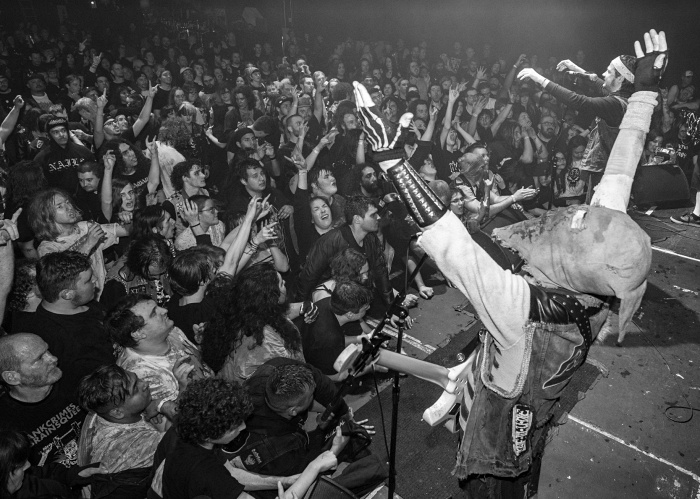 Who are some of your favorite bands to shoot?
Without a doubt my favorite band to shoot right now is Shit Coffins. On top of being an insanely great band, their live energy is off the charts. Just locally we have so many great bands to shoot these days. Urban Sprawl, Mutilated Tongue, Provoke, Ghoul, Deathgrave, and Love Songs are just a few that come to mind that always bring their photogenic best to the stage. Some out of town bands that are always mind-blowing to shoot include Nosferatu, Smut, Limp Wrist, Enzyme, Exit Order and on and on.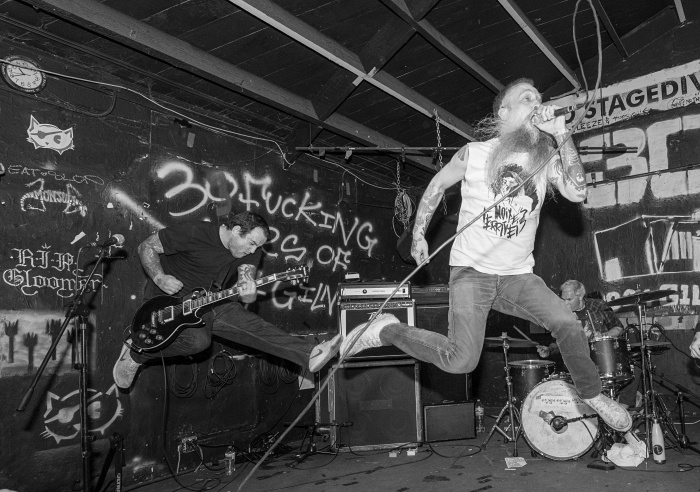 If you could go back in time, who are some bands that you would have loved to shoot?
Without a doubt Minor Threat, Bad Brains, and Black Flag would be at the top of the list. Almost every photo I see of those bands makes me with I was at the show front and center. But honestly, I just wish I had got into photography when I started going to shows back in the mid-'80s. I have seen so many insane bands over the years and I would kill to have some photographs to compliment those memories. For example, getting to see Gwar on their first US Tour, SNFU in their prime or Gauze at Gilman are all perfect examples of shows that I wish I would have had a camera in my hand.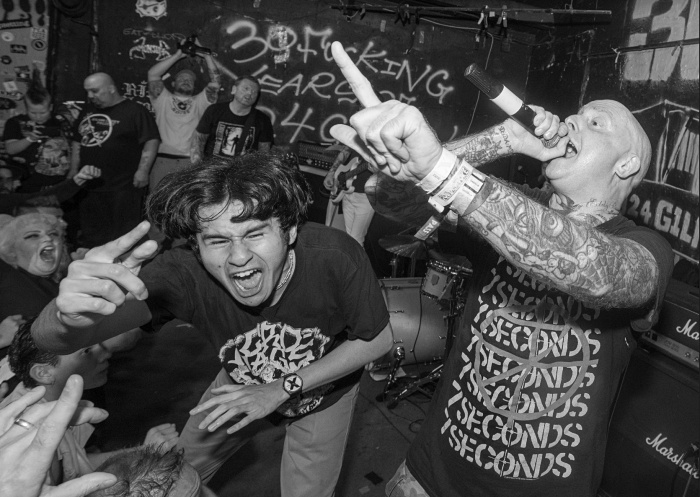 What are the toughest aspects to shooting live shows?
Without a doubt the hardest aspect of shooting punk shows is avoiding getting your equipment destroyed. Honestly, I have come to accept it is a risk, and I am not afraid to get down in the pit to have fun and get a shot. I have had my camera hit, kicked, jumped on and ran into, never mind the copious amounts of beer and water that have been thrown on it. Fortunately, it always comes out on the other side still in one piece and working. One other thing that can be difficult is capturing photos without people holding their phones or cameras up in the photo. I try really hard to frame my photos so there are no other cameras or elevated phones in the photo. I find that sort of stuff really distracting to the action happening in the picture.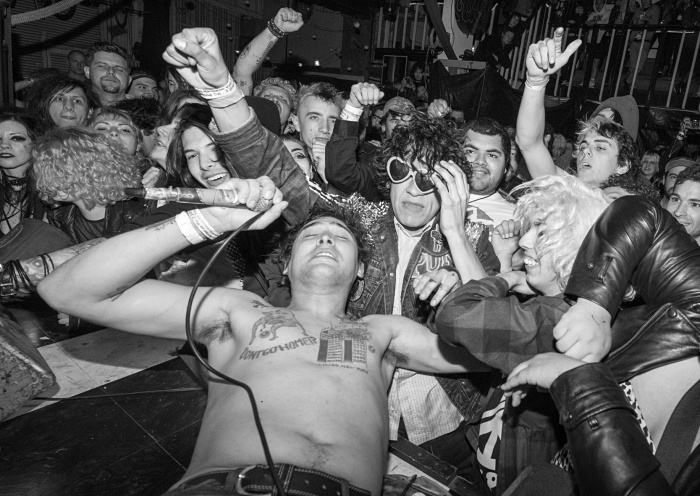 Is it getting tougher to carve a space out at venues since there are so many people shooting these days? How do you feel about that?
Ever since I started going to shows I have always been front row type of person. I love being on top of the band to feel the intensity of the energy that they are putting out. And often times I see shows in places with no stage. So it is essential to be up front just to see what is happening. With that said, that endless desire to be up front has translated well into helping me get good photos. I definitely see a lot of photographers at shows, but I find most people to be really respectful of each other and their space. Once I am locked down in a spot I rarely move around during a set and that helps in not interfering with somebody else taking photos. Plus, I don't want to feel like I am pushing somebody out of the way who is not taking photos just to get a shot.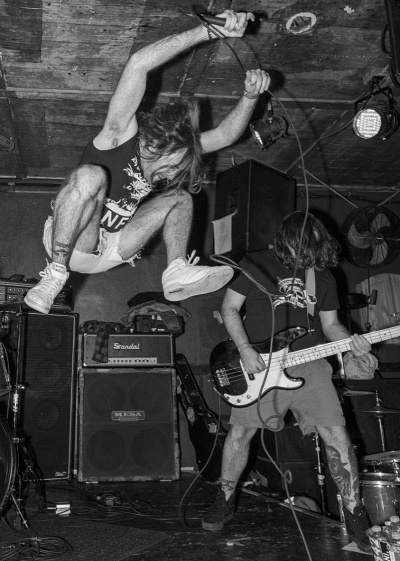 Tell me about some newer bands that we should all be on the lookout for.
Oh geez, there are so many good bands playing right now. Shit Coffins, Mutilated Tongue, Ex Youth, Twompsax, Provoke, Fuga, Smut, Convenience, Screaming Fist, Tozcos, Ails, Techie Blood, Cell Rot, Redacted, Difficult, Healer, and Khiis. And those are just bands from California! Mostly local! Don't even get me started on the rest of the USA and beyond. Support new punk and hardcore!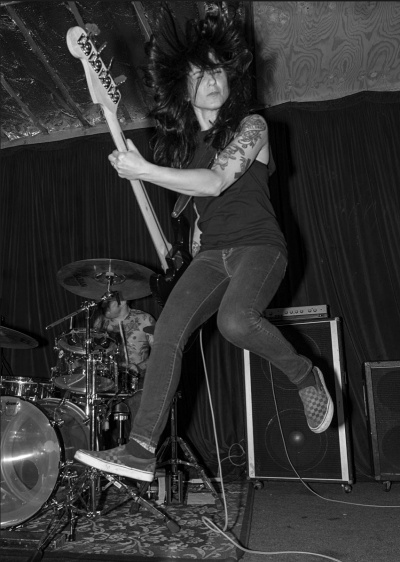 Who are some modern-day photographers that you admire?
Without a doubt the most influential punk photographer for me has to be Martin Sorrondeguy. I met Martin over 30 years ago and even then he often had a camera in his hand taking photos of shows and punks around the Chicago scene. He has such a broad perspective of what he has photographed in punk over the years. You couple that with his fantastic shooting skills and it just elevates punk photography to another level.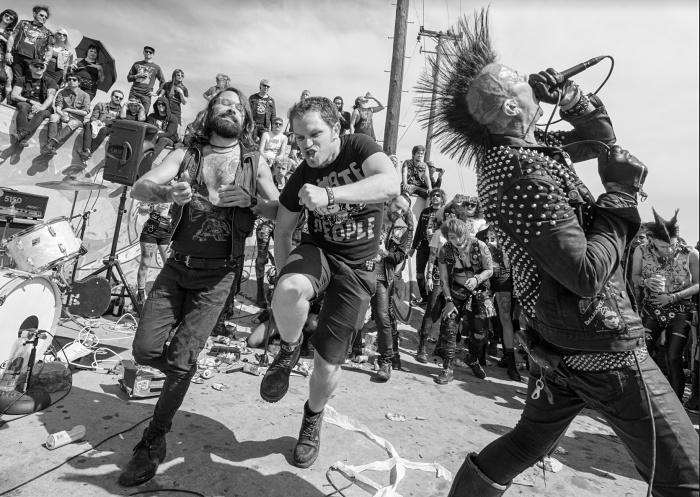 The other photographer that always comes to mind is Teppei Miki out of Japan. His band photography always takes the craft to another level. He has this ability to capture killer shots that exude the energy of the band or person that he is capturing and always makes you wish you were at the show too! And honestly that is what I aspire to do with my photography. I can only hope that if somebody looks at one of my photos they are inspired to check out a band they have never heard of or wish that they would have been there rocking out right next to me.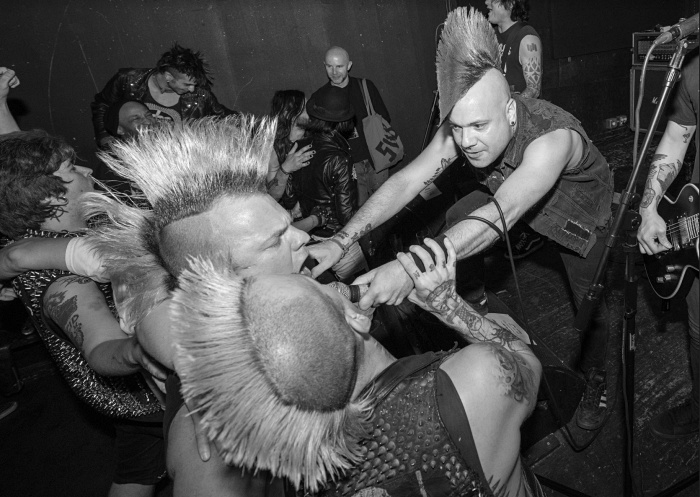 If you had to pick one of your photos that best encapsulates why you love shooting bands/artists, which one would it be and why?
This is a really hard question because it is so hard to choose one, but I often circle back to this Smut photo that I took of them at a show in Los Angeles. I love this photo because I feel like it really captures the intensity of the band. For me, there are very few things in life that can rival the feeling of great band going ballistic right in your face. And if my photo can somehow capture that wild energy and pass it on to the viewer then I am beyond stoked.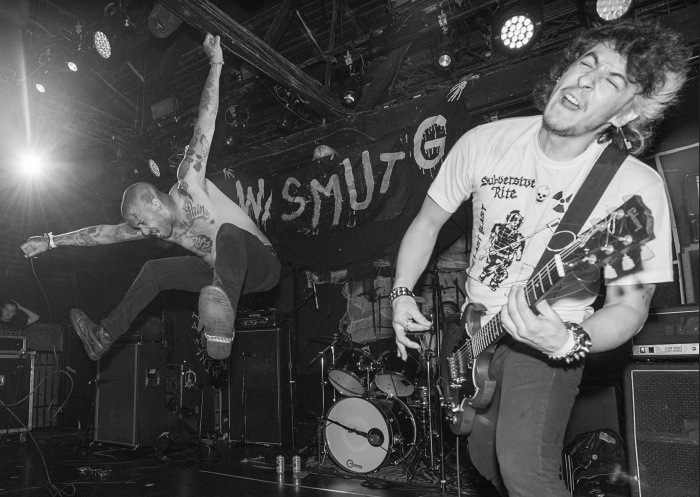 ***
See more of Rob's photo work on his Instagram page.
Tagged: photographer spotlight, photos