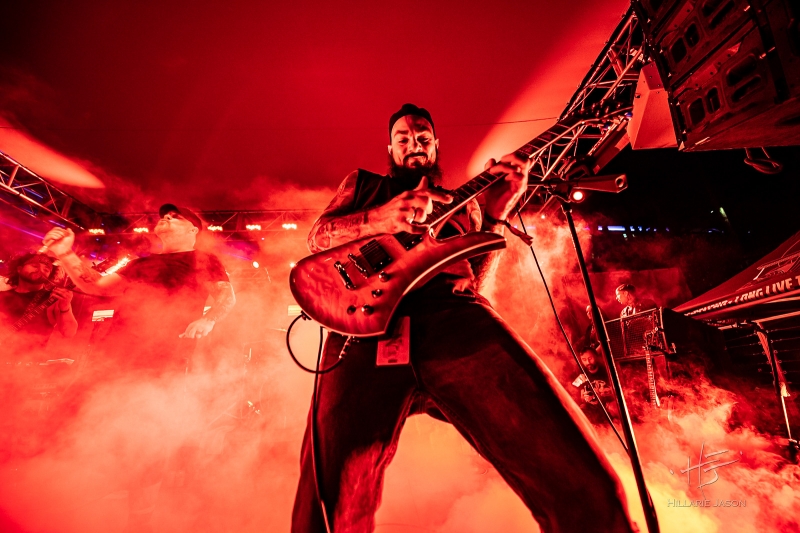 "After nearly a decade, we will return to the West Coast and share our pestilence amongst her wondrous inhabitants," Dwid Hellion messaged me earlier this week in anticipation of today's announcement that Integrity will be playing both San Diego and Los Angeles on April 18 and 19, respectively. It will be Integrity's first shows in SoCal since 2011 and the founding force behind the band is clearly excited about returning: "Our wretched gospel unfolds and invites with humble delight, each and every one of you to join us in celebration of the miraculous deceptions that we embrace as exude through this series of revivals. Rejoice as the serpent unwinds and finds an inviting poison to seduce and incapacitate one and all!"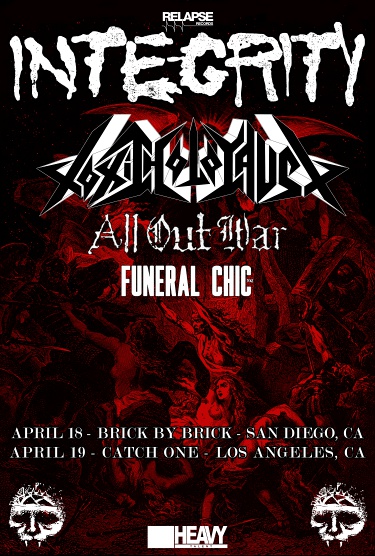 The two California shows will also feature Toxic Holocaust, All Out War, and Funeral Chic on the bill. Integrity guitarist Dom Romeo told me how the gigs and lineups came together. "Maxx Vick of Heavy Talent offered us an awesome package and I think he did a great job curating a diverse yet cohesive list of bands. Joel Grind and Toxic Holocaust are a tireless workhorse always cranking out awesome stuff for what feels like forever. He did some work remixing [Intergrity's 1995 EP] Humanity Is the Devil and his dedication and enthusiasm to everything he touches is infectious."
Dom—who ran A389 Recordings from 2004 to 2018—also had some love for the other acts on the shows: "All Out War changed the game for me when I was young and would listen to their early singles and see them play live...just totally pulverizing metal and hardcore crossover. Their last album, Give Us Extinction, is their best yet, in my opinion. Funeral Chic is a newer band from North Carolina that just released a new LP called Superstition, which I liked a lot. If I was still doing A389, it's definitely the type of band I would have done a record for: evil and darkness Joe."
Before the California performances, Integrity will be playing a weekend in Baltimore on Jan. 11 and 12. Since it's Dom's hometown, I bug him to see what else he could reveal about the shows and find out what they have planned. "We tried to make things happen in the spirit of the old A389 Festivals that use to take place in January but in a more intimate (stress-free for me) scenario. Baltimore used to be the destination Integrity fans would travel to from all over the world to catch what are now considered some very memorable sets. We're going to keep that going by playing two different setlists each night with songs from different eras of the band's career, including ones that have never been attempted live."
These past couple of years have been fruitful for Integrity. In addition to performing throughout the world, the band released the superb Howling, For the Nightmare Shall Consume album in 2017 and a split EP with Krieg earlier this year. Their next release will be a split with Psywarfare, the infamous project also featuring Dwid on vocals. For their side of the split, Integrity recorded cover versions of some of Dwid and Dom's personal favorite songs.
The guiarist told me why he personally picked Ozzy Osbourne's "Bark at the Moon" for the Psywarfare release, which will be available for sale at the Baltimore shows. "I suggested recording this song (among others) during the Krieg split session (with Joshy Brettell on drums) as an exercise to raise the bar on my guitar-playing for the next album. It was actually a toss up between finishing this song and 'Sails of Charon' by the Scorpions. Dwid threw a scratch vocal on one of the verses and it sounded so great that we decided to run with it and track everything properly. We ended up releasing it digitally as a surprise on Halloween. It 's a really fun song to play, hopefully we can slip it in the live set sometime."
Roky Erickson's "Night of the Vampire" is also part of the forthcoming Psywarefare split, and it turns out Dom and company found a very Integrity-like reason to do it. "We also tracked this one during the Krieg session. Joshy and I would always jam on this song noting how the chorus riff totally sounds like Systems Overload-era Integrity with the big open chords, etc. Dwid is always experimenting with different ways to deliver his vocals, so this was a fun chance to jam on one of our favorite artists songs (we're all huge Roky fans) and have him just let loose with a more loose and soulful delivery as opposed to his trademark bellow from hell. If I remember correctly, we also messed with 'Burn The Flames,' but this one ended up coming out better."
Dwid was nice enough to send me these new Integrity recordings, and I found Integrity's cover of Zouo's "Making Love with Devil" especially interesting since I only recently found out about the obscure Japanese band. Dom gave me the lowdown: "This cover originally came about the last time Integ toured Japan and played a show in in Osaka (Zouo's hometown). We found out their vocalist, Cherry, was planning to attend our show, we decided to learn this song on the spot. Anyways, I have this weird OCD thing where once a song is born into a band's universe, it has to be properly documented, so we decided to record a proper cover of it. This was done during the Adult Swim session with Dave Bland and Doug Williams."
Oh, right! How could I forget about Integrity's upcoming contribution to the Adult Swim Singles Series. "We recorded a brand new song called 'All Death Is Mine' for the that, which will be airing on Adult Swim the week of the January shows. When we got the offer, I was sitting on a couple new songs that were almost ready to be finalized. We decided to record them both and see what sticks, as one song was a more 'traditional' Integrity style track, while the other was heavily influenced by early '80s Japanese heavy metal. We wanted to to try something different with the drums this time around, so we borrowed Dave Bland from Full of Hell to do the studio session. We also recruited my ultimate studio-weapon / jack-of-all trades, Doug Williams, to play bass.
"Dwid and I picked our favorite of the songs, and wrapped up the tracking at Developing Nations, before sending it off to Arthur Rizk for mixing. We already knew Arthur from doing live sound at our shows, but this was the first time working with him in a studio capacity. Needless to say, he totally managed to capture what we intended to do with the track. I'm excited for everyone to hear it."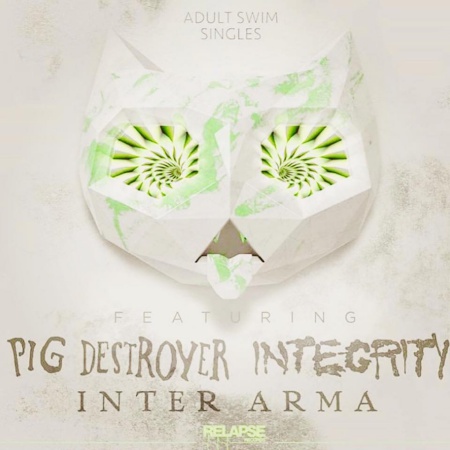 Since I knew Dom's a fellow Sunset Strip-era hard rock fanatic, I told him think a trip to the Rainbow is in order when he's in Hollywood. "I was actually trying to push getting into town early so I can mill around the strip and punish my unsuspecting '80s guitar heroes with endless questions. Someone get Oz Fox on the line and let's make it happen!" Stryper's guitarist at an Integrity show? Well, stranger things have happened.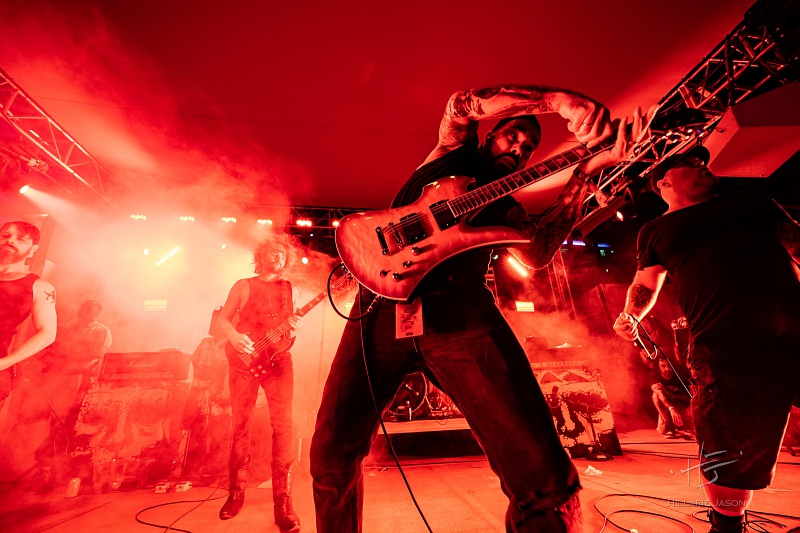 ***
Upcoming Integrity shows:
Jan. 11 - Baltimore, MD @ Metro Galley w/ Genocide Pact, Devil Master, In Cold Blood
Jan. 12 - Baltimore, MD @ Metro Galley w/ Full of Hell, Ilsa, Year of the Knife
Feb. 16 - Vancouver, BC @ DPK 5 Year Anniversary Fest
April 18 - San Diego, CA @ Brick By Brick w/ Toxic Holocaust, All Out War, Funeral Chic (get tickets)
April 19 - Los Angeles, CA @ Catch One w/ Toxic Holocaust, All Out War, Funeral Chic (get tickets)
May 24 - Erica, Drenthe, Netherlands @ Pitfest 2019
June 7 - Austin, TX @ Austin Terror Fest
Tagged: integrity, psywarfare