"Digestor from Ghoul hit me up and asked if I'd be interested in doing a record with them," says rap vet Ill Bill. "We started talking and were like, 'What if KRS had done a split 45" with Sick of it All? What if King Diamond had done a split 7" with the Geto Boys?' It all snowballed from there."
The Brooklyn native and Non Phixion co-founder is chatting with me about his new collaboration with Ghoul, the heavy metal mutants from Creepsylvania. "Ghoul is one of the few great bands that are next level enough to have birthed this idea in the first place. They saw the potential fun in putting out a record like this and then actually took it from just another sick idea to making it a reality. I'd say the mutual admiration and vibes is why the record came about and why this split speaks the same language even though both genres are very different."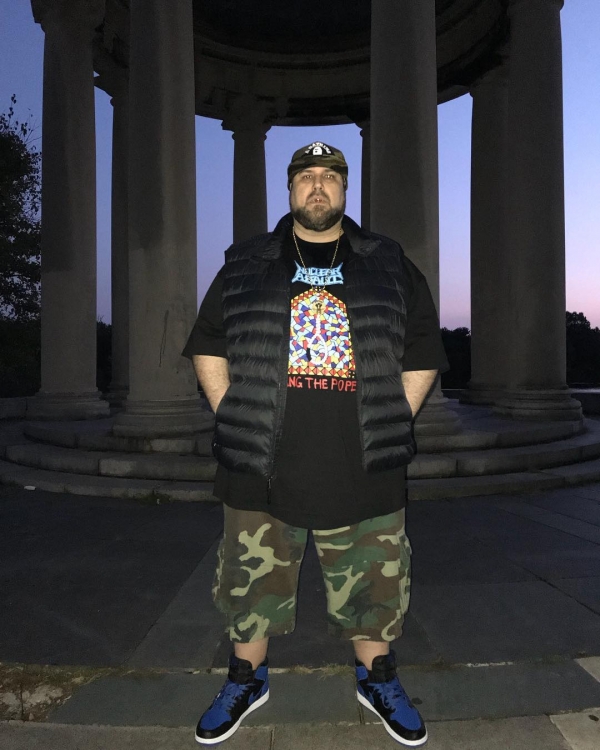 Ghoul's Digestor also found a way to reach out to me about the split via a note attached to a rock that was thrown through my living room window. "I think I first heard his solo album The Hour of Reprisal about 8 years ago or so, and I got to it through the video for the song 'Society Is Brainwashed.' Great song and video, and I think it sums up his music really well. Some of his stuff is like a musical version of the movie They Live, which I really appreciate having dated a few a Reptilians back in my days as an incredibly rich Wall Street trader." The metallers offer up a nasty track called "Splatterthrash 2: Thrash Damage" for the new split.
Ill Bill's side of the split 7" is called "Pentagram" and features none other than Goretex, his partner from Non Phixion. Goretex shares his thoughts on the Ghoul collaboration: "The split is something we're into, we seem to get along with goblins, creeps, and ghouls the best, so it was a no-brainer. We like Ghoul because they are dregs of society. They aren't afraid to let loose." With this partnership now in the books, Goretex dreams of future projects. "I'd like to do a split with Mortuary Drape and Divine Eve, but I don't think that's something most of my fans would appreciate [laughs]."
I've been friends with Bill and Gore since the early '90s, so I'm psyched to bring you the premiere of the Ill Bill/Ghoul split, courtesy of the mighty Tankcrimes label:
The idea of a rapper releasing a split with an extreme metal band is pretty intriguing. Back as Bill reminds me, when was coming of age in the '80s, the mere idea of metalheads and hip-hop fiends hanging together was a foreign one.
"Growing up most kids liked either metal or rap. One or the other, you couldn't like both, and they'd break your balls and give you a hard time if you liked both. The kids that liked both are the ones that started bands and record labels though, so it worked out the way it was supposed to. I've always noticed a small but loyal tribe of metalheads at our shows since the very beginning, but that was years later still. I think anybody that loved both rap and metal equally during the '80s and beyond was a disciple of Rick Rubin. He's always been like our Moses."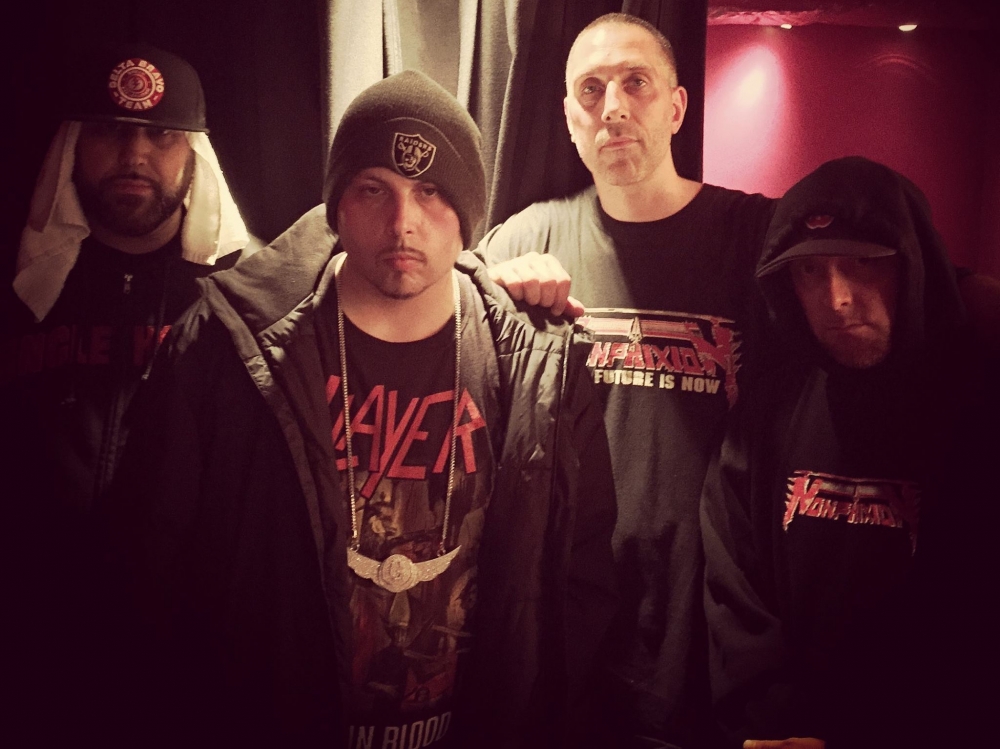 "We just wanted to do something different with someone we admire, and Ill Bill was the perfect guy," Digestor added. "We're lucky he said yes really, since being associated with us is likely to end in destitution, public scorn, and an early death at our hands. Maybe we should have told him that at the beginning. Welp, live and learn!"
***
The Ill Bill/Ghoul split is available now via the Tankcrimes Bandcamp page, and the vinyl version will hit the street on May 11 and can be pre-ordered at this link,
Pressing info for the vinyl edition:
200 - splatter
250 - half/half
550 - blood red
1000 - silver
Tagged: ghoul, gore elohim, goretex, ill bill