On Thursday, the 14th of September, there is an opportunity to support a non-profit local to Los Angeles and enjoy a film of archival footage featuring Fugazi.
While two documentary filmmakers were involved in the curation, the film you will see is not a documentary. We Are Fugazi From Washington, DC is a crowd-sourced film curated by Joe Gross (author of the 33 and 1/3 short book on Fugazi's In on the Kill Taker), along with filmmakers Joseph Pattisall and Jeff Krulik.
Featuring concert footage shot by various fans along with interview footage, based on the trailer, there is also some commentary about the impact of Fugazi both musically and communally.
If anyone has read about Fugazi or seen interviews from their time as an active band, their awareness of the world around them and sense of responsibility is evident. I previously worked for a non-profit for six years as my only job with the agreement that I would fundraise to have an income for my basic needs. Community support is crucial as well as its consistency which can be rare to find. While every non-profit can have a potential positive impact, focus is key.
In the time I've read about Watts Community Core, I feel confident that I hear the focus needed based on my experiences. Watts Community Core is focused on the youth living in an apartment complex called Nickerson Gardens aiming to provide community mentorship, safe times of play, and guidance to motivate the youth toward having a vision for their future.
100% of the profits from the two screenings will be donated to Watts Community Core.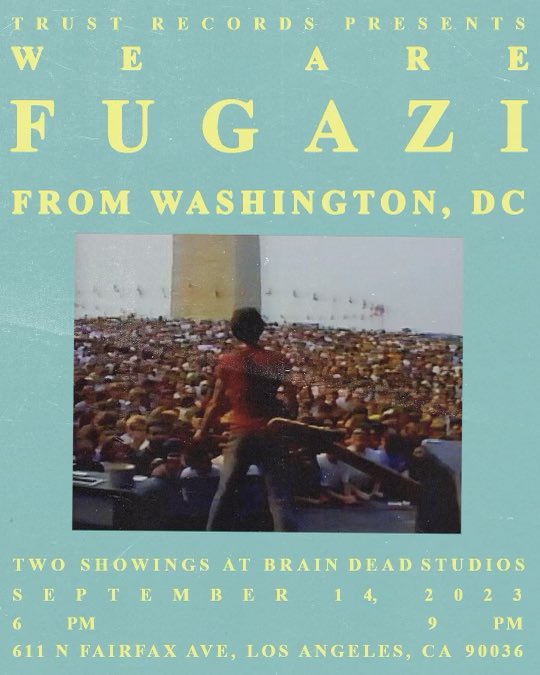 Trust Records and Brain Dead Studios are hosting the screening on the 14th with the first showing scheduled for 6PM and the second scheduled for 9PM. Both have tickets priced at $15 and are on sale now, so make sure to buy your ticket ASAP.
Tagged: fugazi