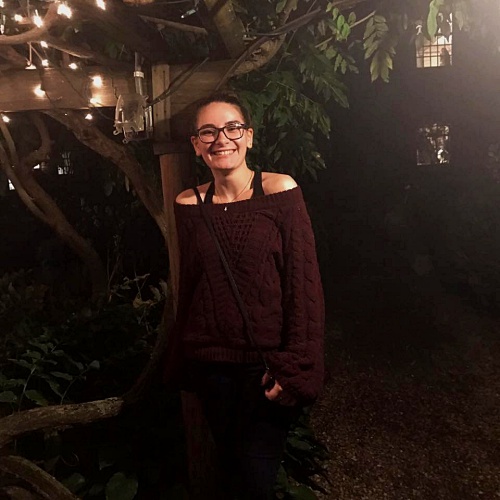 Julia Testa is a senior at Rhode Island College, where she'll be graduating this coming spring with degrees in both Political Science and Public Administration. Oh, she's also pursuing an undergrad certificate in International Nongovernmental Organization studies, while writing an honors thesis about youth activism in America. She might be busy, but she's also about to start her own music blog and also spends time at record stores, hunting for wax.
Meet Julia in the latest Record Collector interview below.

How long have you been collecting records?
I've been collecting records for about two years now!
Where/how do you usually find your records these days?
I find records here, there, and everywhere. More often than not, I end up ordering them online direct from the artist or label. I have found some of my white whales in Facebook music/merch buy and sell groups recently, but those groups are really hit or miss, and I have a very small list of sellers I'll buy from; I've seen a fair share of scams in them so now I'm wary about buying anything and everything. I do go to brick and mortar record stores as well and I almost always find at least one cool piece to add to my collection. I love looking through the punk/hardcore/misc and local bins and I'll pick up at least one LP or 7" that strikes me. Out of all the pieces I've purchased blindly (maybe 10 or 15 records total), there has only been one dud!
What is the most you paid for a single record, where/how did you obtain it, and what was it?
I paid around $75 for the white pressing of Diamond by Stick to Your Guns in a Facebook buy and sell group. The seller I bought it from was great and bundled it with a small flag. Anyone who knows me knows that Diamond is my favorite album of all time and it means a lot to me. All the pressings of that record and the Decade Edition reissue are usually no less than $100 so I totally scored.
If you had to pick one record label you feel had/has the best track record of quality releases, who would that be and what are some key titles you love?
I can't just pick one for this question so I'll say two — Pure Noise Records and Run for Cover Records are two that have stellar rosters and some even more stellar releases. Pure Noise is the home to two of my favorite bands, Stick to Your Guns and Counterparts, which is reason enough to love it. Run for Cover is one of the best independent labels out there right now, and they have been for quite some time. Their current and past rosters are stacked with heavyweights like Turnover, Citizen, Title Fight, and Man Overboard.
Essential listening: Pure Noise Edition: Better Ash than Dust by Stick to Your Guns, You're Not You Anymore by Counterparts, Laugh Tracks by Knocked Loose, and Under Soil and Dirt by The Story So Far.
Essential Listening: Run for Cover Edition: Peripheral Vision and Good Nature by Turnover, Youth by Citizen, Tigers Jaw by Tigers Jaw.
Of everything in your current collection, what is your most prized record and why?
This is a tough question because a lot of my records are really cherished. Besides Diamond, my Halloween orange/aqua blue smash copy of Peripheral Vision by Turnover. Peripheral Vision is one of the greatest albums ever written and that specific pressing is a beautiful match to the album art, which I am a total sucker for. That album is really special to me for a number of reasons but one of the biggest reasons is that my boyfriend and I share a mutual love and connection with it and it brought us closer together which makes it extra special.
Is there anything that frustrates you about the current record collecting scene?
Scammers and flippers frustrate me to no end.
Which records are still on your want list that you've had a tough time tracking down?
Hands down, the biggest white whale for me has been The Hope Division by Stick to Your Guns. I'm working on a Stick to Your Guns variant collection and THD has been the hardest piece to find. Diamond: Decade Edition MerchLimited Box Set is the other super rare piece — there were only 100 made and it includes a bunch of cool stuff — posters, a wall flag, hoodie, shirt, vinyl (duh), all wrapped up in a screen-printed, hand-numbered box. Having all of the extras would be so sick, but I really just want the vinyl.
***
Follow Julia on Instagram.
Tagged: record collector