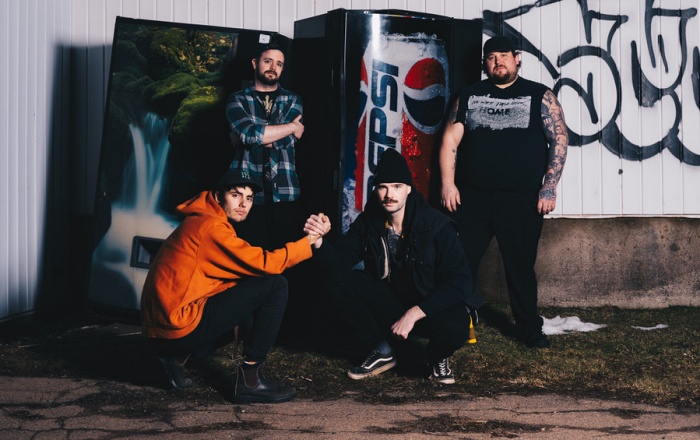 Prince Edward Island-based band Knull has only been together since October of 2020, but they're already proving to be a proflific musical unit.
With arrangements that goes from ripping hardcore one moment to crossove thrash riffing the next, the quartet has already released two digital EPs in the form of Glass Chewer and Absolute Carnage, both appearing at the end of last year.
"The band started when I approached Chase MacDonald (ex-Money in the Banana Stand), and Brandon Bowers (ex-Cheers to Beers) to get together and play some hardcore together," Knull vocalist/guitarist Kyle "KG" Gallagher (ex-Syracuse Me) told No Echo via email about their recent formation.
"After a couple practices, we decided to reach out to our good bud Jesse Periard to round out the sound on second guitar. Chase, Brandon, and I have played in various punk, metal, and hardcore bands in the Canadian maritime's scene throughout the years. Jesse's background has been in traditional fiddle music, where he toured around the world extensively with his band, Ten Strings and a Goat Skin."
Kyle laid out some of he and his Knull bandmates' inspiration for the group stylistic direction: "I would say our sound is a mix of hardcore, thrash, and punk. Influences on the band are Iron Age, Wild Side, Mental, Restraining Order, PEARS, Metallica, and Ceremony, to name a few."
In addition to their pair of EPs, the band has also kept busy on other Knull-related projects: "Since we formed during COVID-19, we have not been able to play a show yet. This sparked the idea to film our own live set.
"We enlisted the help of our good friends Alex Pickles (lighting), Andrew Pickles (camera), and Adam "Spaz" MacDonald (camera) to make it happen. We filmed and recorded the set at House-Front studio on February 15th, 2021:
Regular No Echo readers already know I love asking musicians about their local music scene, especially ones based in cities rarely, if ever, are covered on No Echo. "Although Prince Edward Island is small, we've always had a strong punk community.
"New bands like Warsh, Antibodies, and Honey Lips, to name a few, have been keeping the hardcore and punk scene alive and well."
Both Glass Chewer and Absolute Carnage are available digitally via Spotify, Apple Music, and YouTube.
***
Help Support What No Echo Does via Patreon:
***
Tagged: knull