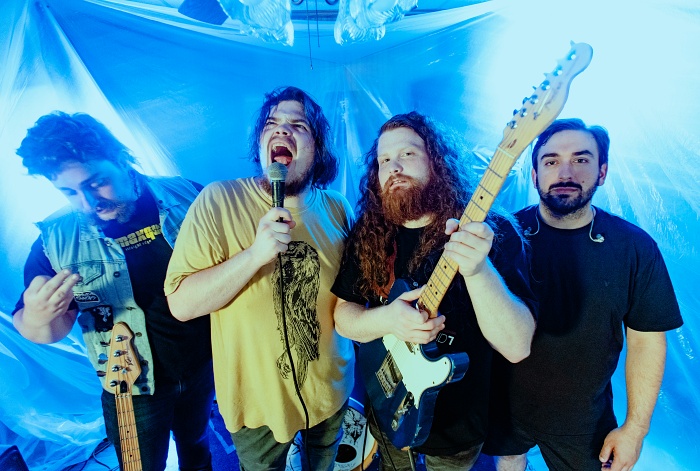 Every once in a while one stumbles upon a band by sheer coincidence, such was the case with my first encounter with West Virginia's fallfiftyfeet. Their debut album, Twisted World Perspective, dropped earlier this year on Here Goes Nothing Records (which still has sick wax variants available), and to be fair, it was the colors of its insane variants that grabbed at first.
It was the music, of course, that really grabbed me, shook me half to death, then left me in a daze. This trio plays a unique metalcore concoction, all while doing their darndest to (successfully) expunge the "dirtiness" of the term metalcore.
Truly one of 2021's most unique, addictive and passionate heavy albums, I discussed all that and more with guitarist Jim Becca.
What was the collective idea behind the band's formation?
The 3 of us were playing in another band when we decided we needed a fresh start. We just wanted to do what we were doing better. We needed better branding and an image change. The band we had been in was started when we were kids so there were so many mistakes we had made along the way that I felt like it was just baggage at that point, weighing us down.
fallfiftyfeet pulls from myriad inspirations, seemingly from bands like Every Time I Die to The Tony Danza Tapdance Extravaganza, but what are your personal influences?
I do love ETID. They're probably the band favorite that we all can agree on. I pull from a lot of different places inspiration wise and I feel like that's why our music stays kinda weird. I obviously love the chaotic side of metalcore (The Chariot, The Dillinger Escape Plan) but I also really strive to make our songs melodic more than just chaotic or heavy.
I grew up on that late '00s melodic metalcore like Trivium, Bullet for My Valentine, and All That Remains. And that shit really formed my guitar playing. But honestly over the years I find that happens again and again. I get into a different genre of music and it kind of changes the way I look at the guitar or writing songs. In the last year it's been power pop/emo stuff. I've been on a nonstop Jimmy Eat World kick and they made me look at writing songs in a whole different way.
What artists and albums have most influenced your guitar-playing, and the band's overall writing habits?
When I first started playing guitar, after I got done with the basics, I got heavily into the mid-'00s melodic metalcore stuff, so albums like The Poison by Bullet for My Valentine and Ascendancy by Trivium really shaped a lot of my guitar playing early on. Another big one was when I got into Dance Gavin Dance in high school, I don't think I had heard anything else really like it. It was technical, catchy, and groovy but not super heavy, and I just felt so cool listening to it because it wasn't "generic."
Heavy shit that still can bring melody always influenced me a lot more than just ignorant caveman stuff, even if it can be really entertaining. Bands like Alexisonfire, Glassjaw, Underoath, Every Time I Die, they can all pack a punch but still bring you the melodic fix that you need.
The album features striking artwork, who created it and what's the story behind the imagery? How does it tie into Twisted World Perspective's themes?
Our friend Anthony Grasso did the artwork. He is a super talented guy who just has amazing vision. We didn't give him much more direction than the very basic outline of being colorful, but still very dark in tone. We love darker and vicious imagery, but I don't always want a black and white picture. I think Anthony made something so ugly and deranged looking very beautiful. I think what really made me love it is the layers to it.
The more you look at it the more you see. It's all about perspective which is really what TWP is all about. How you're viewing something and the lense you're viewing it from will impact your perception of whatever it is, intentionally or not.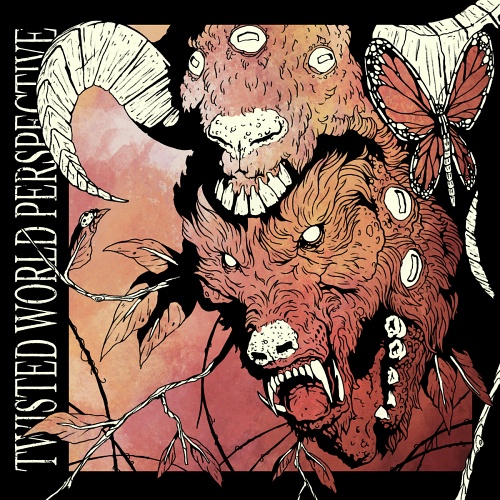 What are your favorite songs on the album?
The whole album is my baby so it's hard to say, but I think "Situational Thriller" and "Objects in Mirror Are Closer Than They Appear" are up there. Both are probably the most ambitious songs on the record, are fairly technical and introduce lots of different ideas, but I think they do it well without losing you.
The hate5six video was insanely awesome. Given that was that band's first performance what was that experience like?
It honestly felt a lot like playing a show. Len [Carmichael, Landmine Studios) does a very good job of making it easy to be comfortable there. I think the reason what Sunny and Len are doing works so well for hardcore is because most of your standard Audiotree style sessions aren't really capturing the live energy of a band, it's more about sounding as good as possible like in the studio, or you're just a band that's softer and doesn't need to exert as much energy on stage to match the style of music you're playing.
But at Landmine they literally have a small PA in the corner of the room instead of wearing headphones, your cabs aren't isolated either they're right behind you. It makes you feel like you're playing a real live gig and it honestly gave me the same feelings I get when I play. I instantly lost all control and gave up my soul to the gods of rock.
Metalcore is a term bands either embrace or turn their nose up at; the band's social media presence gives the impression of the former. What are your thoughts on the genre in its current state, and how do you think your band contributes to it?
I think most people are getting over thinking metalcore is a bad word, and I think the only reason people thought that was because of all the scene types of metalcore that popped up in the late 00s/early 10s. Honestly, metalcore just encompasses such a wide array of sounds that no one should be offended if their band gets called it. I can call I Set My Friends on Fire metalcore, but I can call The Chariot metalcore. Poison the Well, Knocked Loose, Darkest Hour, Underoath all sound pretty different but I could probably call them all metalcore.
Anyway, I think we've gotten to a point that people care about genres less and less so if you get called any genre it doesn't really define you. People can call us metalcore because metalcore is sick. Breakdowns are sick. Riffs are sick. Clean sung choruses are sick. I don't care, it's true.
I'd consider all those bands metalcore as well. What are your personal favorite albums from the genre, across the board?
Every Time I Die, Hot Damn
Fear Before the March of Flames, The Always Open Mouth
Underoath, Define the Great Line
The Chariot, Wars and Rumors of Wars
Darkest Hour, Deliver Us
Remembering Never, Women and Children Die First
Any bands, contemporary or otherwise, you'd love to share the stage and/or tour with?
A laundry list that will keep growing. There's a lot of friends we've made recently that I'd love to go on the road with, like Pulses, Dreg, Death Goals, p.s. you're dead. But it's a band dream to get to open up for Every Time I Die. As a fan of them I think people who like them might get us.
***
fallfiftyfeet on social media: Facebook | Instagram | Bandcamp
***
Help Support What No Echo Does via Patreon:
***
Tagged: fallfiftyfeet