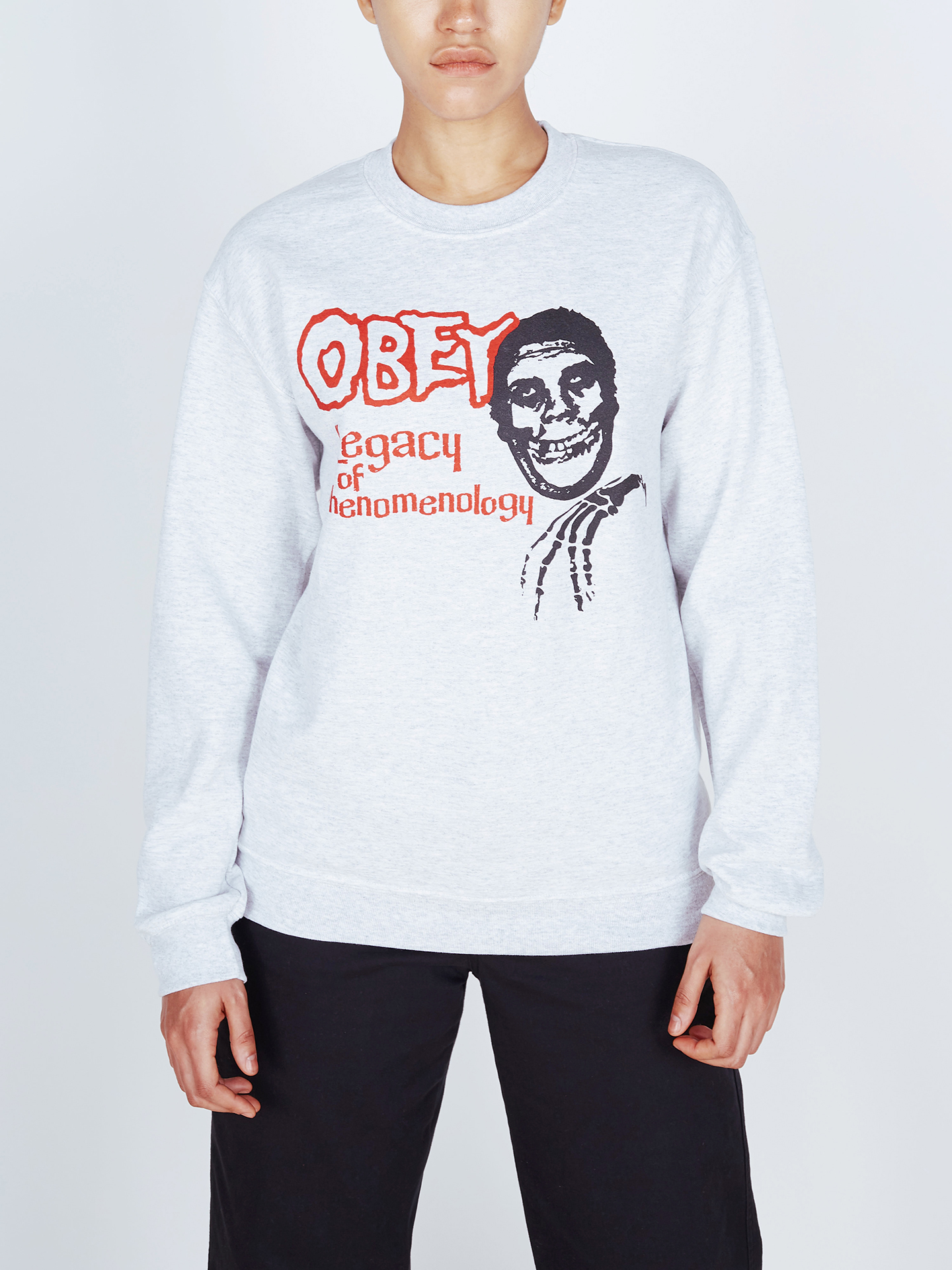 Shepard Fairey and OBEY have partnered with the Misfits on their first complete capsule collection together. The line will include t-shirts, satin bombers, leather jackets, sweatshirts, and accessories like hats and pins.
"The Misfits are a punk rock revelation and a band that has mesmerized me from my first introduction to them in 1985," says Fairey. "The Misfits art is pure alchemy genius and the best example of remixing marginal subculture imagery into a cohesive cult brand in history. From horror films, comics, serials, and B-movies the Misfits culled, cut, pasted, inked, and crafted possibly the most recognizable and enduring punk iconography ever. The thing that I love about the classic Misfits imagry is that it is well designed, but has a do-it-yourself charm that is organic and unfussy. I'll be seeing you again!"
This isn't the first time Fairey has brought his distinct art style to the music world. Sepultura, Flogging Molly, Anthrax, and OFF! are just a few of the bands he's designed album art for throughout the years.
Misfits co-founder Jerry Only had the following to say about the new OBEY collaboration:
"The Misfits invasion started in 1977... It was all DIY, built on imagination and totally unique in concept. We were just as rebellious in our music, as we were with our sense of style. The ominous words 'Teenagers from Mars' were painted in bold black letters on the back of a sweater bought at the Salvation Army to mark the beginning of a cultural revolution ; one that has finally come full circle—four decades later. The DIY street art ethic of OBEY is a perfect fit with the Misfits. We want, we need, we'll take it! And now we have! Status quo is the enemy..."
The OBEY X Misfits Collection will be available worldwide on www.OBEYCLOTHING.com and select retailers on April 13, 2018. Limited edition OBEY X Misfits fine art posters by Shepard Fairey will be released on April 17. For you collector fiends, two versions of the poster will be offered — one available on the OBEY websites and the other at www.MISFITS.com and www.MISFITSRECORDS.com
Tagged: misfits