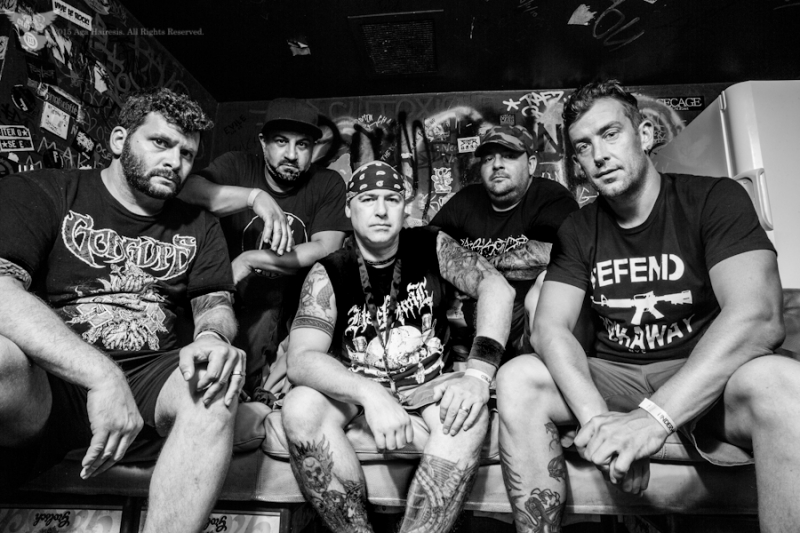 "I keep up with a lot of the newer stuff, but my go-to stuff will always be the classics," All Out War vocalist Mike Score tells me. It's been over 25 years since the metallic hardcore greats formed in Newburgh, NY, but Score also understands how imporant it is for the newer blood to keep their scene growing. "As far as new bands I really like Xibalba, Incendiary, Code Orange, Jagged Visions, Black Anvil, Eternal Sleep, Mindforce, and Withdrawal. They are all great bands that I got turned on to over the past few years."
When it comes to specific oldies but goodies Score keeps in rotation, he drops the names Kreator, Carnivore, Leeway, and Celtic Frost. The guy certainly has impeccable taste in music.
That leads up to Give Us Extinction, All Out War's stellar new album. Recorded and mixed by Steve Evetts (Sepultura, Lifetime) and mastered by Alan Douches (everyone who is good), the album is as catchy as it is punishingly heavy. All Out War have always been masters of balancing the thrash metal elements of their guitar approach with the groove, more hardcore-driven side of what they do, and Give Us Extinction might be the best example of that in the band's discography.
No Echo has partnered with All Out War and Organized Crime Records to bring you the premiere of the new album.
The cover art for Give Us Extinction is a visually arresting collage of terror created by artist Alexandre Goulet. "Alexandre is great to work with. He is very flexible. We basically bounce ideas off of each other and do that until we find something both parties are happy with. It's a long process, but we are always happy with the finished product," says Score about the collaboration.
Give Us Extinction features a searing cover of Nausea's "Cybergod," which not only fits perfectly on the album from a sonic standpoint, but also lyrically. The track includes guest vocals from Emily Muscara of the band Straphangers. "We try to pick covers that not everybody does. On the last EP we covered Amebix and Carnivore. Nausea has always been on our to do list and even though 'Cybergod' was written a long time ago dealing with television, we thought it fit perfectly with social media and the current fascination with celebrity worship. Ever since we first heard the Straphangers, Erik and I thought Emily sounded so much like Amy from Nausea and we decided if we ever covered Nausea, Emily would be perfect."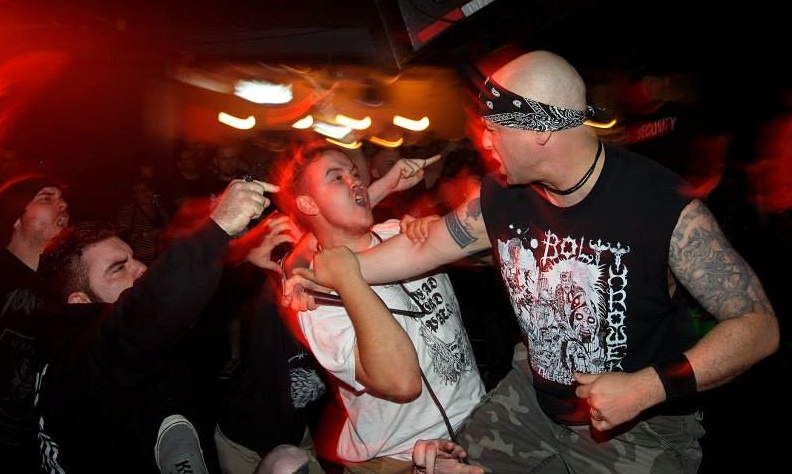 Organized Crime Records will release Give Us Extinction on LP, CD, and digital formats on August 11. You can find pre-order options at this link.
Tour Dates:
8/18/2017 Upstate Concert Hall – Clifton Park, NY w/ Cro-Mags, Brick By Brick, Cold As Life
8/26/2017 Café 611 – Fredrick, MD w/ Eyehategod, Cro-Mags, Pig Destroyer
9/23/2017 Reverb – Reading, PA @ Tsunami Fest w/ Integrity, Agnostic Front, Madball, Cro-Mags
10/20/2017 The Vanguard – Tulsa, OK @ Flyover Fest w/ Integrity, 100 Demons
10/21/2017 Cobra Lounge – Chicago, IL w/ 100 Demons
Tagged: all out war