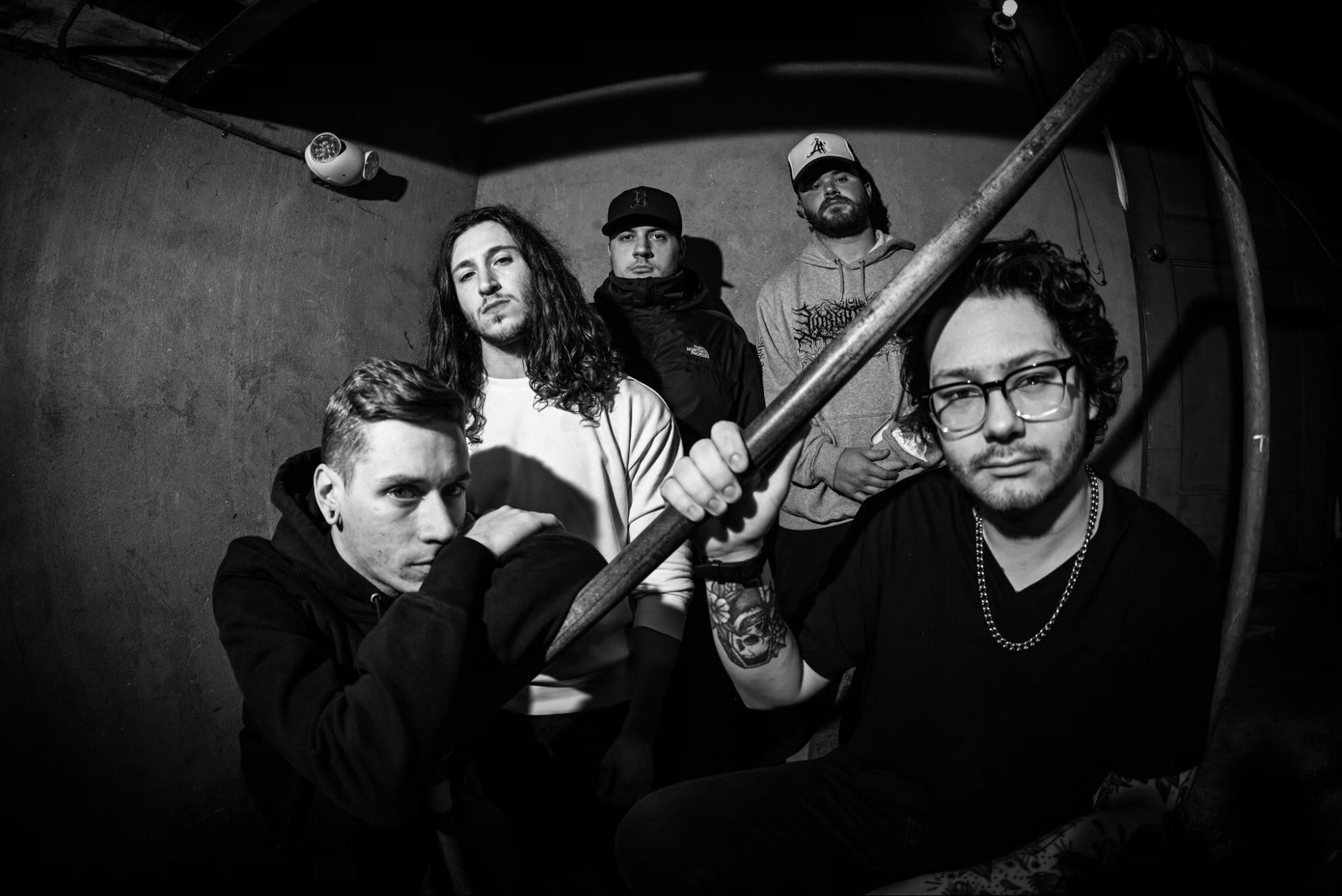 Massachusetts metalcore group Underthrow have been at it for years, forming while most of its members were still in high school and since then they've grown along with the scene into what they are today. In their early days, they were young and trying to find their sound and what they had to say which proved difficult as life and the world took a strange turn.
Now, after years of playing and recording, Underthrow will release their debut LP, In Memory of Fading Hearts, a collection of songs that reflect all the turmoil they've tried to expel through their crushing sound.
Underthrow was formed in 2017 by Cody (guitars) and Matt (vocals), when both musicians were still in their teens. The members started playing shows all along New England, opening for local acts such as Crafter, Kingpin, Years Apart, and Sick Minds. During this time they released a demo but vocalist Matt describes this era of the band as "Not good at all." Feeling unsatisfied with their sound at the time the band didn't see much activity until around 2020 when they dropped their first EP, Surface.
Their current lineup is stocked with members from many great local acts, many of them joined at different points after other members had left leaving Matt and Cody the only original members. Cody Delvecchio currently plays in Boundaries, Instigate and countless other bands, Tyler Gibeault is in Bed of Razors and XForgivenessDeniedX, Jake Solomon was in the band In Armistice and drummer Mike as Matt described, "Has this tiny little side project he plays bass in, some classic rock band called Lorna Shore." So there's no doubt about the band's skill in delivering some of the heaviest metalcore around.
Before bringing their debut EP, however, Underthrow went through a change of members as well as a brief hiatus before the pandemic. Once they got back together, they quickly whipped the EP together in order to have music to perform once shows came back. "Cody whipped Surface together in like a week. He just wrote everything and came back to us with it and we were done. Whenever we record he basically writes all the music and then we put our own spin on everything," claims Matt. While the band is proud to have gotten the piece out they all agree that their next release is far superior.
Matt's lyrics and vocal delivery give the band the more emotional and affecting edge over many metalcore bands popping up in the area. His vocals sound sincere and heartfelt and the melodic yet crushing rhythms the band creates behind him elevate his lyrics even higher.
Matt explains that his lyrics come from personal experiences but he attempts to make them broad for people to relate to stating: "I take influence from bands like Have Heart, Death Before Dishonor, and To the Wind. They're writing about their personal experiences and the struggles they deal with. Listening to them, I felt, 'I'm gonna write this way too' because it's an outlet." Carrying on what his influences did for him as his lyrics deal with situations many of us face in life as we struggle through the daily grind.
Underthrow is gearing up for the release of their debut album, which they describe as the first release that they are truly proud of. Tyler stated that the record, "Blows everything we've done beforehand out of the water. Musically this just sounds like what we've been trying to achieve and I'm definitely proud of it."
The two of them stated that Underthrow had been struggling to find their sound and come into their own in the scene. Their years of being in the scene and dealing with life in Massachusetts have helped them make an album that punctuates who they are as a band and what they stand for. Matt explains that In Memory of Fading Hearts felt like the statement he'd been trying to make since forming the band.
"This record lyrically is what I have been trying to write since I was 10 years old. Every song, every lyric to me, I can't break it down right now but I know in my heart that everything I said on it is something I can take to the grave. Like I've said everything I've been wanting to say finally."
Underthrow was able to record the album with local producer Charlie Abend and are planning to drop it on August 26th. With the release in their sights the band debuted the first single and accompanying music video for the song, "Fray," which they debuted a couple weeks ago. Shooting the clip was no easy feat however as the schedules of the band members never synced up but finally all members were able to make the shoot, "On our days off we had to go shoot the video so it was tiring, shooting a music video sucks ass but we're so happy with the outcome," stated Matt.
Underthrow is premiering the second music video leading up to the album's release here on No Echo. The clip for "Dead Flowers" was shot by Ryan Flynn and features the band performing the monstrous track in a dimly lit room. The track itself is one of the heaviest they've put out so far, particularly with the skillful drumming that builds to an insane breakdown toward the end.
Underthrow will be opening for Eighteen Visions on July 28th for their Vanity Anniversary Show at the Worcester Palladium. Also featured on the bill is SeeYouSpaceCowboy, Wristmeetrazor, and Chamber:
***
In Memory of Fading Hearts will be out on August 26th.
Underthrow on social media: Facebook | Instagram | Twitter
***
Help Support What No Echo Does via Patreon:
***
Tagged: underthrow