"I founded the band when I finally decided to get sober in late fall 2018, when I was in the US Army," says Gabriel Walker, vocalist of Belligerence, a Texas-based metalcore band making their debut on the site today.
The singer continues: "A lot of the hardcore shows I was going to were super cool but all had a distinct old school D-beat punk vibe (which is awesome in its own right) but I wanted to hear something heavier and more artful since I was coming from the metalcore side of the tracks."
Gabriel and his bandmates are gearing up for the release of Suicide & Sobriety, Belligerence's debut EP, which features a track called "Remorseful Discourse" that includes guest vocals from Sam Crocker of Antagonist A.D.:
"In regards to our sound I would say we pull a lot from bands like Disembodied, early Eighteen Visions, Antagonist A.D., Recon, and even early era Foxy Shazam.
"For this EP, I wrote everything about the emotional awakening after getting sober, the feelings of inadequacy that form along the way, and coming out as non-binary. Lyrically, I wrote everything minus the song 'collapsedveins//shattereddreams,' which was written by our drummer, Mike G."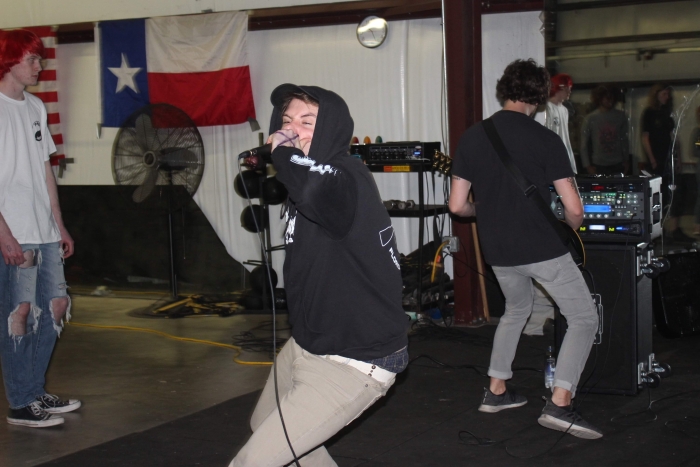 No Echo asks Gabriel how the Austin scene has received Belligerence so far. "We've mainly played with screamo, MySpace deathcore, and the occasional hardcore or metal band along the way. We got 4 shows in before COVID-19 hit and the final show we played was us headlining an unofficial SXSW 'Metal' showcase at Come And Take It Live.
"We want to thank bands like Antagonist A.D. (especially Sam Crocker for hopping on the guest vocals), Xile, Buriedbutstillbreathing, Second Wind (TX), Behindcoloredglass, and Your Spirit Dies. They've all been huge helps and great friends/role models along the way."
Gabriel takes a moment to thank some of Belligerence's closest allies: "None of this would be possible without my drummer Mike and my wife Ashley. They were there for me when nobody else was while I was in the mental health ward in the Army for suicidal ideation and attempts.
"Oh, and lastly, my friend Justin, aka Dizasterpiece, even though he isn't in the band anymore he's been a fantastic mentor and I wish him the very best in his rap career."
Suicide & Sobriety is available now via Bandcamp. Stay tuned for a vinyl release on Harness Records.
Belligerence on social media: Facebook | Instagram
***
Donate a few bucks to help with No Echo's operating costs:
***
Tagged: belligerence