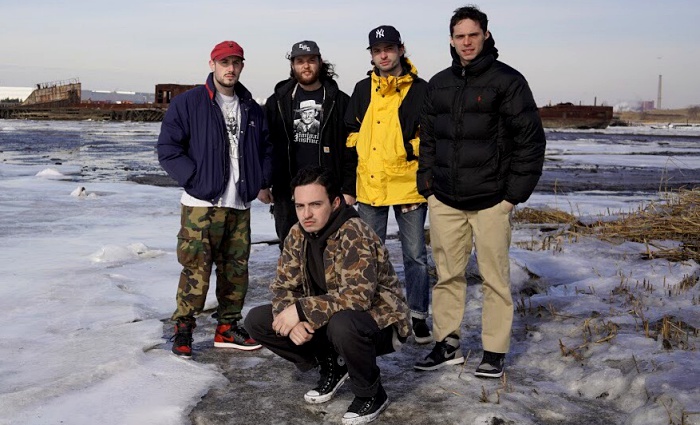 If you checked out my 12 Newer Hardcore Bands You Need to Check Out list back in January, you already know that I believe in what Combust is doing. The NYHC outfit formed in 2017 and have been busting their asses throughout that time, landing a deal with Edgewood Records (Trail of Lies, Dead Heat) last year. If you're into stuff like Outburst and the Icemen (and if you read No Echo, you probably do), Combust nail that sound and vibe better than most.
With their debut EP, The Void, arriving in the next few months, Combust vocalist Andrew Vacante hit me up about premiering a new track called "Tigers and Rats" on the site, and I'm pleased to do that today:
"This song is a lot about how I feel about the weird state of New York hardcore and hardcore in general," Andrew said about the lyrics. "Lots of good bands. Lots of good people who support the scene. At the same time, there are tourists in both senses. There are people who move to New York and aren't actual hardcore supporters, yet they stick themselves within the scene and try to bend it to their own weird social agenda. There are also kids who are into it just to get in and out. They have no longevity and don't actually care.
"Too many people within NYHC and hardcore in general are outsiders who try to capitalize off something alot of people really care about. Whether it be monetarily or socially. I don't care for it."
The Void was recorded with Will Hirst at Gate 4 studios in Massachusetts. That name my sound familiar since Will's recorded Mindforce's Excalibur, my pick for Hardcore Album of 2018, and he's also a musician who currently plays in both Maniac and Restraining Order. In other Combust news, the group will be part of this year's installment of United Blood. The fest will also feature Floorpunch, Merauder, Death Threat, Underdog, and Candy, among a host of other killer artists. Get tickets here.
Stay tuned to Combust's social media pages (Facebook, Twitter) for more info and the forthcoming release date for The Void.
***
If you're shopping for vinyl, CD, and cassette hardcore titles, head to No Echo's partner store, Reverb LP, to see what they have available. Every purchase you make helps No Echo with site costs.
Tagged: combust