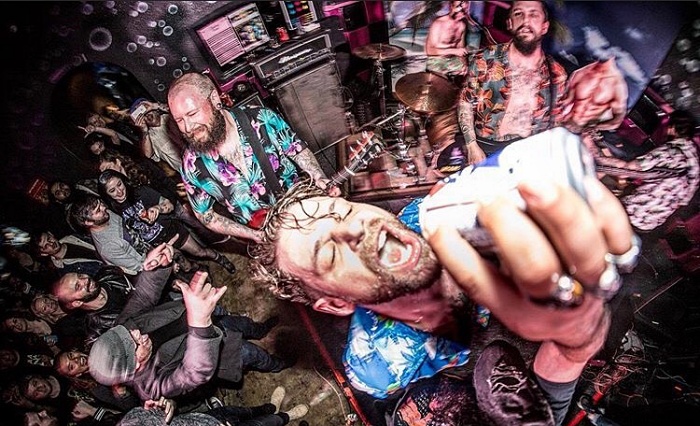 Doc Hammer is a band that doesn't take itself too seriously, but that doesn't mean their music should be taken lightly. When No Echo asks vocalist Josh Ravin about the Doc Hammer's sound, the frontman says: "A mix of Every Time I Die and The Bronx." As he gets further into it, his reply is as colorful as one would expect from a group who include the invitation "let's get together and make normal situations weird" on their Facebook page.
"We put forth a balls-to-the-wall medley of riffs and drum beats for all walks of life to bang their head to. You like partying? We do too, so lets party!"
So, what's the background on Doc Hammer, and how did they come to agree on their party-flavored take on hardcore? "We originally formed 5 years ago when my old band, Kodiak, was breaking up," says Josh. "At the time, Doc Hammer was just a 4-piece for 2 and half years until Clayton Word joined in (also a member of Kodiak). That is the point where the band really started to get going. A couple of lineup changes after that, and the band was off to the races.
"Every member wanted to play something heavy, yet still keep a fun energized party for each show, and so far we haven't been let down. The crowd hasn't seemed to be either."
The music video above is for "Comanche Crew Cut," a track from Doc Hammer's 2019 album, Neon Devil. "It was written to be a Thanksgiving song. That turned into a song about scalping pilgrims. With the music written first and the lyrics following, they were inspired by the same thing. Absolute. Pure. Partying."
How has the rest of the San Diego music scene reacted to Doc Hammer's way of partying? "San Diego has a nice heavy scene of music brewing. Braggers, OhCult, and The Undertaking are a few of our friends we like to play with. Every local show we play is absolutely insane. Our fans go fucking wild and we give it to them right back."
Neon Devil is available now via Paper + Plastick.
Doc Hammer on social media: Facebook | Instagram
***
Donate a few bucks to help with No Echo's operating costs:
Tagged: doc hammer