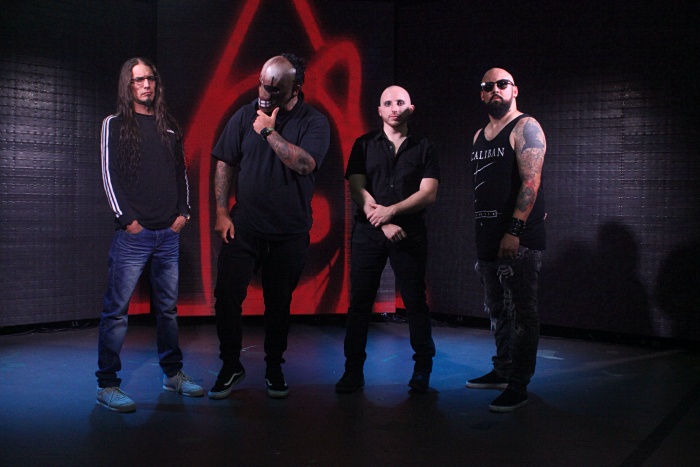 Though attacks on Florida are frequent and fierce, attacks on Florida metal can quickly be overwhelmed with reference to bands like Morbid Angel, Death, and Obituary. The babes of They Might Be Zombies uphold this tradition by thrilling with a powerful metal that arrives often as heavy and sometimes melodic.

Representing the city of Miami and staying busy during quarantine, the potentially undead are rehearsing regularly, suggesting live shows post-lockdown will deliver. They're even writing new material according to drummer and dreamdoll Kevin Klingenschmid.
After having joined the band just this year, Klingenschmid came at the right time. Now accompanying Jesus Reyes on guitar, Giovanni Milhet on bass, and Ewar Acosta on vocals at a time when traction has caught for the just-signed band (Combat Records).
Having put forth a new 13-track album, Reanimate, in April with Producer Matt LaPlante (Skindred, Nonpoint), the band notes they are ready to play live upon the reopening of Florida venues.

In addition to a new album, They Might Be Zombies released a video in July for the song "Motives" that has already amassed a notable tens of thousands of views. Impressively put together, the video is something to be proud of for this gifted quad. Crafted with the help of the talented individuals at Step 1 Studio and Limitless Production Services, the video is available below:
Reminding me of bands from the late '90s and early '00s They Might Be Zombies is a good listen for fans of groups like: Artificial Sky, Killswitch Engage, and All That Remains.

Musically, the band is likely described most often as metal or alt-metal with music that draws from a variety of sources but retains a mathy, dark sound. Precise and deliberate riffs are overlaid with screams in most instances.
That said, when he is caught occasionally singing, vocalist Acosta stuns with a lovely, melodic voice that might lend just as well to gentler genres. Powerful drums provide structure with an exceptional endurance that is not overly tinny, as metal may be, but instead more mature and developed.

Look out for They Might Be Zombies after Florida's reopening and join me if you can at one of their first lives shows post-pandemic. The first of which will be the inaugural event for the group's current lineup.
They Might Be Zombies on social media: Facebook | Instagram | Twitter
***
Donate a few bucks to help with No Echo's operating costs:
***
Tagged: they might be zombies