No Echo is excited to help announce the forthcoming release of Trapped in a World, a new live studio album that will find Terror revisiting their earliest records with former guitarist, Nails mastermind Todd Jones, who will also be producing the band's next LP.
Recorded live in July 2020 at Jet to Mars Studio by Terror drummer Nick Jett (with additional engineering by Ryan Marr), Trapped in a World will consist of 12 of Terror's most foundational tracks furiously delivered in less than 24 minutes.
"Todd and I had been talking last year about doing a project together," Terror vocalist Scott Vogel told No Echo about the new project, "you know, just recording some songs and maybe putting out a demo. The idea kinda faded into the abyss as lots of ideas do.
"When COVID hit and the lockdown put Terror in a place where there was no touring or shows, we had lots of free time to start writing.
"At the same time, Todd and I were texting a lot about life and music and I suggested that he should start writing some songs with us for the new Terror record. So Nick, Todd, and I would get together and make Terror songs just like 20 years ago. Kinda crazy.
"I'm pretty sure Todd came up with the idea for the Trapped in a World record at one of these writing sessions. He also had the title, which is a nod to the band Zero Tolerance. The idea was to record old songs he had written at the start of the band with all of us playing together to give it that really raw energy pop like you would hear on old rehearsal tapes people would trade and dub for their friends."
Whet your appetite for Trapped in a World with a new version of "Overcome," a track who's original version appeared on Terror's 2004 debut album, One with the Underdogs:

No Echo asked Scott about collaborating with Todd again. "tt's been great, man. He is a very cool person, and he's crazy just like me [laughs]. And man he really thinks everything through 110 percent. His riffs are very brutal. It's just been a nice change for us to have him back and having so many ideas and constant creative insanity."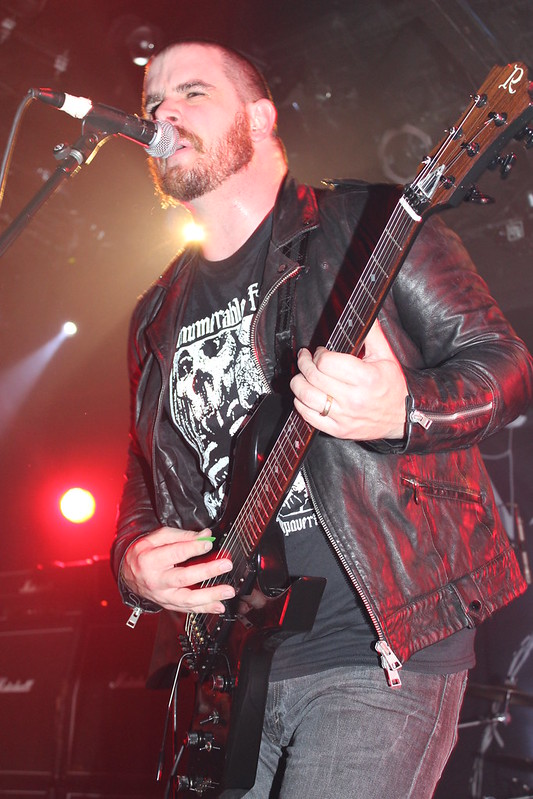 Since Todd will be producing the next Terror studio album, we pressed Scott to give us an idea of the direction the new material has been heading in.
"[Guitarist] Jordan [Posner] is in Canada, [bassist, Chris] Linkovich is in Maine, and I am in Buffalo, while Todd, Nick, and [guitarist] Martin [Stewart] are in Los Angeles. Jordan and Chris demo songs on their own and send them to us. We work on their songs as well as a bunch of stuff we come up with.
"We get together every other weekend for the afternoon and write and demo songs. Now that I moved back to Buffalo, I join these sessions on Skype [laughs]. What a fucking world."
Despite the distance, Scott didn't seem fazed by the working flow of things: "It's been very easy and smooth and exciting and ultra productive. The results are going to speak for themselves."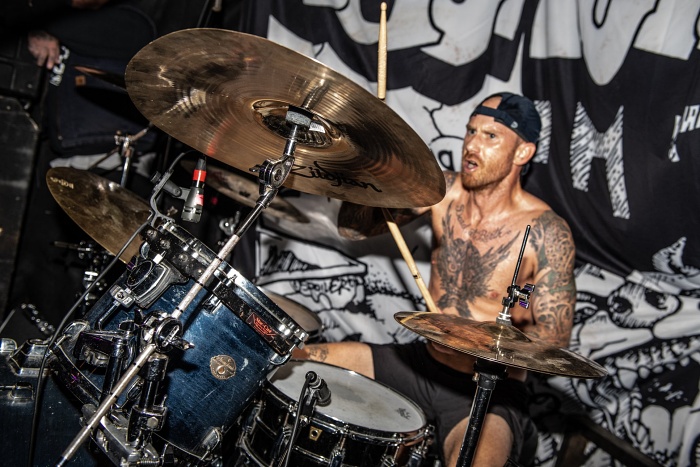 Trapped in a World will be released on all digital service providers and on 12 inch vinyl including new merch and more on March 5th.
The LP will be pressed in an array of vinyl variants: 100 Glow in the Dark with Japanese OBI Strip (WAR Records exclusive), 500 TriColor Pink/Blue/Yellow, 200 Black vinyl big hole limited cover, 25 Test pressings, 200 Gold Vinyl (CoreTex exclusive), and 200 Neon Yellow (RevHQ exclusive).
Hit the pre-order at StickTight.LA
***
No Echo has launched a Patreon with 3 tiers offering all kinds of hardcore-related goodies to help support the site:
***
Tagged: terror