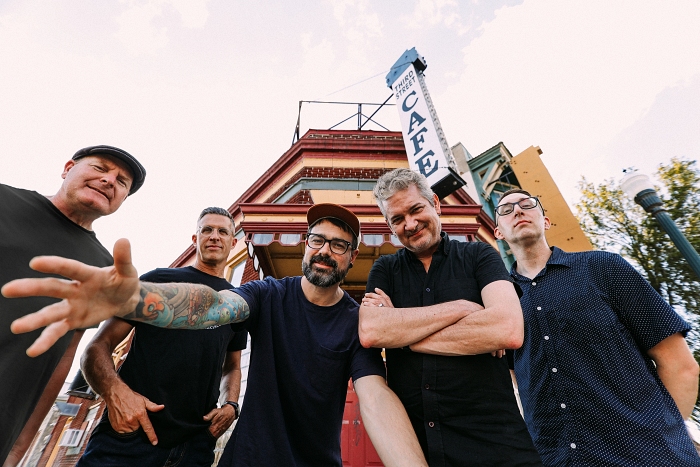 In case you missed their debut single release recently, Calling Hours is a new band comprised of bassist Garrett Rothman, drummer Jim Bedorf, guitarists Thomas McGrath and Tony Bavaria—all also members of Don't Sleep—and vocalist Michael "Popeye" Vogelsang, best known for his work in Farside.
Riding a wave of bright melodies and crunch guitars, Calling Hours make the kind of hook-filled rock that I never tire of. Their forthcoming debut release is called Say Less and it's going to be issued by Revelation Records, the influential label also behind Farside's classic records.
I recently spoke with Popeye and Garrett from the group to learn the origin story behind Calling Hours' formation, the Revelation connection, and working with producer Brian McTernan (Be Well, Battery, Ashes).
When both parties decided to work together as a band, what was discussed in terms of songwriting and stylistic direction? Was that something that was a conscious decision or did it come more organically once you started jamming together?
Garrett Rothman (bass): The four of us from Don't Sleep—Tom McGrath, Tony Bavaria, Jim Bedorf and I—wrote the "first drafts" of the songs and then handed them over to Popeye to develop the lyrics and vocals.
We didn't have a specific stylistic direction in mind when we started writing, but we were really conscious of the fact that we needed to write songs that were a conduit to Popeye's vocal style—it goes without saying that Popeye has been a beloved singer from our scene for a few decades, and people have been connecting with his lyrics in a deep way since Farside, so we wanted to write relatively simple, catchy songs that were a platform for his vocals.
I think some of the subconscious influences that emerged when we were writing were Hüsker Dü/Sugar, The Replacements (we cover "Alex Chilton" on the record), The Jam, and then the wide range of hardcore and punk music that is at the foundation of all of the music that we make—of course Farside, Texas Is the Reason, Sense Field, etc. worked their way into our sound organically.
Popeye Vogelsang: Honestly, I feel like I just sort of slid into a situation where these guys were already super dialed-into each other, and I happened to be at the right place at the right time. The night that I met the other guys was when Calling Hours became a "real" band, so to speak.
They needed a singer for all of these songs that they had already written, and I wasn't doing much musically, so I sheepishly asked if I could try out. Fortunately, they allowed it. They sent me a bunch of practice demos and told me to pick the ones that I liked the most and start writing lyrics.
When I got that email with links to all of their songs was when it hit me that I couldn't back out at that point. I loved all of the songs and it was hard to pick out my favorites. Our latest single, "Gin Perry," was the biggest standout for me and the first one that I wrote lyrics for.
Were there any growing pains along the way? Maybe it clicked right away? I'm curious about the chemistry and its development.
Garrett: I wouldn't say there were any growing pains—Tom, Tony, Jim and I have been playing in various bands together for many years. In addition to Don't Sleep, we also have a band called Very Americans, Tom and Tony had The Commercials and Safari So Good, and even Jim and I played in a DC hardcore cover band in high school at our battle of the bands [laughs]. So we have a really easy-going chemistry and we enjoy writing music together. Our feelings don't get hurt if an idea is summarily rejected.
Of course we didn't have any songwriting history with Popeye, but anyone who has crossed his path knows that he's one of the sweetest, most humble, down-to-earth people you'll ever meet, with very little musical ego. He was down for pretty much everything we sent to him and he blew our minds with his vocal ideas right from the get-go!
Popeye: The only growing pain for me was the fact that I hadn't written anything for probably 10 years and I had to shake off the rust a little bit. I had forgotten how obsessive I can get when it comes to writing lyrics and how much I have a tendency to agonize over every syllable.
Then again, having been so dormant for so many years when it comes to writing vocals and lyrics, it was really kind of refreshing to start with a clean canvas with a gang of quality musicians and a producer that I had never worked with before.
I'll admit I was nervous as hell since I barely knew most of these guys and wasn't sure if they would like what I did. Thank God they liked me [laughs].
At what point did Revelation Records get involved and how does it feel having their cosign on this band/record?
Garrett: We spent several months writing and demoing a handful of songs that we eventually shared with Revelation—Popeye sent the songs to [label owner] Jordan Cooper and Brian McTernan, who produced the songs, sent them to [Judge, Rival Schools drummer] Sam Siegler (Brian and Sam worked together on Rev's Be Well release). Apparently they both liked what they heard because they offered to put out our record.
Obviously, Farside has a deep history with Rev, so it goes without saying that they were our first choice to work with. Popeye had a fantastic experience working with Rev over the years, and Jordan is his close friend. From the rest of the band's standpoint, Rev has been a part of all of our musical DNA from the outset.
As far as ethos, quality of the musical output, and staying power throughout the years, I put Rev up on the same mantel as Dischord, and it's really an honor to be able to see that Rev star on our record.
I'm psyched that Rev isn't resting on its laurels—some of my favorite records of the past couple of years—Be Well and Praise—were put out by Rev, and the new Paint it Black is a true banger! Jordan, Sam, and the whole crew at Rev has been fantastic to work with. They have great ideas and feedback and they truly have our backs with this release. Thanks, Rev!
Popeye: I've always been super proud of Farside's tenure with Revelation. Even though Jordan has become one of my closest friends over the years, I know that he wouldn't want to work with Calling Hours as some sort of favor. It's really a great feeling to know that he truly likes what we're doing, and the support that we get from him and everyone else at Rev has been incredible.
It's still sometimes hard to get my head around the fact that I ever got to be a part of such an influential record label in the first place, and having the opportunity to work with them with Calling Hours makes me feel like a giddy teenager all over again.
Let's talk about Brian McTernan and his work with you in the studio. First off, why was he the right person to produce Say Less? Since he's also a musician, did he get involved with the songwriting aspect of the material or was it more of a feel/direction kind of relationship in the studio?
Garrett: At this point, Brian is like family to us, and in many ways he's the sixth member of Calling Hours. This record wouldn't have happened without him. Don't Sleep worked with Brian in recording some of our album Turn the Tide, and since then we became friends with him and have stayed in touch pretty regularly.
When we started writing music for Calling Hours, I casually mentioned to him that we were writing music with Popeye, but secretly hoped he'd offer to work with us. As it turns out, Brian was a huge Farside fan and even had a cat named Popeye! So he immediately offered to work with us.
Brian only lives about an hour-and-a-half from us, so he would pretty regularly make the trip from Baltimore to Harrisburg or we would visit him to work on pre-production of the songs, demos, and eventually record the actual record. We would catch up with him between Be Well tours. Popeye recorded his vocals at the new Salad Days studio that Brian had just built—I think we were actually the first band to record at the new Salad Days!
As far as Brian's process goes, we would play him demo versions of the songs that were essentially skeletons, and Brian has an innate gift for hearing what a song is missing, or lacking. He would make suggestions for better transitions for the parts, or how to change up the chord structure, shorten or lengthen parts, etc. He'll listen to a song, and then get this look in his eyes, grab a guitar and start strumming, and make sometimes just the slightest change to a part, but the result is that the song ends up being so much better.
Brian also brought out the best in us when we were tracking—he worked a lot with our guitarist Tom to come up with some of the really catchy lead tracks throughout the record. He also did a lot of the vocal harmonies on the record—you'll hear him on pretty much every song. We love Brian and are so appreciative of the time and energy he put into our record. We're looking forward to starting up again soon with a new batch of songs!
READ MORE: Brian McTernan (Battery, Ashes, Miltown, Be Well, Producer)
Popeye: Brian and I have been friends for decades and always had a lot of respect and admiration for each other, but this was the first time we had the opportunity to work together. I had never experienced a recording process like this before that included so much demoing and songwriting sessions.
We went into it with the understanding that we shouldn't be too attached to anything, but Brian is so brilliant at what he does, we felt totally comfortable with all of his direction and input. We were basically a lump of clay that he molded into something that we are all extremely happy with.
What's the plan for Calling Hours beyond the record's release? Can we expect any West Coast shows once it comes out?
Garrett: We're playing a record release show at Saint Vitus in Brooklyn on November 18, 2023 with our new best friends As Friends Rust. We just finished a European tour with As Friends Rust and absolutely fell in love with that band and really became close with them.
We're so stoked to be able to have a little reunion show with them in Brooklyn and it'll be fun to celebrate the release of our new record with them. Please do yourself a favor and check out their new record Any Joy on End Hits Records. One of my favorite releases of the year!
We're planning to play as much as possible on the East Coast, as we live pretty close to NYC, DC, Philly, Baltimore, etc., and yes, we are super anxious to get back to Popeye's stomping grounds on the West Coast and play in Cali. Please stay tuned!
Other bigger picture tour stuff is we hope to get to Japan and Brazil, and we're still buzzing from our European tour, so we would love to get back to Europe next year.
Popeye: I still can't believe that we had the opportunity to go on that European tour! It got a little grueling at times considering that we're not young guys anymore, but we still had a blast! The As Friends Rust guys are incredible and we're eternally grateful that they let us tag along. And them being such awesome guys to begin with made the whole experience all-the-more memorable.
Calling Hours hadn't played together much before we went on tour, so playing nine shows in a row was almost like a workshopping experience. We all got more and more locked in with every show and, as we limped our way to the finish line, we all knew that we are hungry for more.
***
Say Less will be out on November 10th via Revelation Records (pre-order).
***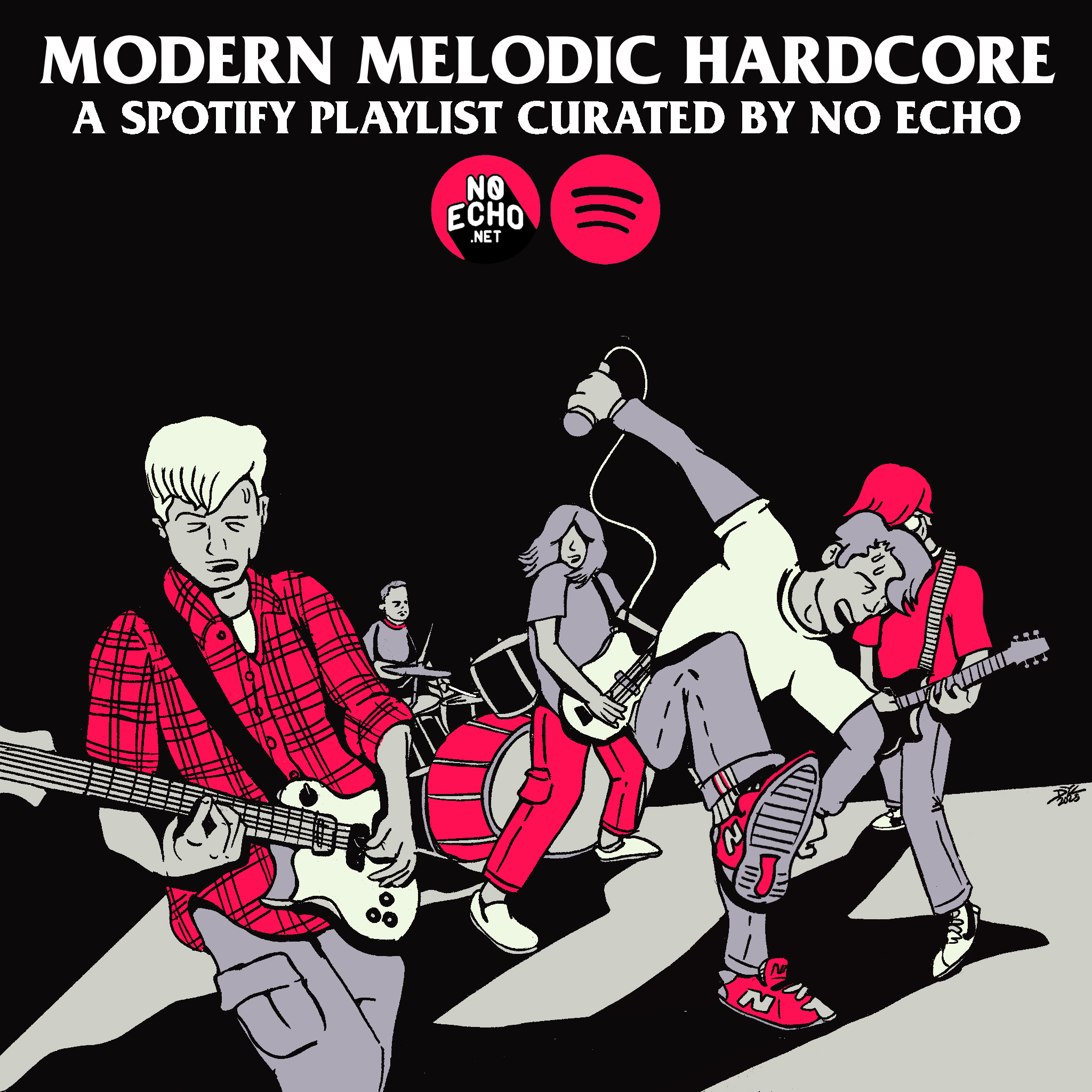 Tagged: calling hours, dont sleep, farside