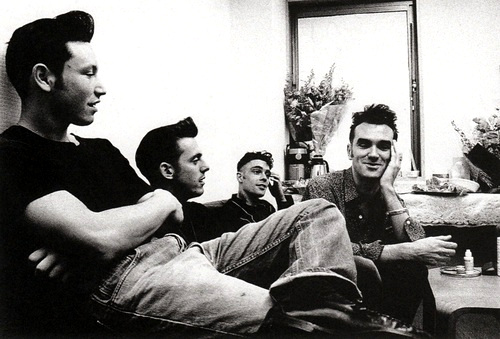 Beginning with Johnny Marr's twang-filled guitar work in The Smiths, Morrissey has collaborated with a series of musicians with a penchant for rockabilly music. On paper, the combination of Moz's crooning vocals, melancholic lyrical style, and '50s-styled rock 'n' roll might sound like a terrible idea, but his solo and Smiths discography says different. Morrissey's more recent work hasn't been as rockabilly-based as some his earlier material, but with guitarist Boz Boorer still running the singer's touring band, you can bet their setlists will include a James Burton-inspired number or two every night.
Here are some of the best Morrissey and Smiths rockabilly songs from the singer's extensive catalog.
"Certain People I Know," from Your Arsenal (Sire Records, 1992)
Featured on his superb Your Arsenal album, "Certain People I Know" was co-written by Morrissey and guitarist Alain Whyte, but much has been made about the song's musical similarities to T. Rex's "Ride a White Swan." Whether it was a deliberate tribute or not, what is certain about "Certain People I Know" is clear: it sounds like it could have come out on Sun Records back in the '50s (at least musically speaking).
"King Leer," from Kill Uncle (Sire Records, 1991)
Co-written by guitarist Mark E. Nevin, "King Leer" features one of Morrissey's most restrained vocal performances to date. Despite being made up exclusively of British musicians, Morrissey's Your Arsenal-era band (seen in the clip above) lend the song an even looser swing. Gary Day's standup bass solo is also a positively rockabilly touch that can't be ignored.
"Shakespeare's Sister," Single (Sire Records, 1985)
Thrust forward by a driving snare beat from Smiths drummer Mike Joyce, "Shakespeare's Sister" is one of the group's quickest paced singles. Add Marr's C&W guitar flavorings on top of Joyce's drum patterns and you have one perfect rockabilly single. It's also the first and last time William Shakespeare and rockabilly would ever be mentioned in the same breath.
"Sing Your Life," from Kill Uncle (Sire Records, 1991)
To capture the rock 'n' roll vibe of "Sing Your Life," director Tim Broad sent the Morrissey solo band back in time to perform the song at a dance sometime in the '50s for its video. The sock hop feel of the clip perfectly complements the song's retro flavorings. Sadly, Morrissey hasn't performed "Sing Your Life" on any of his tours since the early '90s.
"Pregnant for the Last Time," Single (Sire Records, 1991)
A non-album single issued the summer after his Kill Uncle album hit stores; "Pregnant for the Last Time" is another Morrissey/Mark Nevin co-write. The track marked the first time Morrissey recorded with Boz Boorer, the former guitarist for British rockabilly act The Polecats. The musical collaboration would go on to be Morrissey's longest to date.
"Nowhere Fast," from Meat Is Murder (Sire Records, 1985)
"Nowhere Fast" features some of Johnny Marr's most traditionally rockabilly guitar playing. Mike Joyce's shuffling drum rhythm also gives the song a country swing kind of vibe. It's a real barn burner of a jam, but when all is said and done, "Nowhere Fast" is all about Marr's fantastic guitar work.
"Vicar in a Tutu," from The Queen Is Dead (Sire Records, 1986)
For "Vicar in a Tutu," once again, drummer Mike Joyce and bassist Andy Rourke lock in to a lively shuffle that sits directly beneath Johnny Marr's Scotty Moore-like guitar riffs. The Smiths follow up the rockabilly punch of "Vicar in a Tutu" with the majestic jangle-pop of "There is a Light That Never Goes Out" one track later on The Queen Is Dead, proving that they were one of the most versatile groups of their era.