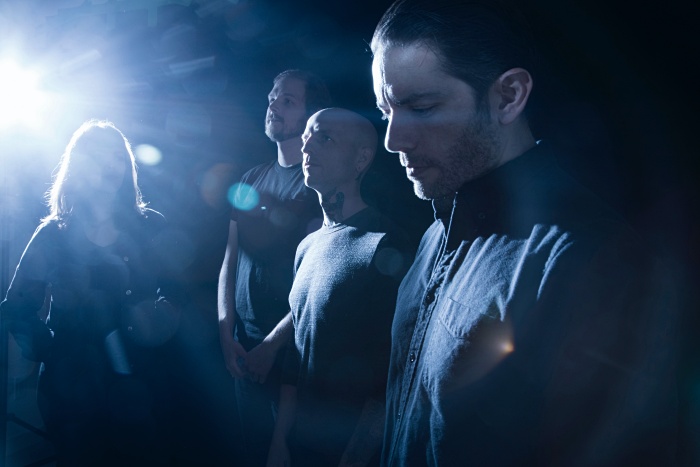 Initially started by Damien Moyal (Culture, As Friends Rust, Morning Again) as a solo project, Damien Done evolved into a full band with 2018's critically acclaimed Charm Offensive album. While most of Moyal's extensive discography falls somewhere in the hardcore spectrum, Damien Done finds the Michigan-based musician and his bandmates going down a stylistic path that brings to mind classic new wave one moment and Love-era The Cult the next.
In other words, it's pop for folks who grew up on a steady diet of MTV's 120 Minutes.
No Echo has partnered with Damien Done to present the premiere of To Night, a 3-song EP from the group, which also features Benjamin Moore (drums), Laura Jane (bass), and Tyler Kane (guitar). The follow-up to this year's Baby, Don't Hearse Me EP, To Night is the first studio recording featuring the full band, where on previous releases most of the instrumentation was programmed. The results speak for themself
Moyal wanted to share his thoughts for each of the tracks on the new EP:
"'To Night' is a song for my wife and son. It's a love song, but takes place in the very final moments of life on earth -- the last second or two before we're completely and instantly obliterated by some insurmountable event. It's about how maybe the key to life is finding someone who makes it fine to die.

"'Thirty Pews' recounts the life of a man who has recently passed, and 'A Feast for Every Beast' is about a woman who's exhausted from years of enabling her partner's addiction, and hopes it finally takes him so she can be freed from the confines of codependency."
Damien Done on social media: Facebook | Instagram | Bandcamp
***
Donate a few bucks to help with No Echo's operating costs:
***
Tagged: as friends rust, culture, damien done, morning again