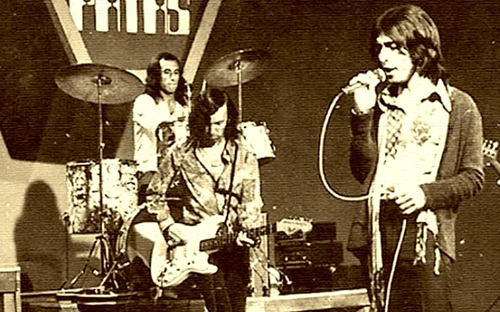 Imagine you're growing up in a Latin American country at the tail end of the '60s and early '70s. You are entranced by rock music, along with the burgeoning counterculture movement sweeping the United States and the rest of the world.
There's a leftist military dictatorship in power that views rock 'n' roll as a colonizing tool of Yankee imperialism and doesn't look too kindly on electric guitars, long hair, or anything else that reeks of hippiedom. Compound the fact that the vast majority of the Peruvian masses live in abject poverty, and once those teeming millions find time to seek out musical entertainment—in order to momentarily forget their deplorable conditions—they find solace in salsa/tropical sounds, syrupy Spanish pop, or native folk styles.
Luckily for you, being a member of the more affluent classes allows access to those subversive objects of desire: vinyl LPs by life-changing groups like The Doors, Jimi Hendrix Experience, Pink Floyd, et al. Cover versions of said groups start to take up the time of your neighborhood garage band. You soon get to a point that original material starts to develop and instead of being content in aping those foreign influences, a synthesis of fuzz guitar/wind instruments/studio manipulations occurs. Couple that with the mystical teachings of Carlos Castaneda's Don Juan treatises, plus esoteric native Peruvian folklore. Copious intake of homegrown hallucinogens like Ayahuasca only helps to cement your vision of a psychedelic rock sound that acknowledges its Anglo-Saxon roots, all the while layering upon its foundation elements that reflect the Peruvian reality.
Once only known by obscure record collectors, the onslaught of the Internet age has made these forgotten Peruvian psych-rock gems available to a new generation of listeners. A lot of this material has been reissued, especially by the great Repsychled Records. Check out their Bandcamp page, in which you can download many of these gems.
There are also some good compilations in print: Back to Peru Vol. 1 - 2, Demoler - Rock Peruano 1965 - 1974, and Sons of Ymac (bootleg CD). Pick them up if you get a chance. There's also a great new comp that came out this year called Peru Bravo: Funk, Soul & Psych From Peru's Radical Decade. I've chosen to highlight some of the main players in the Peruvian psych-rock movement, along with a lil' blurb on each of them, but I prefer to let the music do the talking.
Tarkus
These guys only put out one album, but it's a killer with heavy Black Sabbath and Jimi Hendrix influences. It was probably the loudest band in Peru at that time. Only 50 copies of the LP are rumored to exist, as the record label decided to shelve the release due to low demand. A second album was recorded, but never saw the light of day. Tarkus was actually half Peruvian and half Argentinian. They broke up soon after the recording, leaving behind this heavy classic and a personal favorite of mine that still sounds as vital today as it did when it was recorded.
Traffic Sound
Standard bearers of the Peruvian psych sound, Traffic Sound originally started as a Merseybeat/Surf cover band, but by the time of their second album, Virgin, they had morphed into a very unique blend of psychedelic rock with Latin and Andean rhythms. The three LPs they recorded in the early '70s combined acoustic/electric guitars, pastoral arrangements, and exotic instruments. They were also the first Peruvian band to tour South America, sponsored by an airplane company, no less. Traffic Sound still play periodically at music halls in Lima.
Pax
Pax, along with Tarkus, were probably the heaviest of the blues-based psychedelic bands in Peru. The group featured guitar hero Pico Ego Aguirre, a veteran of the early '60s pop group Los Shains. Pax They only released one LP and a couple of 45S before breaking up in 1973. They later reformed in the early '80s and updated their sound to echo then current NWOBHM bands like Judas Priest, releasing a 45 in '84 that featured a rousing cover of Golden Earring's "Radar Love" en Español. Pax still gig on a regular basis.
Laghonia
Here's a classic band whose name is a play on the words that sound like "The Agony," (La Agonia) but with an extra "H" in the middle to join the words together. One thing that set Laghonia apart was the use of a Hammond organ, making them one of the first South American bands to record with one. The band also included the Cornejo brothers (Saul on guitar and Manuel on drums) along with a 16-year-old American backpacker whom the brothers had heard playing guitar on a park bench. The title song, "Glue," off their first LP, is a thinly-veiled reference to the narcotic properties of adhesive substances. Laghonia would release two albums, and the Cornejo brothers would later go on to start We All Together.
Gerardo Manuel y El Humo
Manuel has a long and storied history in Peru's rock scene. He played in the early '60s Peruvian teen combos Los Shain's and Los Doltons, as well as in the Cream-influenced Pepper Smelter group. Manuel's two albums with El Humo, Apocallipsis and Machu Pichu 2000, are an incredibly potent synthesis of all his influences filtered through a psychedelic prism. He also started up what was arguably the first music video show in Lima during the '80s, Disco Club, beating MTV to the punch. Manuel is a Peruvian rock 'n' roll institution who—until a recent illness—managed to play out regularly and write weekly newspaper columns. Here's to his continued good health.
We All Together
Formed by the aforementioned Cornejo brothers and other Laghonia members in 1971, We All Together leaned towards the lighter sound of the British psychedelic/progressive era and were also heavily influenced by Beatlesque pop, especially Paul McCartney's melodic solo work. The band released two LPs blending sophisticated arrangements with vocal harmonies/keyboards/acoustic guitar originals interspersed with Badfinger/Wings/McCartney covers. We All Together broke up in '74, reunited in '89, and ultimately broke up for good in 2011.
Jean Paul "El Troglodita"
Members of Laghonia served as the backing band for Vudu, an LP by a talented singer-songwriter named Jean Paul. His nickname, El Troglodita, came from a mid-'60s Spanish beatnik flick in which he played a rock 'n' roller biker type. The range on his album is amazing: full of orchestral pieces, string sections, and lush baroque arrangements mixed in with trippy psychedelic sounds and dark lyrical subject matter. This all made Paul sound something like a Peruvian Lee Hazelwood. He passed away in 2004, but future generations can forever enjoy the beat of El Troglodita!
El Polen
The Pereyra brothers (Raul & Juan Luis) had played in '60s beat/garage bands Los Shains and Los Drags. By the time the '70s rolled around, they were full-fledged hippies who decided to take a spiritual journey to Cuzco, in the Peruvian Andes mountains. That trip influenced the brothers to take native Andean folk styles and combine them with rock instruments and form El Polen. The band created a genre that at times sounds like one long Raga-like passage in a trippy psychedelic fashion. After recording two LPs, El Polen broke up partly due to the oppressive political climate and Juan Luis' desire to move to a commune in Ibiza, Spain. The group reformed in '96, eventually putting out new material three years later in '99. Raul Pereyra sadly passed away in 2010.
Telegraph Avenue
Telegraph Avenue was named after the street one of the band members stayed at in San Francisco during the summer of '69. Comprised of members of Tarkus, Los Holys, and Los Belkings, the new band decided to do a psychedelic/Latin hybrid of Jefferson Airplane meets Santana, attempting to recreate the Haight-Ashbury hippie vibe in Lima. They managed to record two LPs before breaking up in '75, with most of the members moving out of the country. Repsychled Records has remastered and reissued both LPs, plus a third album comprised of unreleased songs.
Los Texao
Most of the bands I've mentioned up to now were from Lima, Peru's capital city. The southern city of Arequipa, along the border of Chile, nicknamed the "white city" due to its desert-themed architecture, also had a thriving rock scene. Los Texao was a heavy Santana and Malo influenced combo that hailed from Arequipa. The group put out three fuzz-laden 45s, which the song above, "Stone," highlights. There is a great compilation of Los Texao and other bands from "La Ciudad Blanca" called Rock en Arequipa 1969 - 1974, put out by Repsychled Records.
Matus
Matus is actually a current band, formed in '06, by guys that were born around the time of the bands I've just mentioned. They grew up with the punk/hardcore explosion of Lima during the '80s. Somewhere along the way, they decided to dig into their roots and formed Matus, a band that is a direct spiritual heir to their psychedelic forefathers. The group's name, coming from the main character in Carlos Castaneda's books, plus the participation of Laghonia's Manuel Cornejo and other luminaries from that era, brings everything full-circle in the Peruvian psychedelic Samsara. Matus have put out several LPs and split 7"s, check out their Facebook page for more info.
Serpentina Satelite
Another current band formed in 2003, Serpentina Satelite incorporates krautrock and progressive elements into their spacey jams. The three LPs they've done so far layer mostly long instrumental tracks that build on a hypnotic loop, superimposing spoken word/native religious texts and swirling drones in a kaleidoscope of trance-inducing sounds. Serpentina Satelite makes truly great music to take drugs to make music to. Head to their Facebook page to learn more about the band.
***
I hope this served as a basic introduction to this amazing music. With Peru being the land of my birth, I'm obviously biased. My own introductions to these LPs happened during my summer holidays to Lima in the early '90s. There were outdoor record flea markets where one could pick them up for pennies, as no one outside of a small circle of collectors and fans with long memories cared about them. All this changed as music critics deemed South American rock music worthy of retrospection. I hope that the same thing that happened to the '60s Brazilian Tropicalia movement and its subsequent reappraisal in the past decade will also occur with this uniquely Peruvian hybrid.
Here are some valuable resources for those of you who want to delve deeper into the Peruvian psych-rock scene: