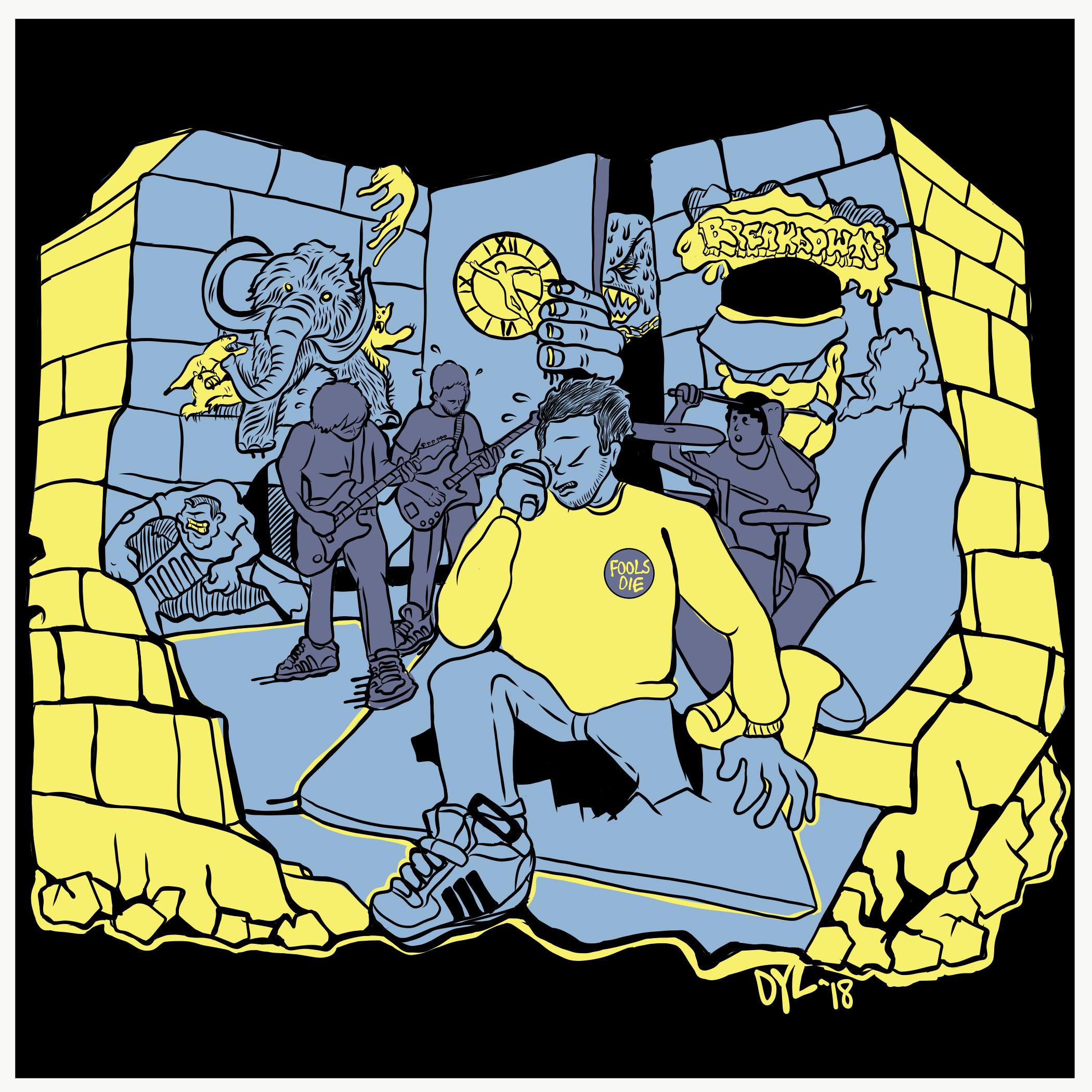 Though the original lineup of the band only lasted about a year, Breakdown's 1987 demo became a blueprint for a certain strain of hardcore that remains alive and strong decades later. If you think I'm just being a hyperbolic asshole, just head to Bandcamp and scroll through the "hardcore punk" tag and tell me you don't hear it as well. Breakdown's style is so deeply embedded within the DNA of this culture that I don't know if younger bands are even aware that they're influenced by the group.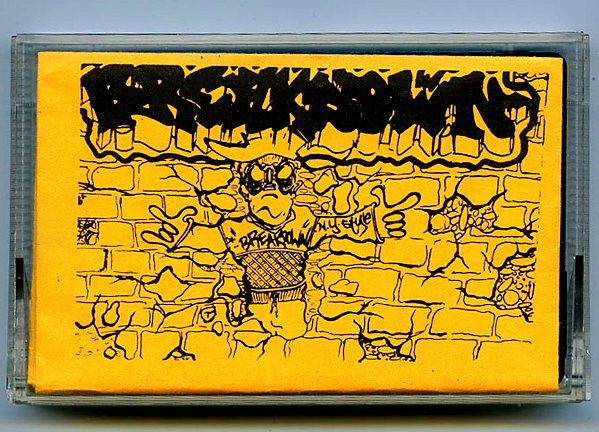 Tracks like "Sick People" and "You Gotta Fight" could have come out today and you would still be like, "damn, that's fucking hard!" Jeff Perlin's tough-guy-sounding vocals strike an intense balance between angry NYC construction worker and disgruntled football coach. Yes, Jeff's voice sounds like NYHC. But for this piece, I'm bringing some shine to Breakdown guitarist Carl Pocaro, bassist Rich McLoughlin, and drummer Anthony Drago.
After parting ways with Breakdown in 1988, Carl, Rich, and Anthony formed Raw Deal, an even more influential NYHC outfit. Along with guitarist Mike Sentkiewitz, the new band brought in former Token Entry vocalist Anthony Comunale—a brilliant choice if you ask me—and promptly dropped their now classic self-titled demo. The material on the 7-song cassette kept the gritty spirit from the trio's Breakdown days, and like Jeff Perlin, Anthony's vocal approach is dripping with NYC attitude, but he keeps enough clarity in his delivery to drive the lyrics home.
Raw Deal became one of the most popular acts in the NYHC community, but Mike Sentkiewitz left the band not long after the demo. Forced to change their name to Killing Time after legal action was threatened by another act who had claimed it first, they eventually landed a deal with In-Effect, a new label based out of Queens that also counted Sick of It All, Nuclear Assault, and Prong on its roster. "I don't remember exactly how the Raw Deal demo reached my ears, but I recall becoming obsessed with it upon first listen," former In-Effect executive Howie Abrams told me about his first interaction with the group's music.
"I'm pretty sure [In-Effect executive and former Agnostic Front guitarist] Steve Martin felt the same way, plus the Sick of It All guys couldn't stop talking about them. The band fell into that category of late '80s NYHC which was backing away from metal just enough to not have a blatant 'crossover' sound, yet had the power hardcore had been grabbing from metal. Anthony was a one-of-a-kind frontman — very different than how he'd been while in Token Entry. I wish they would have been more committed to touring, because a lot more could have happened for them."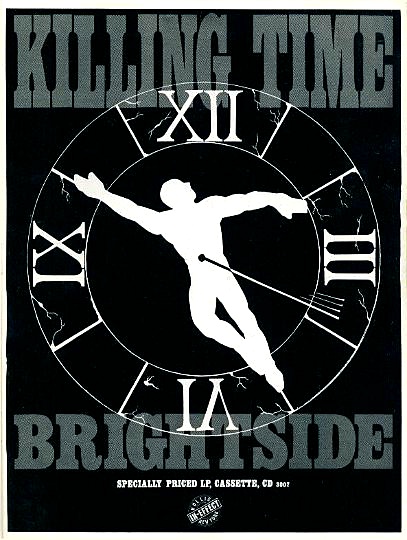 With a label contract on file, Killing Time headed to Rhode Island's Normandy Sound studio to record their debut full-length with Tom Soares, a producer who was already familiar to hardcore fans who paid attention to liner notes from his work on Judge's Bringin' It Down LP. Starting off with the snap, crackle, and pop of "Cheap Thrills," featuring the opening lines: "Sleaze, hate, the city never sleeps / the feeling of danger to never miss a beat," Killing Time was clearly not going to be screwing around on Brightside. Carl's guitar is in pure command throughout the record, colored by rushes of melody that add enough unique nuances to tracks like "Fools Die" and "What I Want" to keep you on your toes.
The rhythm section of Carl and Rich set down a rock-solid foundation for both Carl's distinctive guitar parts and Anthony's authoritative vocal assault. The way Carl whips up thrashy beats is a thing of beauty, and even though he always heightens every guitar and bass part he's supporting, it's his swing that might get overlooked by less attentive hardcore listeners. Check out the intro to "New Release" below for a little taste of what I'm referring to.
After a break away from the band (during which Inside Out's Alex Gopian joined on bass), Rich returned to Killing Time, but he would now be playing guitar alongside Carl. The group's next release appeared in 1992 in the shape of an EP titled Happy Hour. I remember when it came out, some folks back home in NYC didn't give the record the love I felt it deserved. Carl and Rich's guitar interplay sounds like nothing else that was coming out at the time. The melodic aspects that were hinted at before come to the forefront on the EP's title track and it's all very infectious. Maybe people have come around to it in the many years since its release, but listen to "Happy Hour" below and try telling me it doesn't rule.
Killing Time went on hiatus for a few years after the Happy Hour EP, finally coming back in 1995 with a new member in tow: bassist Sean O'Brien. The next year, the group dropped the Unavoidable EP via Blackout! Records. Produced by Dean Rispler (Murphy's Law, Black Army Jacket), Unavoidable is more straightforward than the Happy Hour material, but the strong sense of melody still creeps into the fray at times.
Since the songs and production style of Unavoidable was a bit more in line with the Brightside era of the band, fans who had lost interest with Happy Hour happily returned and Killing Time began work on their long-awaited sophomore album.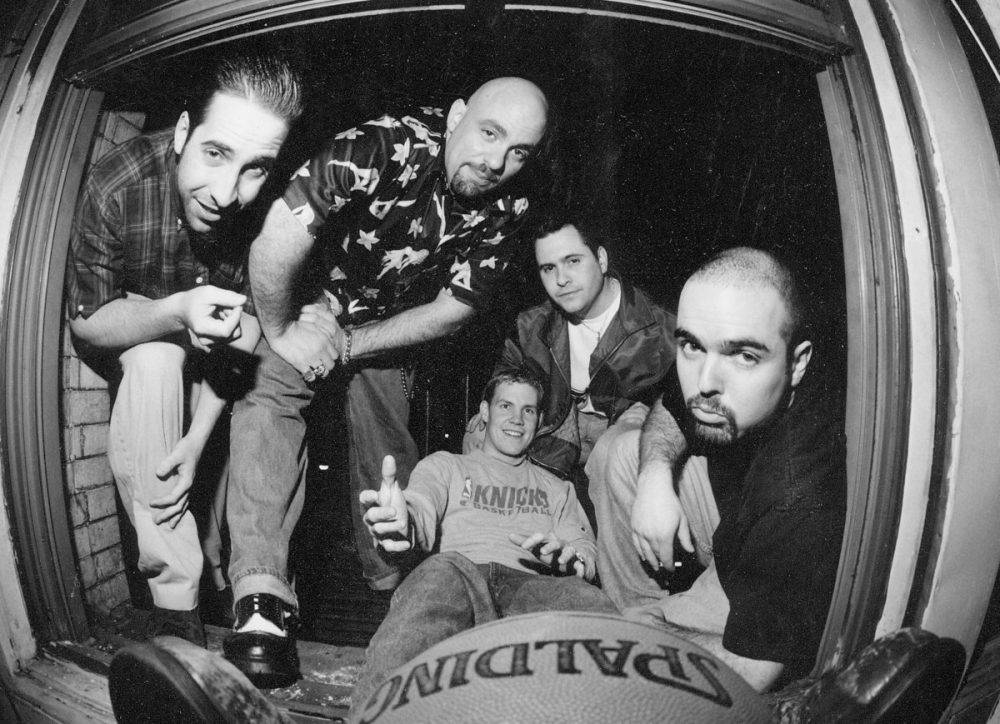 With Dean Rispler back behind the recording console, Killing Time tracked their second album, The Method, at NYC's LoHo Studios in 1996. Overall, the stylistic direction the combo went with on the album eschews the metal-like parts found on some of Brightside, instead keeping things more in-your-face in a classically NYHC kind of way. Carl, Rich, and Anthony still manage to sneak in some left-of-center rhythmic surprises, but never just for the sake of showing off.
It's clear that Killing Time wanted to make a tried and true hardcore album and that's exactly what they did with The Method.
1998 brought on another hibernation period of the NYHC heroes, but they came back in 2005, performing some reunion shows in Brooklyn, NY. After inviting ex-Uppercut guitarist Chris Skowronski to the lineup, Killing Time did some touring, including their trip to Asia. Rejuvenated, the band worked on new songs and tracked their third studio album, Three Steps Back, 2009. Released in 2010 via Dead City Records (Sheer Terror, Yuppicide), the album is the most in tune with the punk side of the NYHC equation of everything in Killing Time's discography.
In the years since Three Steps Back hit record stores, Killing Time has kept playing both local shows and festivals away from their New York homebase. Running No Echo, I come across so many newer hardcore bands that remind me of Killing Time. I don't mean straight-up copycat stuff, not at all. Do I hear specific guitar and drum licks being lifted? Sure. But it's more of a distinct sonic spirit that could be traced back to the band, especially when it comes to Brightside.
I wanted to pay tribute to Carl Pocaro, Rich McLoughlin, and Anthony Drago in this series because all three of them were also in Breakdown, a band that despite only releasing a damn demo cassette with the OG lineup, still left a massive mark on this thing we call NYHC. Between Breakdown and Killing Time, the three musicians need to be given their props. Respect.
Killing Time cane be found on Facebook and Instagram.
Tagged: breakdown, killing time, most influential figures of nyhc, raw deal