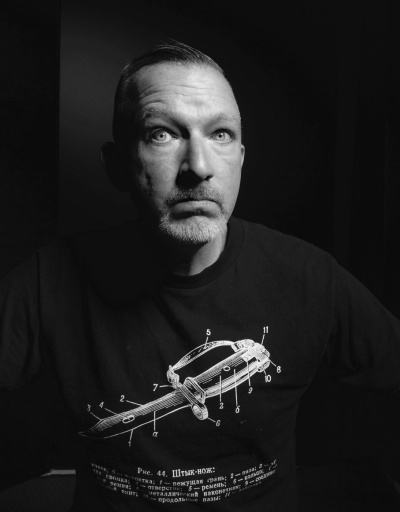 I stumbled upon Geoffrey Nicholson's photography work while looking for shots for the site and once I clicked on his website, I knew I had to hit the man up. Whether he's shooting in black and white or color, there's something truly powerful about his live photos that pulled me in from the second I first saw his portfolio. Quite simply, you can tell the guy is as passionate about the music he's covering as the musicians delivering it.
Welcome Geoffrey to the Photographer Spotlight series.
Where were you born and raised, and were your parents into the arts?
I was born and raised in Buffalo, NY. My parents were both teachers, my dad taught English and my mom taught in special education. My dad did photography as a hobby, he had a few cameras and we had a darkroom set up in the basement. My dad taught me how to use a camera, and showed me the darkroom printing basics.
What was your first musical love?
Outside of first discovering music via my parent's 1960s-'70s record collection my first musical love would've been hardcore. I had listened to some punk when I was fairly young, Ramones, Sex Pistols, I got to see the Clash when I was 13. But what really threw me was first hearing hardcore, like many, bands such as Black Flag, Bad Brains, Circle Jerks, Minor Threat, and Government Issue. I first heard punk music from a babysitter, my friend's older sister, who would bring over records to play on my dad's nice stereo. I think the first time I heard hardcore was a friend's older brother playing us Black Flag's Damaged. Mind blown. My whole concept of what I considered heavy was altered forever. Punk was fun, but I could relate to hardcore more.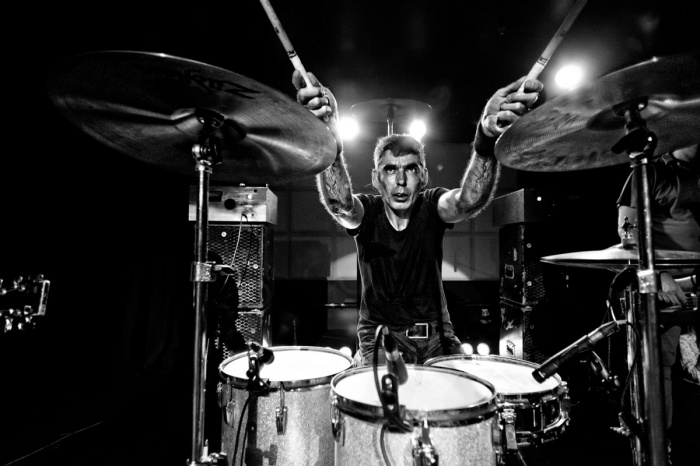 What is your camera and post set up?
Currently I'm using a Nikon D800, with either a Nikkor 17-35mm lens or a Nikkor 18mm. All of my photos go through either CaptureOne or Lightroom. I generally don't do Photoshop alteration, minimal if something really bothers me.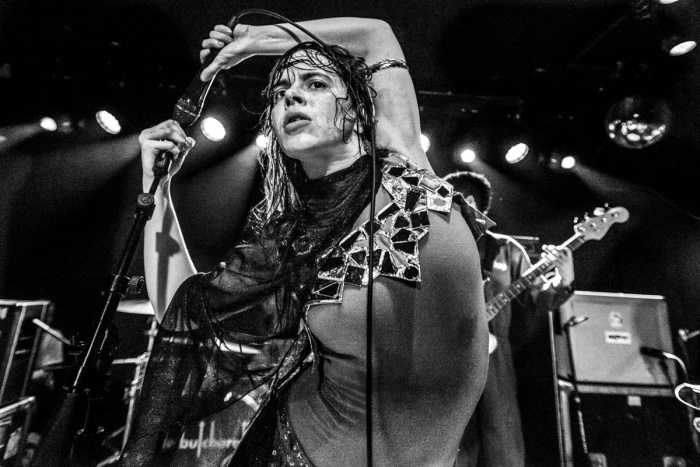 Who are some of your favorite bands to shoot?
That's a tough call, it all really depends on the energy. There're bands I love to shoot, some shows are great to shoot, some are just ok. Recently I've really enjoyed shooting Le Butcherettes, their live performances are fantastic and full of energy, no two photos are ever the same. Other bands I like to shoot, Eyehategod, Melvins, Weedeater, basically anything noisy with energy.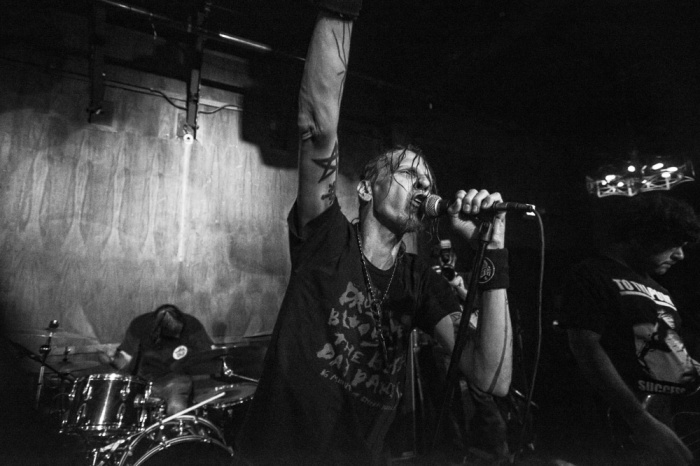 If you could go back in time, who are some bands that you would have loved to shoot?
I'll try to restrict this to shows I was at just to keep this a bearable length. I basically wish I started taking a camera to shows about six months to year earlier than I did. But if I need to be specific, a Bad Brains show in a cafeteria at the University of Buffalo in 1987, HR taped into an old school desk, but yet he had the chair jumping off the ground. That show was just bananas, I really wish I'd taken photos at that one. I'm sure most people there won't ever forget that gig.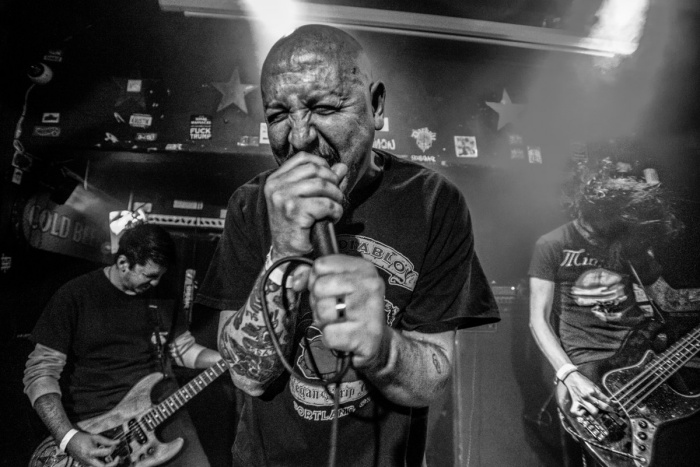 There was also an SNFU show at a VFW hall about a month before that I wish I had a camera for. Chi Peg, the singer, did back flips, cart wheels, and if I remember correctly, he at one point was using a tennis racket to hit donuts and random stuff into the crowd. That was another show where the energy and frenzy was amazing. For whatever reason I didn't take a camera to a Fugazi show in late1989 in a fairly small bar. That was an absolutely amazing show. I never got to see them in nearly as intimate a setting ever again.
But if I could pick at any time in history I'd like to go back to the 1920s and shoot Lead Belly or Son House at some southern back alley dive.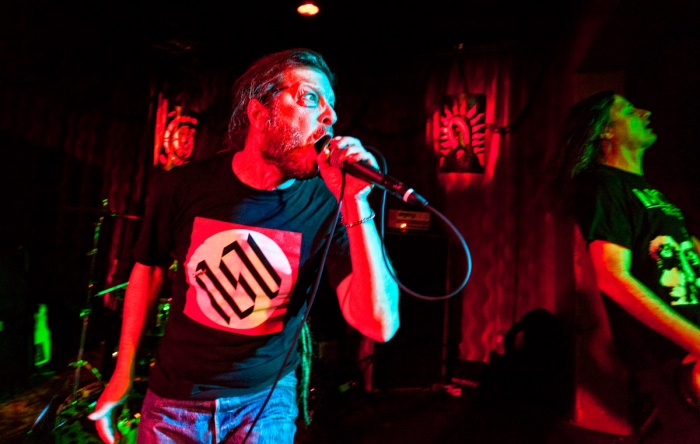 Is it getting tougher to carve a space out at venues since there are so many people shooting these days? How do you feel about that?
Yes, it is much tougher to shoot at shows these days. It really depends on the show, I can see no rhyme or reason to how many people are shooting. By living in Los Angeles I feel there's even more people shooting at shows, so I do obviously enjoy when there's less people shooting at a show. There's nothing you can do about it. Usually I just show up early and get a good spot. I refuse to be the photographer who shows up exactly at show time and expects people to get out of my way.
I've had to be firm with a couple shooters here in Los Angeles who somehow expected me to give up my spot for them right when the headliner came out. At sardine packed shows at that. Yes, many shooters can be frustrating, but I'm no more important than anyone else enjoying the show.
Tell me about some newer bands that we should all be on the lookout for.
I can only speak for bands in my area, but bands that come to mind are the Shiners Club, the Manson Family Band, and another I caught recently that was great live was Ursula.
Who are some modern-day photographers that you admire?
Honestly, I don't really follow current photographers.
If you had to pick one of your photos that best encapsulates why you love shooting bands/artists, which one would it be and why?
The photo here of Chris Spencer of Unsane. It may not be my best photo, but I love it because you can see the volume and intensity. As a friend said, "Looks loud." If there's one thing I want to convey through my photos is the intensity of the music, and the dedication of the musicians. My photo of Barney from Napalm Death is another I love just for capturing him in a full intensity scream.
***
See more of Geoffrey's work on his website, and you can also find him on Instagram.
Tagged: photographer spotlight