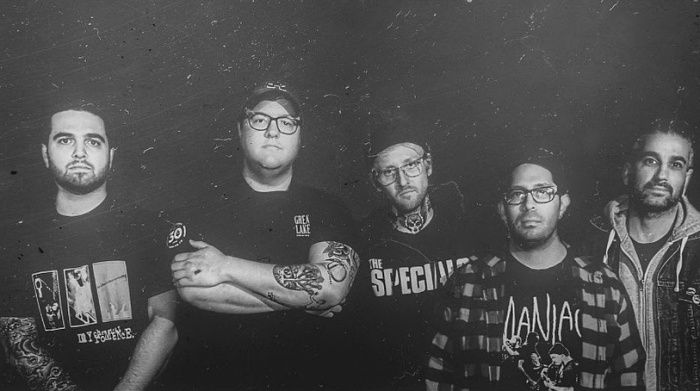 Hot off the tape deck, Cleveland's newest hardcore band; Last Gasp, featuring seasoned vets from Committed, Wreak Havoc, Names for Graves, Cheap Tragedies, and Lawskof.
I chatted with lead singer Ryan Hardwick about the band, new business, and his fresh take on sobriety.
Tell me who's in Last Gasp and the story behind getting together.
My name's Ryan Hardwick. I sing in the band. I guess, if you can call it that! My buddy and coworker Dave Kuhlman is playing guitar, the OG John Milan is on guitar, George Lucarelli is our drum ripper and Big Worm Sean Helbig is on the bass.
This band has been a long time coming. Like most great things the idea started in the barbershop where Dave and I work. We get to hang out and shoot the shit all the time, so we've talked about doing a fast style hardcore band for like 2 years now. He plays in a couple other projects (shout out to Pawn and Hellbound) so it was just finding the time to make it all happen.
I post a lot of the bands that I'm listening to on Instagram and after complaining on a post how there are no Youth Crew bands in Cleveland, John hit me up and was like "let's start a band." I was blown away because I've been a fan of literally every band he's ever done (Committed, Right Idea, Cheap Tragedies), so it just made sense to come together. I did a punk band a few years ago that played with Sean's old band, Dismantle, so we were lightweight buds. After that I did a weird artsy hardcore thing and we played with a few of George's bands (Falls Apart, Dark Spring). We really hit it off and always talked about doing a band. I honestly feel like I was able to cherry pick Cleveland core guys in this group! Now I just gotta keep it together. Lol!
Specifically speaking, who would you say were some of your influences, and who are you listening to now?
I'm a fast hardcore guy through and through. I believe everyone gravitates to the music they were obsessed with in high school or their early 20s. The glory days ya know? [Laughs] That for me was a lot of that early Death Wish and Bridge 9 stuff: The Dedication, Carry On, American Nightmare, Panic, The Final Plan, Scraps, and Heart Attacks. I was always obsessed with Refused and At the Drive-In because their vocalists were total madmen live. They had a huge impact on me as a writer and front man.
I still listen to a ton of that stuff, but I've found myself heavily into darkwave and shoegaze these days. Bands like Soft Kill, KVB, RIDE, Choir Boy, Shame.... I love the fuzz and tone. Since jumping back into hardcore feet first, I've gotten hip to newish faster bands like Restraining Order, Dare, and Anxious. Total rippers, right up my alley.
How does it feel to be singing in a band again after a 3-year hiatus?
I don't even know if it's been that long honestly. I did a band called Significant Loss a few years ago which was cool. Sort of Refused/Snapcase worship stuff. I have a one-track mind and that band got sort of tangled up in my life when I was opening a business and I just had to step away.
Bands are harder the older you get. I feel like I'm miserable when I'm doing them because I'm so pressed for time but I'm miserable when I'm not doing a band and it's all I can think about. I don't know if I'll ever not put out some type of art or music, but the breaks are good for sanity. Getting 5 people in a room and agreeing on every aspect of a project gets harder and harder but I am so very content playing fast hardcore again. I feel like I'm finally back in my wheelhouse, so Lord willing we can put some righteous records out.
How is the new business going?
It's been a wild ride. My buddy Pat and I opened Black Cat Barbershop in the Detroit Shoreway arts district of Cleveland about a year and a half ago. Pat is a musician in the city too and he and I hit it off from the start. He's probably one of the best guitar players I've ever seen. Sincerely, not a hardcore kid but a good dude [laughs].
We've had Tom Segura come through for a cut and Lars Fredrickson which was just mind blowing. Of course, I had to mildly punish him. I asked if he'd ever do another Bastards record. Sadly, he said no but he did put all of us on the list for the Rancid gig that night in Cleveland. Barbering has been great for me. I get to tell jokes and listen to punk rock with my friends all day. It's been such a great thing. I used to bartend nonstop to try and make ends meet ultimately so I could just try to tour and put out records and put off growing up.
The shop's busy, though, and sort of on auto pilot now so I'm massively grateful. I always wanted to do something in music or tattoo when that ship didn't sail barbering fell in my lap and I'm glad it did.
What's the material about? Lyrics and the way the songs were written?
I tend to write on the cynical side. Mostly just knocking on myself and pop culture. Back in the day, my lyrics were mostly written about getting out of Amherst (where I grew up). I live in Cleveland now and things are going pretty well these days. "Giver" is a song on the demo about jumping back in the saddle of fronting a band. "Burn Bright" I wrote about my struggles with addiction. My favorite song on the demo "The Taker" is a shout-out to influencers and people I see living a facade on social media. The song "Beyond the Factory..." I wrote recalling the misery of working in a factory to make some cash so I could go back on tour. Probably the most negative time in my life. I'm really not so upset these days so I'm constantly reaching for material beyond being so bummed.
These songs came together fairly easy, to be real. Everyone contributed. Literally all of these guys would record a song or a part to work from and share it back and forth via a Google drive. Fucking insane what you can do these days with a phone [laughs].
You mentioned recently that you are 60 days sober, congratulations! Would you like to talk about what led to that decision and how it has affected your contribution to this new project?
Sobriety is something that I've battled my entire life. I've worked in the service industry where everyone is a maniac and when your life has been a party for ten plus years it just gets harder to walk away from honestly. I have anxieties about performing and I've crutched on drugs and alcohol for so long to bring the werewolf out of me that I almost forgot the kid underneath it all if that makes sense.
I'm busier than I've ever been. I own a business, and this band has become very important to me. I'm happily married, and we have an 8-year-old together and I just can't juggle these things with crippling hangovers anymore. There really was no come to light moment for me but I saw myself revisiting bad habits and having some wild all-nighters again and it just had to stop.
I'll be 35 in two weeks and it was just time. You can only stay up raging for so long till it's just sad. George our drummer has a year of clarity under his belt and he's been helping me stay the course which I am so grateful for. I never thought that I was afflicted but it really is a one day at a time type of thing.
That's great to hear my man, thanks so much. I'm glad you and John are playing again, and I can't wait for more songs and shows!
We're already going into the studio to record new material and the future is bright and fast my friends.
***
The Last Gasp demo will be released on 7" by Dropping Bombs in late April and can be pre-ordered today. Catch Last Gasp opening for GBH on May 7 at House of Blues Cleveland. Last Gasp on social media: Instagram | Twitter
Tagged: last gasp