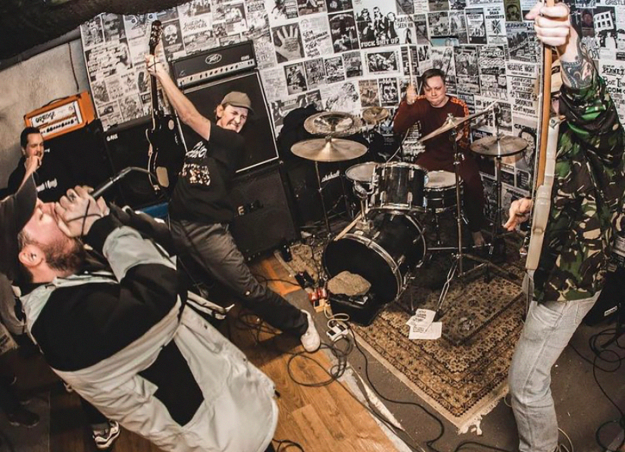 How would Big C, bassist of Blood Sermon, describe what his band is doing musically? "Standard E tuning hardcore breakdowns and some faster bits but not very fast, to be honest. I guess lots of mid tempo, slow tempo, fast tempo, just different tempos. We never aim to sound in a particular way, we just blend all the stuff we like in a format we're comfortable with, the hardcore format."
The dude isn't wrong. The Swedish outfit's newly released album, Never Stop the Madness, is a fun ride, packed with one meaty guitar riff after the next. The mosh comes frequently and is always delivered perfectly.
Featuring musicians that have also played/play in such groups as Speedway, Lifeblind, and Time to Heal, Blood Sermon teamed up with Swedish rapper/producer Skarp V on a track for the album called "Milking the Goat" that rocks hard.
Seriously, check the music video out below and drink up the musical and (light-hearted) visuals below and get into it. This band rules:
"'Milking the Goat' is the second single of of Never Stop the Madness," vocalist Jens tells No Echo. "The video was shot in one weekend at a high-end restaurant in southern Sweden. Most of the lyrics on the album are very depressing and/or angry, and I felt like writing a more positive track."
No Echo asks Big C what else is cooking in the Swedish hardcore scene from his view: "We got lots of quality bands making moves and putting stuff out. We had a really good scene going here in Stockholm 2019. I want to see the scene grow more outside of Stockholm. There used to be a lot of hardcore action in smaller cities over here."
Never Stop the Madness is out now via Svensk Hardcore Kultur on vinyl and digital.
***
Help Support What No Echo Does via Patreon:
***
Tagged: blood sermon