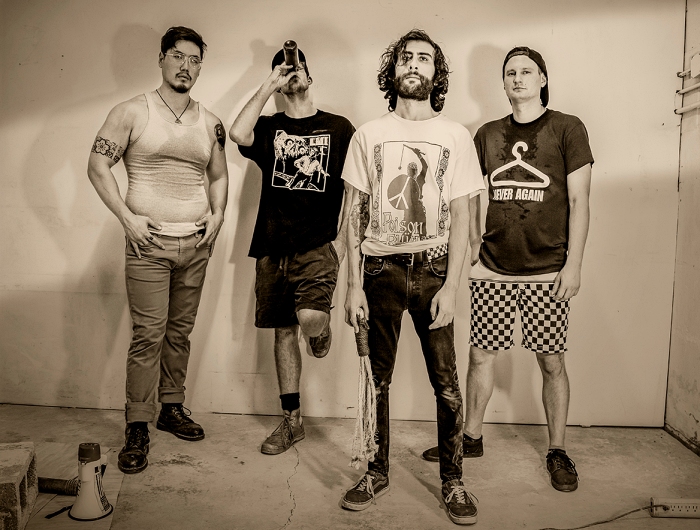 To talk the origin story of PsyOp, you have to go back to 2018 when vocalist Daniel K. joined forces with members of DC grindcore band No/Mas and underground recording artist Dag Nabbit for the recording of an EP called Howl from the Void. The 6-song collection found the musicians busting out '80s-inspired hardcore punk.
When the initial arrangement reached its conclusion, guitarist Doug Burdette, bassist Won Cho, and drummer Tom Z entered the PsyOp fold. In terms of their stylistic outlook, PsyOp cite an eclectic array of influences including SPY, Show Me the Body, Void, and BIB.
The refreshed lineup of PsyOp will be making their recording debut via Permanent Underclass, a forthcoming EP that the DC band tracked live direct to tape with Matt Redenbo at Magpie Cage in Baltimore.
Check out a track from the EP called "(Enemy) Generation" for an early preview of what's to come:
PsyOp vocalist Daniel K. said this about the song:
"'(Enemy) Generation' was born of our frustrations with generational conflict, boomers pitted against millenials against Gen Z in a zero-sum game for dwindling resources. It's about the sins of past generations coming to haunt us in collapsing economies and ecologies.
"Much of my lyrics explore how our generation's efforts to change these power structures are held back by fatalism, disinformation, social media, and drugs. And wage slavery, of course."
Permanent Underclass will be out January 20th on streaming outlets and on cassette through Tape House USA, Nuclear Family Records (UK), and Wrecking Crew Records (CAN). PsyOp is holding a release show at Pie Shop in DC on Jan 21st, with tour dates to be announced for March.
PsyOp on social media: Facebook | Instagram | Bandcamp
***
Help Support What No Echo Does via Patreon:
***
Tagged: psyop