After Midwestern hardcore stalwarts Purgatory heralded their own demise, they embarked on a final sonic pillage, devastating stages across Europe. Having graced us with the 2021 pugilistic swan song that is Lawless to Grave, that career best left it all in the ring. With a couple of final shows still on the horizon, be sure to keep an eye out for those world enders.
Their ever industrious vocalist Matt Anderson clearly isn't one to let dust settle. Conceived at their previous band's graveside, figuratively speaking, was Dayz Lost. The fact that there weren't, in fact, any actual days lost should please us all. Composed of 3/4th's of the street metal survivors and two members culled from Northwest Indiana, anyone still in mourning would do well by seeking out the band's 2022 demo.
In much the same way the Purgatory discography reads like a manual on eternal suffering, Dayz Lost double down on the lyrical browbeating and pummeling tyranny of Purgatory. The band has arrived a fully formed proposition.
The Dayz Lost demo is equipped with four tracks of pure hardcore that meld the Midwestern horrors of Cold as Life, the NJHC groove of Fury of Five, and the Charm City menace of Stout:
As soon as the snare sound hits, you know what it is. Quite plainly, Dayz Lost have concocted any number of ways to bludgeon. Fans of modern heavies like Volcano, Twist of Cain, MH Chais, and Gridiron should flip over this shit. Take note.
Always quick with pen, the aforementioned Matt Anderson let me pick his brain a bit on the bridge between Purgatory and Dayz Lost.
Matt Anderson: "So, we were struck with some unfortunate news before the European tour that took place in April of this year. That wasn't supposed to be our final tour, but we discussed some things as a unit and decided to just call it a day with Purgatory. It's tough, it hasn't fully sank in that 11 years of work will just be done after a handful of shows left.
"It's a hard pill to swallow but we know we did our thing, kept it real, and went as hard as we could. Regarding Europe/UK, The tour was a blast, we were essentially the first hardcore band that come back over in nearly three years so the reception was very warm and welcoming and we had some wild ass shows. It was great to be able to play over there as Purgatory once more and play alongside some amazing Euro/UK bands."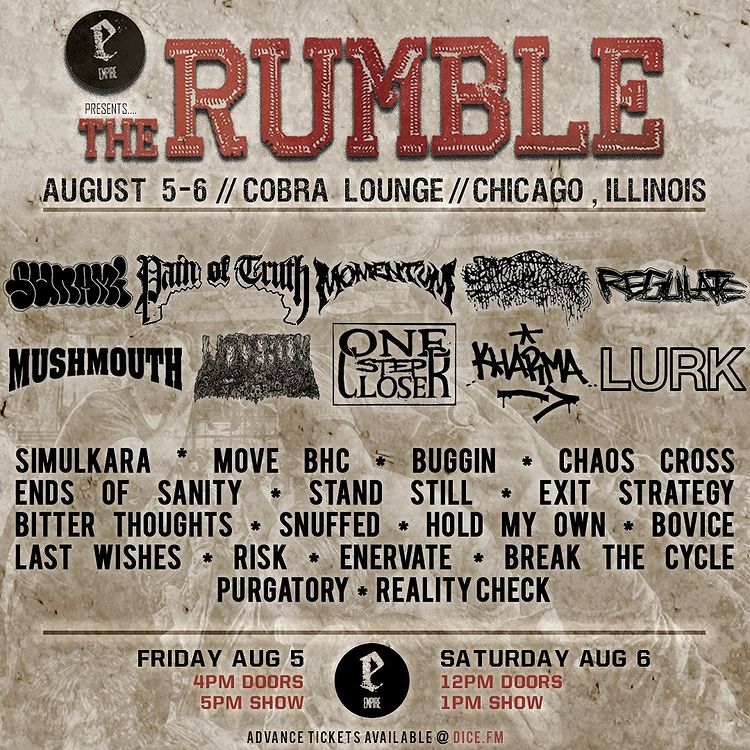 One of Purgatory's last shows together will include an appearance at this year's installment of The Rumble festival in Chicago. "As for 2022, We are fulfilling any remaining shows we had left and will have a couple of final shows that are going to happen later this year," Matt tells No Echo. "Essentially, Brian, Collin and I being the residing members in Indiana decided to start a band the same day and keep playing music together. This was the birth of Dayz Lost along with NWI residents Justin Richards and Jake Meiss.
"It's a different direction that Purgatory and we think kind of a different push from the general sound of hardcore these days overall. It's been fun, a bit challenging creating the new dynamic but the ball has started rolling and there's no going back now. We collectively wrote a four-song demo we released a couple of weeks ago and have three shows lined up in the Midwest at the end of July."
Matt is clearly psyched on the road ahead with Dayz Lost: "We're pumped, man, it's gonna be fun and we just want to continue to represent the Midwest and INHC as best as we can with so many good bands coming out of the general region (Milwaukee and Chicago). We're writing new music and have some stuff coming up later this year so keep an eye out. As always, appreciate being able to chop it up with you a bit, my friend."
Learn more at DayzLost.com, and hit up 1648 Records to score a copy of the demo on cassette.
***
Help Support What No Echo Does via Patreon:
***