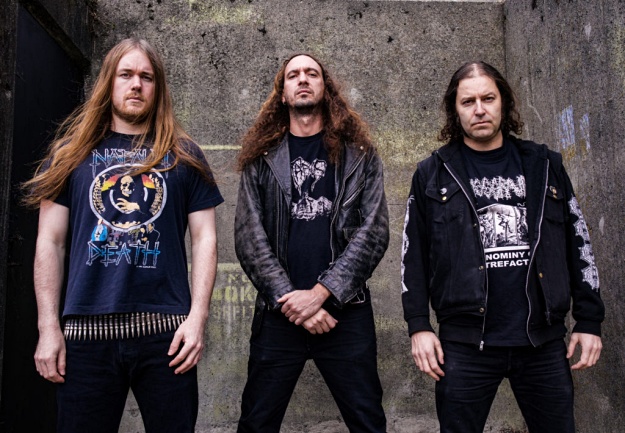 In terms of the death metal scene, few bands have broken out as big as Necrot has in the last few years. The Oakland trio's raw take on the style touches on the most savage elements of punk, D-beat, and first wave grind, but it's their keen sense of crafting memorable songs from that darkened musical palette that makes what they're doing so irresistible.
Later this week, Necrot will be releasing Mortal, their sophomore studio album. Recorded by Greg Wilkinson (Autopsy, High on Fire), the new album has been getting a ton of love at No Echo HQ and should satisfy everyone from the staunchest "death metal was only great in the '90s" types to the hardcore fan who's knowledge of the genre starts and ends with Obituary:
Clearly, Necrot bassist/vocalist Luca Indrio (he also plays in Vastum and Acephalix) knows a thing or two about the scene, so No Echo asked him to send us his picks for some of the most undderated death metal bands around today. He definitely educated us, that's for sure!
***
From Luca:
"In the last 9 years, Necrot has played with most of the underground bands, so please take our word for it and check these out."
Torture Rack
Amazing death metal from Portland. Super mean and aggressive. We played our first show ever with them and they were already sick, now they're even better.
Faceless Burial
We spent time on the road with them in Australia and they're the best dudes. The band is super sick, 3 piece just like Necrot.
Taphos
Cool band from Copenhagen. I've see 'em play at Killtown Deathfest twice and both times they killed it.
Ritual Necromancy
I have seen them play and played shows with them since they first started more than a decade ago. They're good friends and one of the sickest bands around.
Mortiferum
Another awesome band from the Pacific Northwest. For fans of slower stuff, really good friends.
***
Mortal will be out on August 28 via Tankcrimes and is available for pre-order now on vinyl, CD, and cassette.
Necrot on social media: Facebook | Instagram | Twitter
***
Donate a few bucks to help with No Echo's operating costs:
***
Tagged: necrot