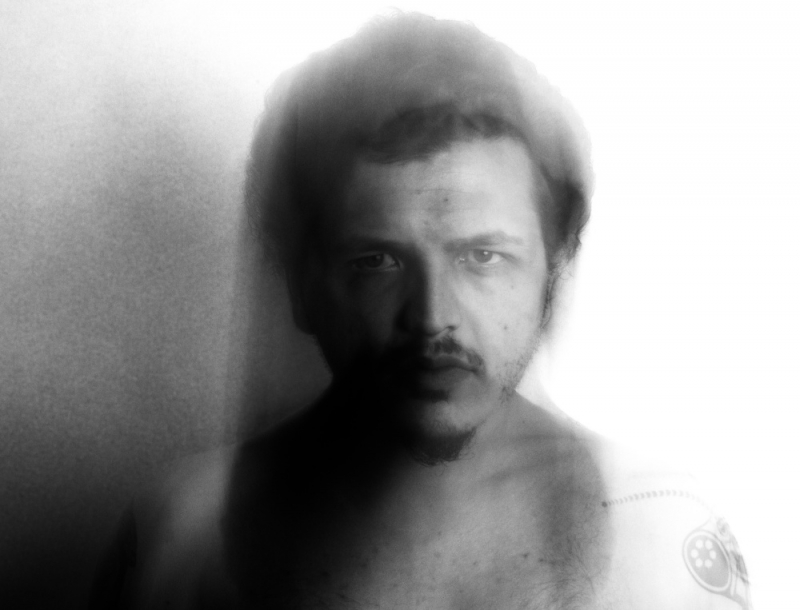 I just met photographer Benedetto Manzella at Arron Herrera's recent Sound and Fury photo exhibit in LA. We got along right away and it was fun picking his brain about shooting live music, and getting his take on some of his influences. He also told me he was a regular reader of No Echo, so I knew the guy had taste anyway (just kidding!).
Please join me in welcoming Benedetto to the Photographer Spotlight series.
Where were you born and raised, and were your parents into the arts?
I was born and raised in San Pedro, CA; a small to mid-sized suburban port town. Many people in LA aren't immediately familiar with it, but occasionally it is mentioned as being the hometown of the classic punk band the Minutemen. While my mom has always been artistically inclined, particularly in relation to drawing, my parents haven't actively pursued art beyond it being a hobby or casual interest.
What came first, your love for music, or your love for photography?
Definitely, my love for music. I was fascinated with cameras from a young age as well, but it's never been comparable to the hold that music has had on me. I'm also a musician myself, having played the drums for 14 years now and also being a singer; so my taking up photography was both a way to be actively participating without being in a band, and also having a desire to document the essentially controlled chaos that is often what makes a great show when it comes to hardcore/punk and metal music.
How did you discover hardcore/punk?
My first introduction to hardcore/punk came at the young age of about 6 or 7 through my oldest cousin who, being eight years older than me, was a teenager at the time and listened to bands like the Misfits and the Dead Kennedys. I've always had an interest in darker/horror themed imagery so, from the first time I saw the iconic Misfits skull, I wanted to know more. As I became older and I had access to a computer at home, I used my innate curiosity as fuel for scouring the internet for hours; reading about any band that sounded interesting.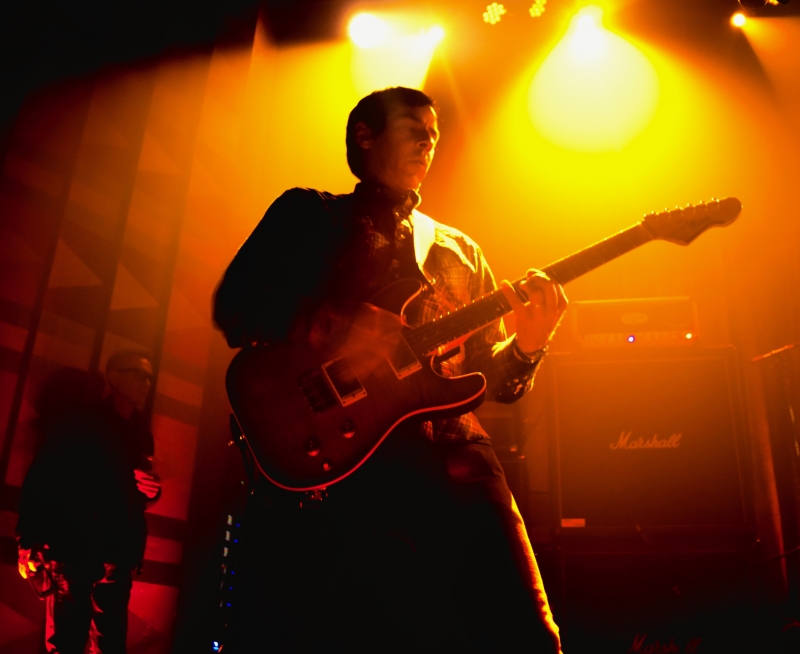 Who were some of the photographers you looked up to during your formative years?
At the time of getting my first camera, I didn't necessarily follow photographers in any capacity; so I can't say I necessarily looked up to any one initially.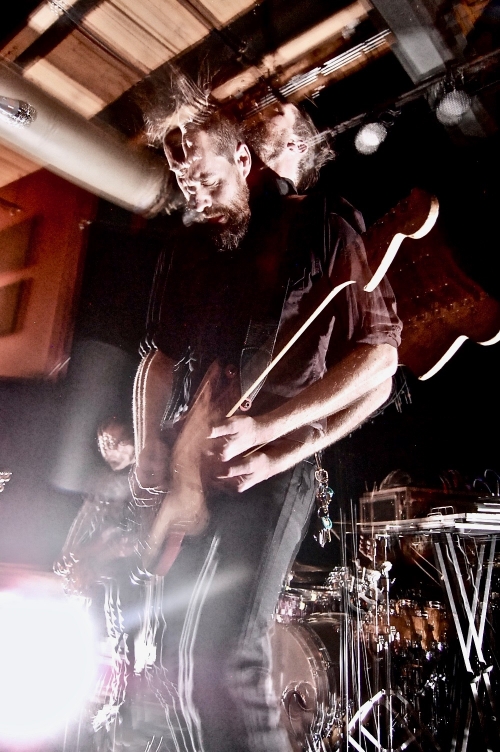 Were there any music-related photographers you followed?
To finish my answer to the previous question; while I may not have dedicatedly "followed" the work of any photographers, there were photographers that certainly caused me to be interested in trying to photograph bands myself. Those photographers were Anton Corbijn and Kaley Nelson; I discovered the work of Anton Corbijn through my deep love of music by Joy Division, Morrissey, and Depeche Mode, to name a few. I discovered Kaley Nelson's work through Myspace and noticing her at many shows I attended in the Los Angeles area.
What is your camera and post set up?
I use Nikon D5500 with a few lenses, primarily the kit lens which is an 18-55mm. I don't have a particular program I use for post editing as I try to do as little additional editing as possible in order to present the moment I have captured as honestly as possible. Don't misunderstand me, I'm not trying to insult or discredit people who use Photoshop; it's just not a tool that I personally feel any interest in using, and I believe it takes away a bit of the raw nature of the photo. I also use a Pentax K1000 to occasionally shoot rolls of 35mm film.
Who are some of your favorite bands to shoot?
Neurosis, Oathbreaker, Converge, Gatecreeper, Youth Code, and Nails.
If you could go back in time, who are some bands that you would have loved to shoot?
I'll do my best to keep this short, so I'll make a six-band list similar to that of my favorite bands to shoot. I'd say Joy Division, Fugazi, Mouthpiece, Soundgarden, Big Black, and Dag Nasty.
What are the toughest aspects to shooting hardcore/punk shows?
I'd say it's a tie between the stage lights and the unpredictable nature of the crowd. The lights(or lack thereof) are a never ending battle for photographers, but obviously, you want to respect bands if they have an artistic vision as well as remembering to be realistic in that some venues just don't have the greatest lighting set up. As for shows with or without a barricade, the challenge is sometimes equal. Without a barricade, you're in the "eye of the storm" so to speak and it makes every shot that you use from that show feel like a trophy; with a barricade, you need to make sure that you're not blocking the security guards way if they need to tend to something in the crowd as well as potentially have a crowd surfer taking an even higher fall onto you or your camera than they would without the barricade.
Tell me about some newer bands that we should all be on the lookout for.
I'm not sure they're all new as far as recently formed, but as far as new discoveries: Ascend/Descend, Queensway, Year of the Knife, Forced Order, Miracle Drug, and Brutus.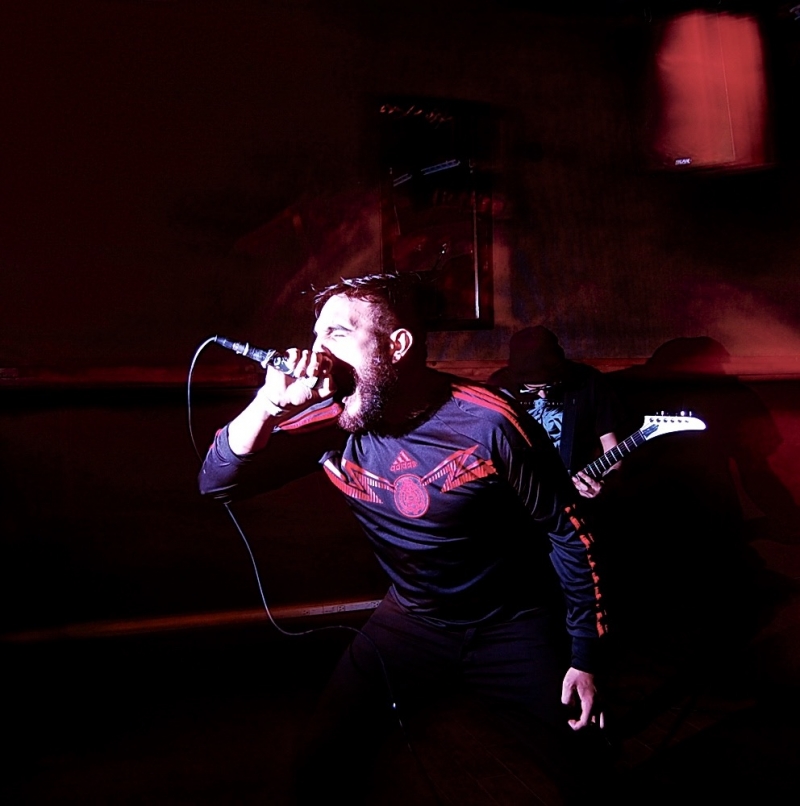 Who are some modern-day photographers that you admire?
Along with many of the people who've already been featured such as Dan Rawe and Danielle Parsons; some of my current favorites are Geert Braekers, Stefaan Temmerman, Stefan Raduta, Teddie Taylor, Catherine Carrozza, and Joseph Carey.
If you had to pick one of your photos that best encapsulates why you love shooting hardcore bands, which one would it be and why?
I'd have to say a photo I took of Steve Von Till when Neurosis played the Great American Music Hall in San Francisco on December 31st of 2014 (technically Jan. 1st of 2015 because they started at midnight). I had a renewed sense of inspiration at the time in approaching my concert photography, and it's become one of the photos I'm most proud of; I feel like it was truly a moment I captured that encapsulated the raw energy of the show that evening. As I was going to mention earlier, Neurosis is the band I've documented the most and probably will ever as they are one of the few bands I can honestly say is a favorite of mine; I never get tired of listening to their music, let alone seeing them live and I'll take photos of them anytime I have the opportunity.
***
Follow Benedetto on both Facebook and Instagram.
Tagged: photographer spotlight