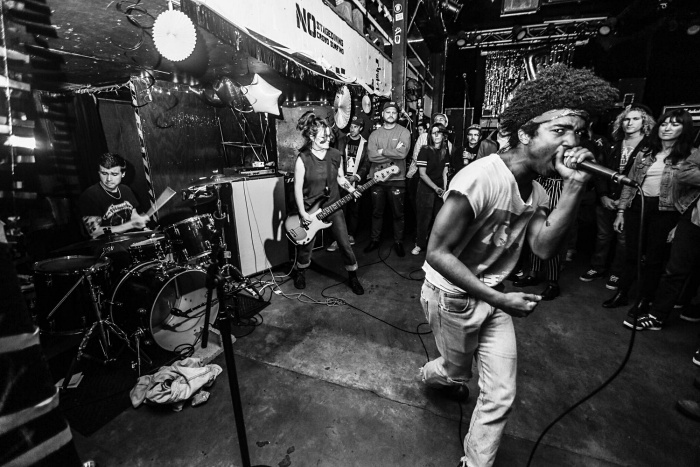 Years ago, the Capital Beltway separating Baltimore from DC was, in essence, a cultural chasm vast enough to inspire non-existent rivalries and parallel scenes. "Never the two shall meet" was, seemingly, the unofficial mantra of the early to mid-'90s. Thankfully, that staunch regionalism is long since in the rearview and has since been usurped by a collective co-op idealism. Both cities have flourished via inspiration from and engagement with each other. Case in point, the fine Beltway-splitting punks in Truth Cult.
Both punk and hardcore in both our nation's capital and Charm City have been having an extended moment due in large part to the previous and adjacent work of everyone currently making up this stellar four-piece. Never one to lean on the "includes members of…" easy sell tagline but, in my opinion, the Mid-Atlantic HxC and punk scene would look far different without the family tree from which these four branch off. Collectively (Emily Ferrara, Ian Marshall, Paris Roberts, and Robin Zeijlon), the Truth Cult roster has likely been spotted shredding in Post-Pink, Joe Biden, Give, Protester, Red Death, and plenty of others I've inadvertently omitted from the shopping list. They were cobbled together just in time for their inaugural show in November to be at the gloriously diverse U+NFest in Baltimore.
Splitting time stage-crushing alongside Bachae, Soul Glo, HOMOSUPERIOR, Glitterer, Shannon and the Clams, and others; they've since lovingly melted faces with Mil-Spec, Kim Phuc, and Luxe. As I write this, the 'Cult is braving the deep freeze with their friends in the equally killer DCHC crew Guilt Parade for a run to NYC and back through Philly.
Released by Huntington Beach's own Advanced Perspective in the waning moments of 2018's fourth quarter (11/9/18), their S/T EP is a half dozen melodic hardcore rippers that manage to incorporate everything from HxC, proto-grunge, classic rock, Revolution Summer-era Dischord, angular post-punk, and post-hardcore. Essentially, if you've got ears, get on board. Captured perfectly by Baltimore's J. Robbins (Jawbox, Burning Airlines) and mastered by Will Killingsworth, Truth Cult is essential listening.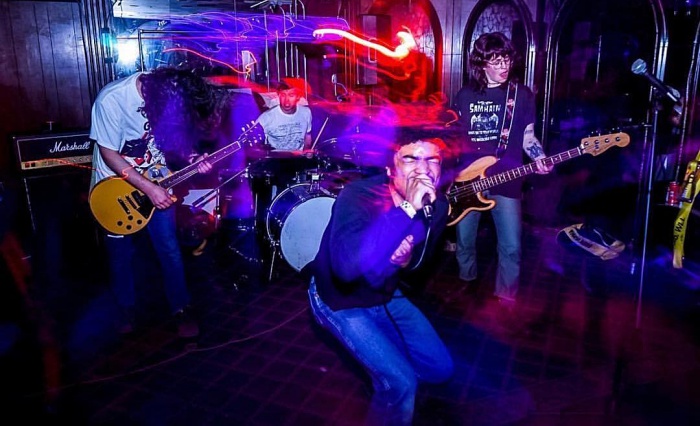 With vocals handled primarily by Joe Biden's Roberts, his shouted and slurry bellow that, when paired with Emily Ferrera's commanding howl, creates a perfect trade of phrase. There's a deliberate clipped and skittery cadence to his "Ooooh's" and "yeahs." Countless "oooooh, baby" moments abound, highlighting a woozy yet confrontational lyricism that simultaneously recalls Murder City Devils' Spencer Moody and most certainly Shawn Brown's tenure in Swiz. Alternately, Ferrera recalls the criminally underrated Fire Party's Amy Pickering, vacillating between forcefully and melodic.
Wishful projecting or not, I'd love to hear a full length that doubles down on this double-sided attack. The point/counterpoint of their alternating vocals on cuts "Only from One Side" and "Cardinal" is adorned with a seductive and nausea-inducing rhythmic lurch, the bass all groove and slither. Masterful playing and song service aside, the songs are punctuated with perfectly timed flourishes, most notably the brief blur of tambourine on the aforementioned "Cardinal" that belies a band familiar and versed in craft. Though they excel at any speed, their deft handling of mid-paced aggression is most impressive. More than hinting at a melodicism owing as much to DC circa '85 as it does to post HxC and first wave grunge, Truth Cult's punk backbone informs everything they do with a blood rush. Crucial stuff.
For my money, of which there's little, "Cowboy" is the centerpiece. Whether consciously or not, it begins with a swirling and circular riff of dust and angle that seems to knowingly nod at Baltimore legends Lungfish, whose masterful Artificial Horizon LP similarly boasts a song called "Truth Cult." (I'm nothing if not regional, y'all). The song subtly shifts and builds in addictively anxious fashion before it ultimately devolves into a taut bulldoze of a hardcore song. The lightning fast cymbal punctuation is next level and Roberts' hard charging "I'm the one who's got that gun" the equally knowing, side-smile outlaw sensibility of "I don't fear the reaper… it's a cruel world, baby" are absolutely stunning. It's as if Soul Side and Ignition formed a supergroup and covered a condensed "Stagger Lee" in triple time. The guitars bend and squeal, their fret acrobatics matched by tightly wound drums that still manage a reckless and frenetic fury.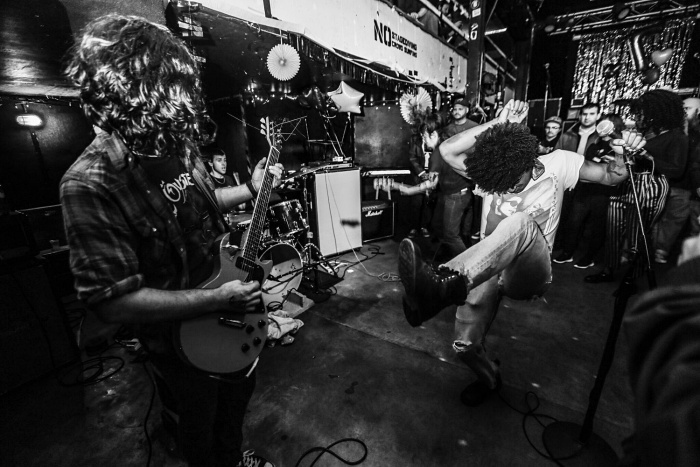 There's a streak of self-awareness running through the minimalist get expressive couplets, injecting a hyper-literate sensibility into the affair rarely heard in these circles. In much the same way Circus Lupus managed to blend aggressive post-hardcore in a wholly original manner, Truth Cult is following suit. They seem content to be walking a path in direct contrast to the zeitgeist. For an even more appropriate sonic touchstone, there are doses of D.C.'s long-lost Fury in that they prioritize chaos and vibe over rote Hardcore traditionalism (get the Jade Tree re-release of "Resurrection" immediately!). For more recent references, lest I sound way old (spoiler alert), they'd snuggle in next to your Sweet Jesus, Result Of Choice or Subliminal Control LP's.
Truth Cult live dates with Open City:
Feb. 7 - Baltimore, MD @ Spirit World
Feb. 8 - Richmond, VA @ TBA
Feb. 9 - Raleigh, NC @ the Bunker
Feb. 10 - Washington, DC @ Comet Ping Pong
Tagged: truth cult