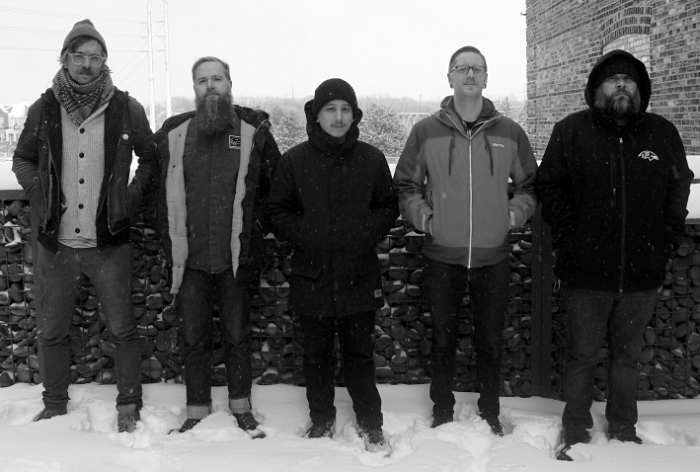 Back in the early part of this year, No Echo first told you about Sunset, a new hardcore band out of Minneapolis. For the uninitiated, the quintet features musicians who have also played in such groups as Harvest, Holding On, Young Turks, and Brain Tumors. The music the partnership has cooked up is a chaotic-styled metallic hardcore with a driving backbone that not only keeps the songs pushing forward with speedy conviction, but also ensures that no matter how busy a certain section is, things are always catchy.
When we chatted with the guys back in February, they told me some of the band's shared influences included Unbroken, Turmoil, and Rise and Fall, and while it's not tough to hear that when you listen to Sunset, it's that punky driving thing I mentioned earlier that I think might be the secret ingredient for the Minnesota outfit.
Just a few weeks back, Sunset delivered a flamethrower called "Red Eye" on Please Stay Safe Inside: A Compilation Benefiting Those Affected by COVID​-​19, but things got even more interesting today as the group is dropping Destroyer, their debut EP:
"This EP has been a long time coming and something that we're super humbled and grateful to put out. It's our introduction to the scene we've grown up in, and played in for years but it's completely different than any of our past projects," Sunset vocalist Dave Walker-Lecic and guitarist Jason Soejoto tell No Echo. "Naturally, we're older, more cynical, and well, even more pissed off. Lyrically, this is divergent and more straightforward than anything from Dave's past efforts.
"There is a sense of urgency, and that is on purpose because right now, we simply cannot sit idle. We can no longer remain silent and although this EP was written nearly a year ago, we find it even more relevant than ever."
Walker-Lecic and Soejoto continue to break the Sunset frame of mind: "This band and everything we do is in opposition of systemic oppression. Right now in Minneapolis, we have hope that our community can defund the police, and with that, there is already more hope than fear.
"Destroyer is our rally cry to those who believe we can, and should do better, not only for those in need now, but an on-going effort to make a valuable contribution to the efforts of those fighting every single fucking day in our community."
"Our goals as a band have always been very simple: play music we like and use whatever platform we have positively. About a month before our first show, there was a devastating fire at a homeless shelter here in Minneapolis, that displaced about 250 people in the dead of winter. It was a terrible event, and we all wanted to help.
"We saw an opportunity to recalibrate that show into a benefit to raise money for Minnesota Helps, who was working directly with rehousing those folks. The venue and bands were all onboard with those changes, and as a result we were able to make a donation as a community we were really proud of."
A more recent tragedy inspired Sunset to do what they could as a band to help out once again. "As the events of George Floyd's murder unfolded in our city, we again saw the opportunity to do something with the platform we've been allowed, and decided to release the Destroyer EP in advance of the physical press as a means to raise money for Reclaim the Block, which is an amazing organization that is leading the way in the disbanding of the Minneapolis Police Department, as well as investing in community-led health and safety strategies."
In addition to Destroyer, Sunset are also releasing a t-shirt with all proceeds going towards the aforementioned Reclaim the Block organization.
"If we were able to safely play shows and raise money like we did before, we would. But thanks to Burt Jenkins and Safe Inside Records, we've been given the resources and encouragement to release Destroyer early, and hopefully find a new way to give back to our community."
Destroyer is available now on Bandcamp via Safe Inside Records. The physical vinyl edition will be coming out this coming September.
The t-shirt is available through Edgemen Printing at this link.
***
Donate a few bucks to help with No Echo's operating costs:
***