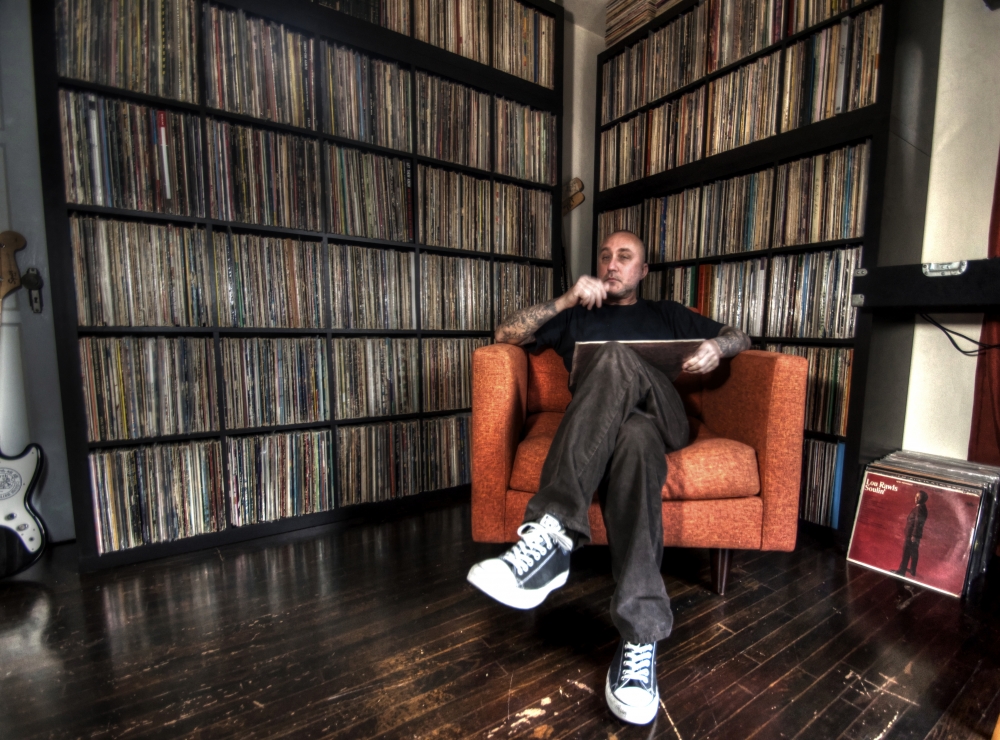 I'd be hard-pressed to come up with too many other bigger vinyl hounds as Roger Lane, and if you know this site, that's saying something! Sure, the San Diego-based DJ, hardcore lifer, and record promoter has an eclectic music collection, but it's his dedication to collecting that lands him here today. Roger runs two very active community-based Facebook groups (Records with Roger, Chasing the Vinyl Dragon) that has helped bring together fellow collectors from all over the globe.
With that kind of passion for music, you know I had to have Roger join our Record Collector series.
How long have you been collecting records?
35+ years. I started early, at around 10-years-old. My dad kept his records in our hall closet. It was at least a 6 foot long row, with all the classics of that time. It was massive to me. I loved everything about that row. Digging through his collection was a favorite after school childhood memory to me. The smell, the feel, the art, the photos, the sound, the warmth of analog, the lyrics, and how covers opened up and folded out to the songs of… 10cc, Van Morrison, Jimi Hendrix, Alice Cooper, The Doobie Brothers, The Doors, Thin Lizzy, Little Feat, Jethro Tull, Be-Bop Deluxe, Led Zeppelin, Queen, The Who, ZZ Top, etc.
My grandma, knowing how much I was loving my dad's records, started me off with my own. She would always take me shopping and gift me vouchers for my birthday and Christmas presents to my local record stores, like Licorice Pizza. I bought my first record in probably the 4th or 5th grade from one of our trips to the store. It was either Boston's Don't Look Back or Cheap Trick's classic, Heaven Tonight, which is still an all-time favorite.
Where/how do you usually find your records these days?
Local record stores where I live here in San Diego, CA. The shop Record City is a favorite spot of mine. I always score in there, for years and years now. Folk Art Rare Records. Love that store. I can never leave there without spending more money then I wanted to! It's a great shop. A honey spot. M-Theory's a hot spot too, for sure. Support your local record stores! I order directly from bands and labels as much as I can online, and Discogs is probably the best friend that I've ever had.
What is the most you paid for a single record, where/how did you obtain it, and what was it?
Off!'s first LP. I could have never imagine paying so much money for just one record, and I would never guess how happy that it would make me feel for paying price I paid for it. The amount doesn't not matter. I won it through an auction. In all of my years of collecting records, a record purchase has never felt as good as this one. Here's four reasons why:
It has four of my favorite musicians on it, who I'm lucky enough to be friends with a couple of them, who signed the cover (all four of them).
It's one of the best records to have come out in this decade, and in my opinion, for sure is "the" best hardcore punk record to have come out in the last 10 years.
The art is done by my favorite album cover artist Ray Pettibon.
I'm so happy and humbled with this special LP, knowing that winning this in a auction helped out my friend John from Government Issue. All proceeds went to John Stabb's fight against cancer for his medical treatment.
This piece will forever be a pride in my collection. RIP, brother. Forever missed. #legendlost
If you had to pick one record label you feel had/has the best track record of quality releases, who would that be and what are some key titles you love?
Whew… so many labels! But just one...
Mortarhate Records from the UK was a life changer. This label put out bands that truly changed my life. Conflict, the band that ran (still does) the label, influenced my life's direction. The Mortarhate Records release of Conflict's Increase the Pressure made me a better man for animal and human life. I was 16 when I first heard that LP. Bought it. Lived it. The 8th grade. 1984. The insert that came with this record, the lyrics passionately screamed in protest, the pictures, the action, the supplied home addresses of Orkney Seal hunters/animal abusers, the dedication... I felt it. I agreed with all of this LP. I researched. I sent away to the addresses that Conflict provided with this release. I agreed with all of what The Animal Liberation Front stood for and who they were taking action against, by any means necessary. anti lab testing... I can't talk any more about the ALF due to restraints and restrictions, but trust and believe, they always will be in my heart. The lyrics of Conflict opened the door to me becoming a lifelong vegan. I am a voice for the voiceless. "Your blood, their blood, serves the same."
Carlos, I know you just asked for one record label, but I can't try giving my respect to other labels who I've grown up listening to. I'm most passionate for my punk collection, so I'll start with that. Of course Dischord Records, SST, Alternative Tentacles, Crass Records, BYO, Mystic Records, Lookout! Records, Posh Boy Records. SquidHat Records from Vegas is throwing out some stingers these days, and I'm really loving what Three One G Records is putting out. So many great punk labels.
I'm a Jazz enthusiast. Such a fan. Like the biggies I just named for punk records, it would be unfair and disrespectful to not mention the legendary jazz labels like Blue Note, Verve, Impulse! Records, Columbia, Atlantic, Prestige, Savoy, etc.
For metal: Metal Blade, Relapse, Nuclear Blast, Southern Lord, Amphetamine Reptile Records, etc.
Of everything in your current collection, what is your most prized record and why?
That's a great question! So many. I'll go with this one… my Bad Religion debut 7" E.P.
Us record collectors are always hearing crazy record "score" stories throughout our life, of other peoples awesome finds: "I scored this today at the swap meet! The guy told me for $50 and I could take the whole crate, so I did! Look what I got, "Butcher Babies" cover by the Beatles, a test pressing of Led Zeppelin II, etc." WTF?! There's also: "I just met with my ex-girlfriend and she gave me back all of my old first pressing punk rock records from over 25 years ago" How about: "I found the first two of the first four Dischord Records 7"s, SOA and Government Issue, in a thrift store for .99 cents each! Mint!" Whatever. Now, I've scored throughout the years of collecting records, too, but never anything like that, until it happened!
My first pressing of Bad Religion's debut 7" EP. The original lyrics on the inner sleeve, written and signed by OG bassist Jay Bentley, for the future song "Voice of God Is Government" from How Can Hell Be Any Worse from the same year of 1981, that he wrote on his mother's living room floor while stuffing records for that release. Jay Bentley told me that after I messaged him, confirming this a one of a kind record.
A member of my Facebook group, Chasing the Vinyl Dragon, sent me a private message asking if I was interested in this hall of fame museum piece. I said, "I'm sure it isn't in my price range, but how much?" He said, "How much does it go for?" I said, "Depending on the condition, Discogs last sale went for $250 bucks. Mint could go for... people are asking for $500. Who knows with the original signed lyric sheet." Crazy.
He said, "Where are you at? Maybe I'll bike it over for you to check it out." I said, "Throw me a # $ so I can see if it's even worth wasting both of our time." He said, "Call me" (sent me his phone #). I called him and he said something like, "As long as I know it's going to a good home, and I can tell with you through your pages here on FB that you're so passionate about collecting records and wouldn't turn around and sale it... (wait for it)... (Yes!!!) You can have it" BOOM! We met later and he gave me the record! So surprising to see that generosity from a complete stranger to another is out there. The best part of this story is not the gifted record, but to a new friendship. Thanks again, James Markert. Unforgettable.
This is for sure my most prized and cherished record. My first place, though I do have a lot of very close seconds.
I've never been into autographed records. It actually drops it a grade. It's no longer mint if the cover has been altered with a signature. I've been able to DJ sets for some great bands. Bands that I grew up air banding it to. So, to see these legends playing right in front of me, hanging out with me in the DJ booth, having sound checks together. It blows my mind and I have to ask for a signature these days if we played the show together. Some favorite memories and signatures, in no order of importance, the Naked Raygun guys. So much fun being invited back to their hotel and having some drinks by the poolside. Hanging with Jello Biafra while I spun between sets, talking with him and having him sign my first press Dead Kennedys Fresh Fruit for Rotting Vegetables (orange cover), because, there's always room for Jello. The UK Subhumans, GBH, Agent Orange, Adolescents, and so many more! Proud and cherished for sure. Not because of the autographs, but for the memories of our talks while they were signing my records.
If you would have told me while I was young, that when I grew up, there would be a time that I would share the stage with my heroes, be able to supply the soundtrack for the evening, and also be able to hang out with them after and get paid for it. To become friends with these legends. I would have wanted to grow up a lot faster.
Is there anything that frustrates you about the current record collecting scene?
It's bittersweet to watch it growing so big. It's a good thing but it can get frustrating while chasing the Vinyl Dragon. More hunters are getting in my way! Also, people ask for way to much sometimes on discog. Just because someone is asking for that high price, doesn't mean that record is worth that much. We all use that site as a guide for value and it's making the market a bit crazy.
Which records are still on your want list that you've had a tough time tracking down through the years?
So many. I'll give you two... Youth Brigade's (DC) Possible EP. That's my favorite of the first four Dischord EPs. Government Issue Legless Bull as well. Depending on what day, I may tell you that's my favorite of the first four Dischord releases, though all four are hardcore materpeices to me. Both are so strong, and both supplied the soundtrack to my youth, and still does.
***
Find Roger at the following links:
Records with Roger Facebook group
Records with Roger Instagram page
Chasing the Vinyl Dragon Facebook group
Chasing the Vinyl Dragon Instagram page
Tagged: record collector