Though he's based in San Diego these days, Steven Meketa is better known in hardcore circles from his time in the Cleveland scene of the '90s. His vocals on those Apartment 213 records came raging from my speakers a ton back then, especially the split 7" the band did with Thug in 1995. Steven has also explored the noise/industrial-minded side of his musical taste via Lockweld and Electro Static Orchestra.
These days, Steven resides in San Diego, where he spends much of his energy on promoting the sport of skogging, a hybrid of skateboarding and jogging that he credits with saving his life. He was introduced to skogging by late skateboarding great Chris Yandall after years of unhealthy habits took their toll on the former Cleveland punk scenster.
A couple of weeks back, Steven hit me up to let me know that he's going to be doing some new stuff with Apartment 213, so I figured it was the right time to chat with him again for the site.
Bring us up to date with all-things Apartment 213. You mentioned that you had something brewing with that project.
Chris Pellow and I are getting the band back together—to sound completely cliché. It may take some time due to geography. Chris is in Ohio and I live in California. But the material should be super fast and fun. We want to do a full LP with all new material. A few local Cleveland heroes will be helping round out the lineup.
Speaking of which, how in touch are you with the folks from your Cleveland days?
Definitely Chris Pellow as mentioned. I talk a lot to fellow noise friend Jim Szudy. Jim is also responsible for Clev Photo. I chat with [Integrity vocalist] Dwid [Hellion] a lot too. He is no longer in that city but he pretty much built the scene. I have been contact with Stephen Kasner as well.
Why do you think that Cleveland scene of the '90s still resonates with so many people?

Bad parenting? [Laughs] I honestly have no idea. If I were to guess, it would be due the realness of the music. That's what drew me into all those years ago.
What's new with you in terms of skogging?
As far as my personal skogging, I recently joined the Shark Wheel family. I will have my own board on the roster. I'm very stoked about this! This means we can reach more people and spread the word about the already fast growing skate, fitness, and healthy lifestyle of skogging.
I will also be a certified fitness instructor and I will be using skog as my platform.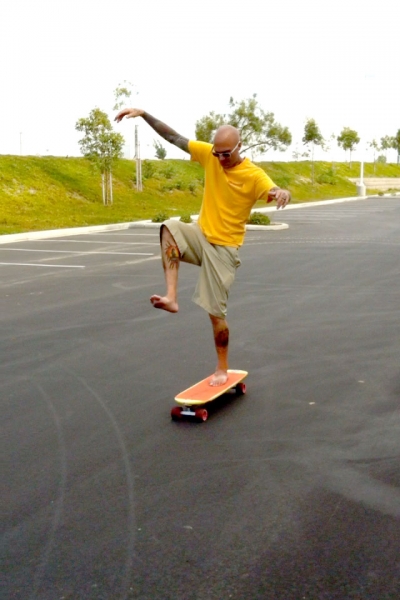 I've noticed more people out there skogging here in Los Angeles, so do you think it's gaining ground, or does the sport still have a long way to go?
Yes sir, the skog is growing by leaps and bounds. I believe it's definitely gaining ground and there is always room for growth. People are catching on to the fitness factor of skogging. Of course, it's skateboarding but if you dig deeper there is much much more. Same can be said about power violence. With huge skate companies and affiliate companies taking notice in the sport, it's all growing at a steady rate. Chris Yandall's skogging will soon be as recognizable as surfing, snowboarding, yoga, Crossfit, and cycling.
Thanks for the interview, my dear friend! Let's meet up and skog. I will teach you and your kiddos how to push pedidextrious style!
My pleasure, Steven!
Learn more about the sport on Skogging.com, and if you're on Instagram, you can find Steven here.
***
If you dig No Echo, you can donate a few bucks to help with the site's operating costs:
Tagged: apartment 213