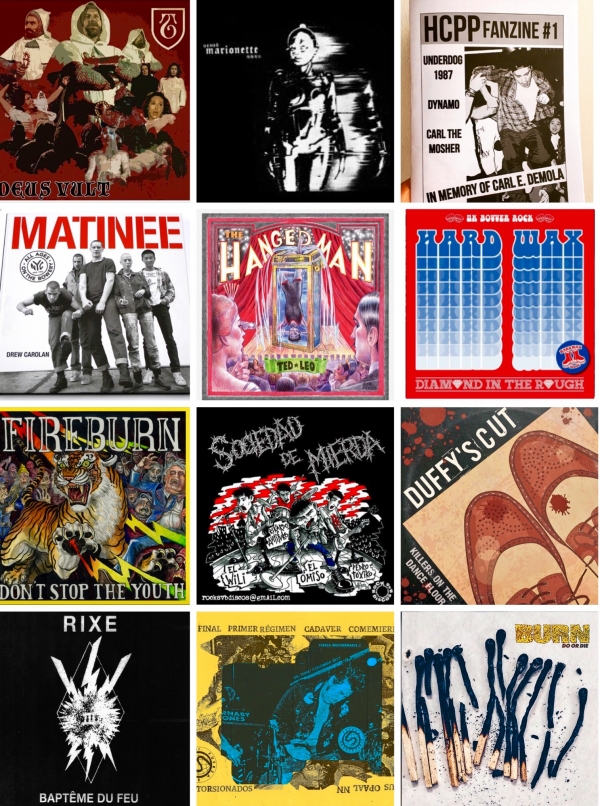 For what it's worth, here are my faves of the year...
Ted Leo, The Hanged Man LP
I remember meeting Ted in 1989, fresh off a semester at Notre Dame, while singing for my friend's hardcore band during the school break. Little did I know that he would go on to develop a singular musical vision for the past 27 years; both as a solo performer and with assorted collaborators. This year's full-length is a masterful fusion of rock 'n' roll idioms from the past five decades: some sharp pub rock/mod stylings here, classic singer-songwriter tunes there, slashing power chords, piano passages, tasteful female/gospel choir, electronic-ish beats… My favorite songs being the wistful "Can't Go Back," the glam-tinged "Run to the City," and the LP's closing epic, "Let's Stay on the Moon." This is not a political album per se but the resigned yet hopeful mood perfectly reflects the current bittersweet times we're living in, kudos to our generation's (other) bard from the garden state and dig this groovy video!
Hard Wax, Diamond in the Rough LP
I've been following these lads for the past year and what began as a side project between members of current UK Oi! outfits has taken on a life of its own. This is one hell of a bovver anthems filled collection, bridging the gap between the raucous Slade sound and the classic No Future roster from the early '80s. Hard Wax reference the original proto-Oi! sources that bootboys listened to in their formative years during the 1970s and come up with a, at times, familiar yet fresh take on skinhead rock 'n' roll. Hats off to the crisp production that shows off the clean, ringing guitar tones as well as small touches like tasteful piano accompaniment, horns, gang-like choruses. I hope they continue making more stompers in the coming year, like they sing on here; "We are the bovver boys and we're here to bring back that old school noise."
Matinee: All Ages on the Bowery, by Drew Carolan (Radio Raheem)
I raved about this book some months ago, but let me add one more personal reason: I got into the NYHC scene in 1985 and just missed the time period, by a year, of when these photographs were taken. For me these images are an incredible time warp of a time that's long-gone but perfectly capture what drew me and tons of others to leave our neighborhoods and venture to this magical land called the Lower East Side and worship at the altar of Hardcore: the CBGB's matinee on Sundays. One can tell just by looking at the photos that these kids' look went on to influence popular fashion at large and makes you realize how cyclical things are but with one caveat: the original vibe captured between these pages will never be duplicated and the book serves as a lasting testament to this vibrant subculture.
Bitter Lake Recordings
Living in this age of information overload can be a bit daunting at times as previously unknown musical genres of subcultures get their day in the sun and the sheer amount can be overwhelming. This particular aspect is a good thing when it comes to projects such as this: Bitter Lake Recordings and their avowed mission to reissue obscure Japanese synth-wave releases from the 1980s. The two they've done so far are a doozy: Dendo Marionette's Cyperpunk/Dark Synth EPs from '81/'82 and C. Memi's trance-inducing Heavenly Peace EP from '83. I can't wait to hear what else they will dig up as this stuff is stellar and deserves to be heard decades after the fact be damned.
Sociedad De Mierda 7" (Rock Svb Discos)
This Peruvian band's name literally translates to "Society of Shit" and they hold a legendary status in the punk/hardcore scene in Peru during the 1980s that came to be called "subterranean rock." The EP is a studio and live recordings, from 1986, of some their most infamous songs like: "Pudrete Pituco" (an anti-upper class Peruvians masquerading as punks rant) and "Que Patria Es Esta" (calling out the hypocrisy of the so-called leaders of the nation). Kudos to the great Rock Svb Discos label for always putting out landmark recordings from this vital period in the history of Latin American punk. The outrage and outright disgust for their so-called society is evident in every note they played, technical proficiency and recording values be damned, righteous indignation outstrips any limitations. Punk rock as a legitimate and viable form of political protest from the land of the Incas, who would have thought?
Duffy's Cut, Killers on the Dance Floor LP (Oi! The Boat)
These guys get lumped in with the current street punk or bovver rock contingent and regularly play bills with the corresponding bands from that burgeoning scene and that's all well and good but I can't help feeling that they're so much more. As this full-length demonstrates; the band writes real songs and have a singer that can actually sing with a musical backdrop that draws from garage rock, R&B, Motown, soul, and good old fashioned rock 'n' roll to come up with a winning formula that can appeal to any fan of honest, raw music played with heart and conviction. Extra points for the tasty organ passages, smooth basslines, masterful guitar riffs that permeate this killer platter that deserves to appeal to a wider audience than narrow subcultural ghettos.
Burn, Do or Die LP (Deathwish Inc Records)
28 years after their inception, Burn releases a full-length and I think this is a singular achievement for a band that did only did three EPs back then. To come back with such a fresh continuation, and at the same time, evolved take on their signature sound is a feat that's unmatched in my opinion. The songs are intricate, multilayered and yes; they carry that much used 'progressive' tag but in a nutshell it's still hardcore at its heart played by fiercely uncompromising and intelligent individuals who happen to be extremely talented musically that still hold fast to the ideals of what the underground can and always will be. I especially dig drummer Abbas Muhammad's beats; kid is a monster on the skins, aptly matching the vicious guitar/bass interplay anchored by Chaka's unique vocal stylings. Catch them on tour if you can as this flame keeps on burning ever brightly.
HCCP Fanzine #1 (Carl the Mosher issue)
Handmade printed fanzines in this day and age are a true labor of love and this digest-sized one is dedicated to the life and times of one Carl E Demola, aka Carl the Mosher. Having sang for Underdog, The Icemen, Dynamo, and others would be enough to cement his place in the NYHC pantheon but what he's famously remembered for is his legendary dance moves in the pit that gave rise to his nickname. Sprinkled in the pages are loving remembrances from former bandmates, peers, people that saw him dance or just fans of his music from all-ages and national backgrounds. What really impressed me is something I wasn't previously aware of: at some point Carl had an alter ego, a piano playing, Jerry Lee Lewis-styled crooner going by the name of Carl Piano Smith. Look up his videos on YouTube, they're a hoot and provide another side of this humble, creative soul that sadly passed away too soon. RIP Carl. Email for copies: [email protected]
Fuerza Ingovernable Punk Colombia 2017 cassette compilation (Billypest Distro)
I used to tape trade with a Colombian penpal in the late '80s and he would send me homemade compilation tapes of local bands from his native Medellin and rest of the country, most of them long forgotten but amazing nonetheless. This 2017 cassette comp reminds me of those days and it's heartening to see such a healthy scene still happening in that part of South America. Bands on the tape represent the gamut of subgenres from UK82 punk, D-Beat, European, and American-styled hardcore, '90s dissonant post-hardcore to post-punk stylings. Very impressive to say the least, here's to the New Wave of Colombian Hardcore!
Rixe, Bapteme De Feu EP (La Vida Es Un Mus Discos)
These French Oi! upstarts continue to pull off the unimaginable feat of perfectly recreating that driving UK82 skunk sound equally loved by punks and skinheads. This 2017 EP is probably my favorite by them. I can't understand a single word they're saying but no matter; the songs are so hard-hitting and catchy and the melodic strain to the French language is well-suited as another vital component to the overall mix of powerful guitars and the piledriving rhythm section. I say oui to Le Oi! from Paree!
Fireburn, Don't Stop the Youth EP (Closed Casket Activities)
A new hardcore band made up of old scenesters can sometimes be a recipe for disaster as the old glories can't really be topped or equaled except this one time, as this a smoking debut that earns all the acclaim heaped onto it. Yes, there is a huge Bad Brains presence, but honestly that can't be helped as their vocalist sang on a record by them but the overpowering rush of the music played at breakneck speed hits all the right notes and it's cool seeing old timers playing this "youth-driven" music with power and conviction. The EP's short songs and reggae jam leave one wanting more, a telltale sign of the resounding success of this project.
Templars, Deus Vult LP (Pirate's Press Records)
The Templars have in the past 26 years or so built their own unique musical universe; complete with referential motifs sprinkled throughout the multiple recordings they've been a part of. This 2017 LP continues that tradition; they don't need to reinvent the wheel because they're secure in what they do and go about putting out raw skinhead rock 'n' roll with their patented clean guitar tone, gruff vocals, direct song arrangements, and simple yet tuneful solos. I can't think of too many Oi!/punk or hardcore bands for that matter with so much staying power as these Lords of the Sword, an endless source of inspiration for aspiring bootboys the world over.