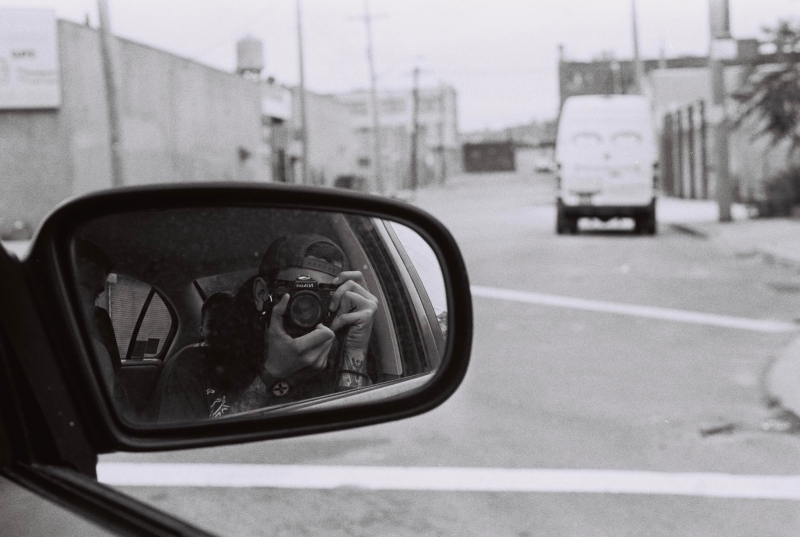 Lucas Anderson is a guy of many talents. A multi-instrumentalist, he's been a member of such bands as Funeral Leech, Manipulate, Grudges, and Claim, also playing drums on a fill-in basis for Wrongside. Recently, Lucas has also helped me around these parts, writing both review and feature pieces for No Echo. Today, I'm focusing on one of his other passions: Photography.
Shooting everything from street life to portraits to live music, Lucas is familiar face all around NYC, and it's my pleasure to introduce more people to his work in this new Photographer Spotlight interview.
Where were you born and raised, and were your parents into the arts?
I was born and raised in New York City on the Lower East Side. My parents were both musicians and painters, they always pushed me to do some form of art.
What came first, your love for music, or your love for photography?
My love for music for sure. Photography came later.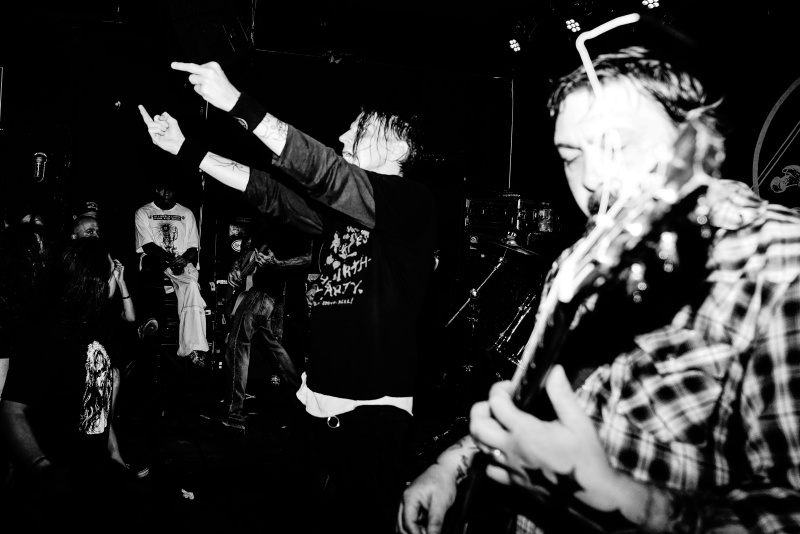 How did you discover hardcore/punk?
I got into hardcore punk through my dad's record collection. I grew up listening to the Ramones and Sex Pistols. At one point I found a copy of [Black Flag's] Damaged in my dad's record collection, and it spiraled from there.
Who were some of the photographers you looked up to during your formative years?
I always loved Charles Peterson's style. Still do. Thats a huge influence on me. Besides that, I always liked skate photography, like Giovanni Reda and Atiba Jefferson​​​​, they always had such cool style.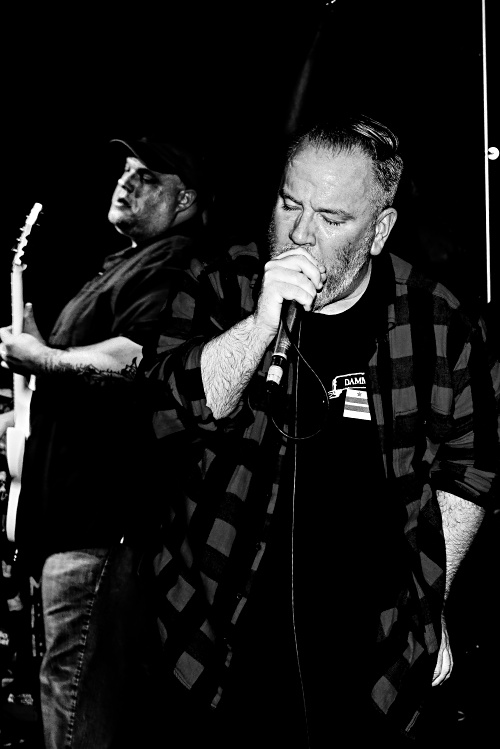 What is your camera and post set up?
For shooting live bands, I have a Sony digital camera I use. I edit photos in Lightroom. When shooting live I tend to focus on just the band and leave the audience out of it. For me, seeing a band is about the band, not the crowd. I try to capture how intense a band can be no matter how many people are there. In addition to that, nine times out of a ten, I always have a film point and shoot camera on me. I like to capture day to day stuff, so I use that a lot. I used to shoot bands with only film, but it's gotten too expensive.
Who are some of your favorite bands to shoot?
Black Anvil is always fun, they're really intense and covered in blood. The pictures always come out cool.
Catharsis was a big one for me, they're one of my favorite bands and Brian, their singer, jumps all over the place when they play, so he looks wild in photos. Some of those songs saved my life so it was important to me to be able to take picture of them.
Any band Ezec is in. He has the best stage presence. I've shot Crown of Thornz and The Wilding Incident, but I haven't gotten around to Skarhead yet. I'm sure it'll happen. I'd also love to shoot a Morrissey show one day.
If you could go back in time, who are some bands that you would have loved to shoot?
Dystopia. They're hands down my favorite band of all time. Pictures of their live shows always look so powerful and cool. I would have loved to take photos of Cro-Mags when Harley and John weren't beefing. I've seen them both preform live and they still seem to have the same energy they did back then. I wish I could have captured that together.
What are the toughest aspects to shooting hardcore/punk shows?
It's not so much tough as it is crucial, but you need to have proper etiquette. I always ask a band if they're cool with me shooting, or if I'm gonna be in their way. I feel like sometimes photographers forget that the stage is the bands area first, and if we want to shoot from the stage, we should ask them if they're okay with that. I also do my best to make sure I'm not in someone else trying to take photo's way. Most of the time we're all conscious of each other but there's been a few instances where I've seen people be oblivious to anyone else trying to take pictures.
Tell me about some newer bands that we should all be on the lookout for.
Illusion is pretty dope, that demo is good. Division of Mind's demo is insane. Vein makes crazy people music that I really enjoy, and I was bummed I missed them play here. I just heard the Spectral Voice LP its an unreal record. It's one of the best death metal records I've heard in a long time. I've also been jamming the new Cloakroom LP a lot.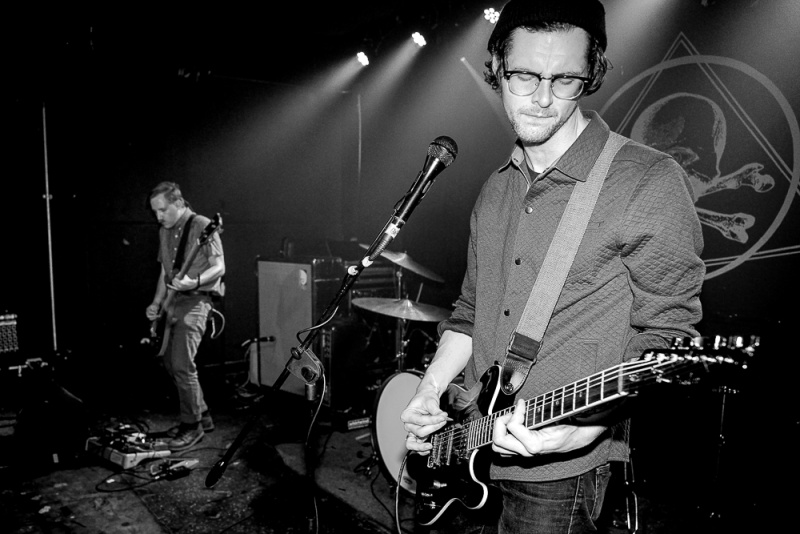 Who are some modern-day photographers that you admire?
Angela Owens is killing it, definitely worthy of all the praise and exposure she gets. Evan McKnight is one of the best NYC street photographers in this day and age. I've been following this guy Christopher McKenny on Instagram for a little bit now and his photos are awesome, he kinda creates the images that would be seen in a dream (or a nightmare) and they're truly unique. Everyone should also check out Rebecca Lader's and Danielle Parson's work as well. They are both very talented photographers.
What is the best aspect about being a photographer based in NYC?
I love it cause my main focus isn't bands, but I just liked capturing moments from my daily life. This city has been my home since I was born, and I've always felt that even in a city with 8 million people in it, it can still feel so desolate and alone. That's what I try to capture. But we also get 99% of every good tour coming out here, so there's always a chance to see a band you like, or a new one you haven't checked out yet will be coming through.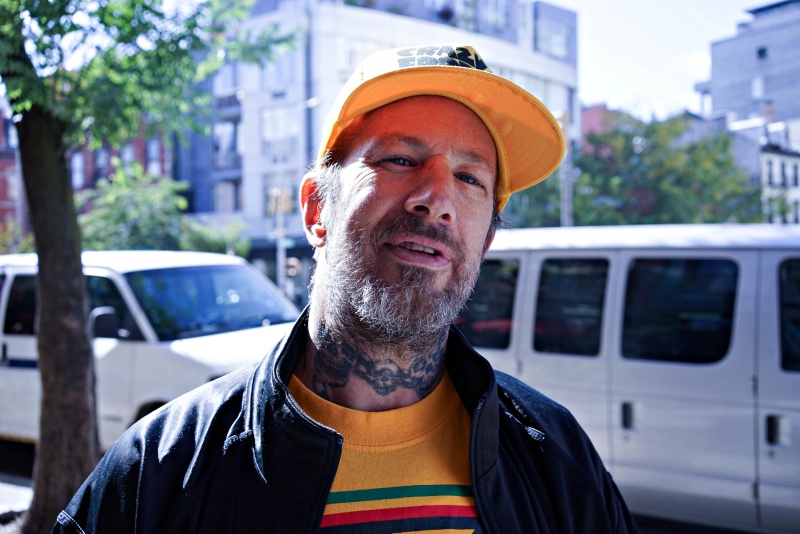 If you had to pick one of your photos that best encapsulates why you love shooting hardcore bands, which one would it by and why?
The picture I caught of Harley right after he played his set. It reminds me of a picture of him from the '80s. To me, it captures the sheer intensity you can expect from hardcore shows, no matter if there are five people there or 500. Even decades after hardcore's conception, its power still remains.
***
Head over to Lucas' website to see more of his work, and you can also follow him on Instagram.
Tagged: photographer spotlight