It seems like bands form and release their debut LP all within the span of year these days, but that's the case for Boston combo Aneurysm. Since forming in 2014, the band has spent more time playing a ton of shows and releasing 3 7"s along the way."It wasn't really a conscious choice," Aneurysm guitarist Dan Bahto tells me. "When we first started as a band, we had a ton of songs and quickly demo'd them and wound up releasing those as our first two 7"s. It's not that we weren't happy with the recordings, some of the songs just didn't come out exactly how we wanted, so we worked on them and wrote what we thought were better songs. This LP is kind of a collection of all the things we have been working on since we started.
"More than anything, we really just wanted to put out a record that we would all be really into if we had heard it," says the guitarist.
The LP Dan is speaking of Awareness, a 10-track motherfucker of a record that some folks have compared to everything from Nirvana to METZ to Jesus Lizard. It's raw yet catchy, and Aneurysm vocalist Mike McGee doesn't disagree: "When the project started and I listened to our first instrumental demos, my take on their rawness translated into a vocal delivery of a punk trying to croon, but not trying too hard in case it was awful or corny. I wanted to reinvent my voice, I never wanted us to be labeled as 'metal' or 'core' anything, so I told people that we were an alternative band. That term was such a large umbrella in the '90s that I think we would've fit under it, had we existed back then.
"I was a teen in the '90s, so the Seattle greats had a huge impact on me and my desire to make music. To me, every singer from that era seemed so powerful and larger than life, unique yet not dissimilar. I was also a fan of the punk singers that didn't seem to take their delivery too seriously, yet in hindsight I guarantee that most were keenly aware of how they sounded." Mike previously sang for the_Network, a chaotic metallic hardcore band from the '00s.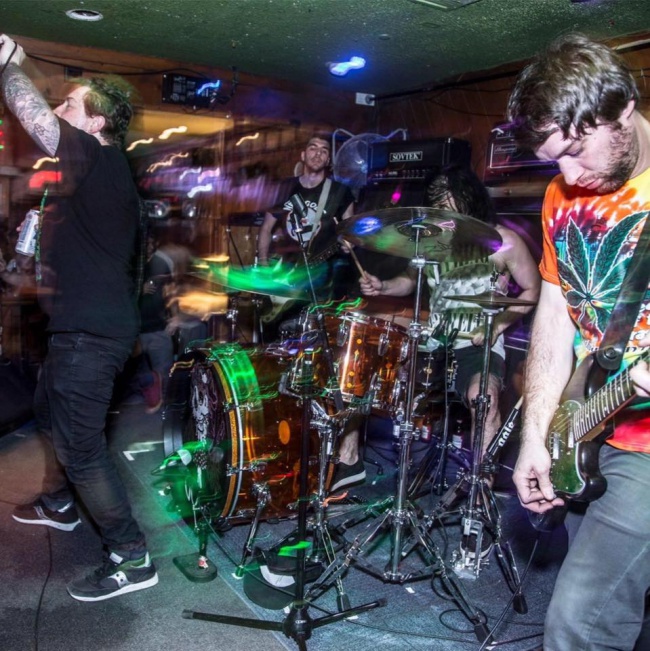 Now that we've talked up Awareness, how about we all sink our teeth into a track from the album? I'm glad No Echo is getting the chance to premiere "St. E's" because it's a great representation of Aneurysm and the album. "I was writing from another viewpoint than my own, basically from a hateful, impatient, self-centered adult-child being forced to wait in line behind people whom they feel superior," Mike says about his lyrics. "I kinda love watching adults lose their cool over minor inconveniences in public."
Awareness was recorded at GodCity Studio in Salem, MA by Deafheaven bassist Chris Johnson. "I met Chris back when he was touring with The Red Chord doing their live sound and recording at Q Division Studios. He recorded the last the_Network. EP that was never released (I'm actively trying to get a proper posthumous vinyl release). We caught up one day and he told me about his home studio. We made plans to demo stuff either there or some other rented room (we did book a day at The Record Co., which we ended up canceling). Those plans changed into live-recording instruments at GodCity." Dan adds: " Being able to record this at GodCity was a total random occurrence and the icing on the cake."
The mind-melting cover art for Awareness (seen above) was created by none other than Mark McCoy, the musician (Charles Bronson, Absolute Power), label owner (Youth Attack), and artist who seems to be busier than ever. "For me this was the coolest part," Dan tells me about the McCoy collaboration. "I have been a fan of Mark's output for about 20 years. Musically and artistically he has been a constant inspiration and after what seemed like an eternity debating what we should use for art and who we should use it just happened as a stroke of luck and a shot-in-the-dark message that I did not expect a response from.
"Everything he has done has had an impact on me and back to the whole 'we wanted to put out a record we would be really into if we had seen/heard it,' this is exactly a record I would pick up had I not been a part of the band. When he did get back and ask what we wanted my only reply was 'just do what you think we deserve, I have total faith in what you do,' and he knocked it out of the park. The man is a genius"
Since Mike played in the_Network back in the day, I wanted his thoughts on the underground live circuit today compared to the '00s. "The evolution of social media for booking has been interesting to witness over the past decade. It's absolutely easier these days to research venues and bands in far-off towns. I no longer have to post pleas on message boards, hoping that someone from a particular area will read and respond directly to me. It is however, entirely saturated. For instance, I'd probably hate being a local band in Philly as I'm sure most get hit up constantly by out-of-town bands cold-calling other folks for help while passing through. That seems exhausting.
"I do enjoy being able to broadcast our tour plans to all my friends all over the place at once, that's pretty dang convenient. I am thankful for the overall advances in technology though. Printing off dozens of Mapquest directions and reading maps while lost wasn't the most fun. Who remembers touring with binders full of Mapquest pages? I think my first GPS was almost $300 too. Now it's a free app in everyone's pocket!"
***
Awareness will be out in February and is available for pre-order in the following formats:
Crown yellow color vinyl (Tor Johnson Records)
Creamsicle color vinyl and CD (Constant Disappointment Records)
Aneurysm tour dates:
Feb 1 - Florence, MA @ 13th Floor Lounge
Feb 4 - Asheville, NC @ Static Age
Feb 5 - Nashville, TN @ Drkmttr
Feb 8 - Austin, TX @ Beerland
Feb 9 - Houston, TX @ Insomnia Gallery
Feb 10 - Arlington, TX @ Division Brewery
Feb 11 - Memphis, TN @ Hi-Tone
Feb 12 - Atlanta, GA @ 529
Feb 13 - Raleigh, NC @ Slim's
Feb 16 - Waterbury, CT @ Brooklyn Cafe
Feb 17 - Providence, RI @ The Dusk
Tagged: aneurysm