Man, it's a hot one. Like 7 inches from the midday sun kinda hot.
The scorching temps that continue to ravage the US and put June 2021 in the record books still got nothing on the scalding split release that is Combined Forces.
The blazing collection comes courtesy of Tallahassee's K.O.T.P. Recordings and features the mighty one/two of Living in Fear and End Game.
If you somehow managed to miss the former's 2020 world beater of a full-length, The Coward's Path Ends Here, they're going hardcore halfsies with Calgary's finest. Self described "Bad Bitch" hardcore, the wildlings of Stampede City are here to run all over you.
My love for ATL's reigning champs of crossover is well documented, but End Game was a new proposition for me. After sampling the band's latest batch, I retroactively rectified that shit. Last year's 2020 demo is a joyously cro-magnon slice of hardcore that should appeal to fans of thrash, NYHC, and crossover the world over.
With a moniker as evocative as theirs, it must be noted that it's even likely to satisfy the aging hesher still rinsing the scythe sharp return to form from Megadeth. Shit, it's more fearsome than Thanos' reign of terror in Marvel's overlong finale of heroic assemblage. Consider both of theirs retired… This is THE End Game to watch. This is a stellar meeting of the mutated minds and "Combined Forces" is already in the running for my year end list. Let's get it.
Living in Fear have the sort of deserved yet understated confidence that builds legacy. Much like Mindforce, they've already perfected the art of the intro. Eschewing the bog standard opening salvo for an intimidating chug and wild guitar squealing, "The Level Six Dimension" captures the excitement of a headliner's first moments on stage.
They dazzle from the jump, touting endless chops without falling prey to overplaying. You can practically feel the heat emanating off of a frenzied VFW crowd as the song coalesces into a mid paced stomp. The echoed boom of vocals sound impossibly layered and intimidating. From there on, the tempo ratchets up until it finds itself a dizzying rager with a cadence cribbed from "Reign in Blood." The final third of the opener is a triumphant and nasty guitar solo that'd likely rival all comers.
"Good for Nothin" starts with guitar histrionics that briefly flirt with the "eruptions" of the late king EVH. It's time for an admission, y'all. This is my favorite hardcore song of the year. Lest I spoil it, I'll state it plainly. The background vocals and Hammett worthy solo that send it packing find rarified air, even amongst a generation of hardcore bands well versed in the '80s myriad classics.
Whether your wagon is hitched to the old school bedrock of The Age of Quarrel, Cause for Alarm, and Born to Expire, or the legions of today's A-Tier acolytes, this is a stunner. You'd also imagine their friends opposite them on this wax appreciate the well placed "bitch" on the lyric sheet. "Gimme Some Truth" proves that you can, in fact, handle the truth, especially when it conjures Trapped Under Ice. Whether that means you're thinking of the ripping solo that starts the Ride the Lightning gem or the killer bounce that feels like a big kiss goodnight from Baltimore's legendary TUI. If this is what coming clean sounds like, liars should soon be a thing of the past.
Opening the flip is End Game's "Feel My Steel," the sort of epically constructed song built to launch a frenzied set. There's a staccato and choppy lyrical approach that highlights a crushing groove that runs throughout the band's DNA. At its core, this is a wild ride that essentially tours through hardcore… from vicious crossover to two step and chugging beatdown.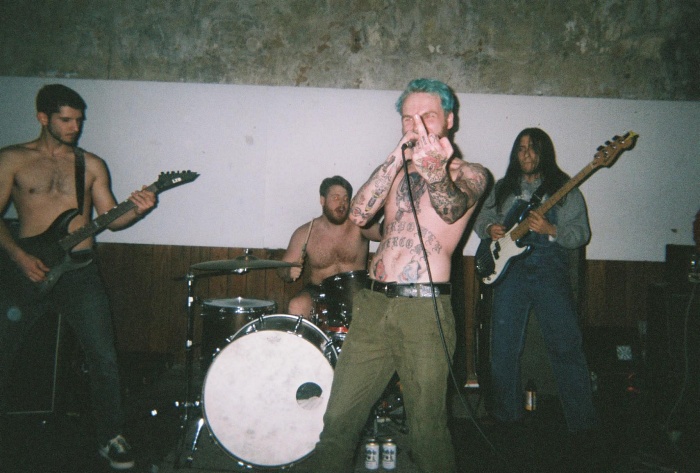 Follow up "Playin' for Keeps" is the true highlight. Bolstering the higher register manic lead vocal are quickly fleeting but expertly placed booming backing vocals. The final minute is a halftime chug that devolves into a righteous chug, an isolated run of low-slung bass, and tortured guitar wails. It's the sort of trick only pulled by top tier players and, much like their LIF pals, End Game excels in an arena jam packed with talent. Topping it all off is a stunner of a line snagged from Casino's Sam Rothstein.
Funny that "One Scene" should finish us off. As I'm writing this, the heavyweight second volume of the One Scene Unity compilation just dropped. End Game wisely choose the track to stand in as their farewell until next we meet. An absolute raging banger, it's another glorious melange of NYHC, divebombing solos, and crushing breakdowns disguised as a vicious poser takedown. Squarely in its sights are the hardest targets to find. Namely, the scene tourists destined to be found elsewhere when they've eaten themselves full.
There are hints of everything from the oft referenced TUI and Backtrack to the current masters Ekulu and Dead Heat. End Game, though, are a quickly rising proposition.
Living in Fear are gearing up to decimate stages this summer. If you're listening, End Game, fuck that border, baybee, and get to the ATL. I assure you, they're ready.
Get It
Tagged: end game, living in fear