If SPY's Habitual Offender proves anything, it's that lethal hooks first laid bare on last year's debut, Service Weapon, are seemingly standard issue.
The latter's reception caused such an ebullition of fury that it was roundly celebrated on year end lists (or the ones that matter, at least). It warrants a mention that they managed all of this without playing live.
This go round, the Bay Area punks are again repping for To Live a Lie Records, an extreme music pillar if there ever was one.
Still replete with the vicious smash and grab of the previous tracks, SPY have returned bolstered with even sharper fangs. "Afraid of Eveything" is ushered in on their now trademark opening stomp, matching feedback and low-slung bass with a bilious bark. Shortly after their blazing hardcore punk beats the listener into submission, they reprise the mid-pace open.
It all feels a bit pugilistic, as if SPY is the victor confindelty circling the ring after a technical knockout. Even a cursory glance at the fiery and righteous lyric sheet points at their targets. Here's to many more barbed takedowns.
"Obtained Under Duress" is the sort of sub minute rager that's over in all too fleeting a fashion. As quickly as it rides in on a feedback laden blegh, it's bleeding into the mania of the subsequent track "Exceptional American." Perfectly summed up last month on the site by the talented Owen Morawitz, I have nothing to add aside from a "He's fucking right." It's as eviscerating as expected.
The back half of the EP is as essential as the front. All told, it'll take up only ten minutes of your day, albeit the best ten. "Labor Dispute" is built upon a rubbery bass driven intro and the sort of choppy rhythms we've come to expect from SPY, but here they employ a descending and sneery guitar riff, a nihilist's kiss off. It's a welcome addition to an already fully formed proposition.
The title track takes the gold to these ears, managing everything they excel at in just South of two minutes. It's a ragtag and moody turn from the band, deftly shifting tempos and fitting instantly memorable hooks just beneath the venomous surface. The band's focus on songwriting is what ultimately elevates them to elite status.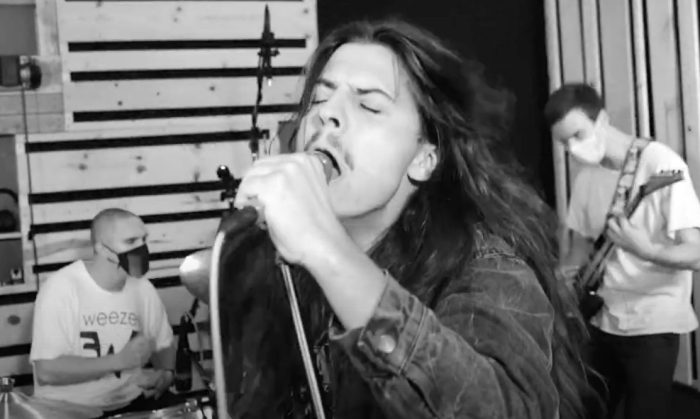 "Negative Mind Power," whether intentionally or not, seems to point at what we might expect should SPY pen that long awaited full length. Again jammed with all their normal requisite bite and vigor, the band also unleashes the heaviest moment of their recorded output to date. The blasts and frenzied vocals just beyond the minute mark are exhilarating, even for a band no stranger to upped tempos. At two and a half minutes, it's a veritable epic by their standards but its constantly inventive swerving feels tremendously fresh.
SPY is one of the best bands in hardcore. Keep your eyes on 'em because I promise, they're already watching you.
Get It
Tagged: spy